FOOD REVIEW: Chef's Table by Chef Bruce Lim
The premise of Chef's table, says our SPOT.ph blogger, is to be a restaurant with "character, style, and a good head behind it."
CHEF'S TABLE
Unit 106 The Infinity Tower
26th Street, The Fort Global City, Taguig
Tel. No. 399-1888
E-mail michelle@chefstablemanila.com for inquiries and reservations

Anyone who's planning on opening a restaurant these days will probably have the same opinion--if you can help it, don't open in a major commercial area, say, like an Ayala Mall. The rent will kill you. (I know this for fact, because I've seen many a fairly decent place close down due to the rising costs of rent.)
It is precisely for this reason that life at the Fort is becoming interesting, at least from a food perspective. As it is an up-and-coming area, with a whole new skyline in construction, whose new buildings are not asking for exorbitant rents (yet)--it has become a breeding ground for non-chain, non-traditional, relatively small, funky little restaurants to get their feet wet. I really dig places like this, because they're more likely to be owner-driven, and put that much more attention into everything they do. Nothing against chains, even local ones, but it really is harder to maintain a high level of quality if you're running several outlets at the same time (I'm talking to you, Pancake House...but that's for another post).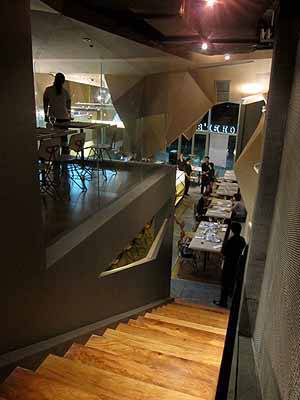 ADVERTISEMENT - CONTINUE READING BELOW
One of these little joints (well, if you can call it little) that we chanced upon is Chef's Table, owned and operated by Chef Bruce Lim (he of "Tablescapes" on AFC fame). I have to admit that I was a bit skeptical--I know he's a bit of a celeb, and was itching to find out if he was more into that whole TV thing than his craft. Happily enough, I found out that he's the real deal--a perfectionist with cooking chops, integrity and heart.
Entering his place made our jaws drop a wee bit-- it's a beautiful, organic-looking, and contemporary space, with interesting furniture and an open kitchen. Here's the thing about open kitchens--it's meant to be a stage for the crew to do their dance. Nowadays, people in this food-obsessed world of ours tend to watch a cook's every move, which means they always have to be on the ball and be somewhat perfect--and ultimately, very clean: spotless, lick-food-off-the-floor clean. You have to quite ballsy to pull this off, but if you do--it's a thing of beauty to behold.
CONTINUE READING BELOW
Recommended Videos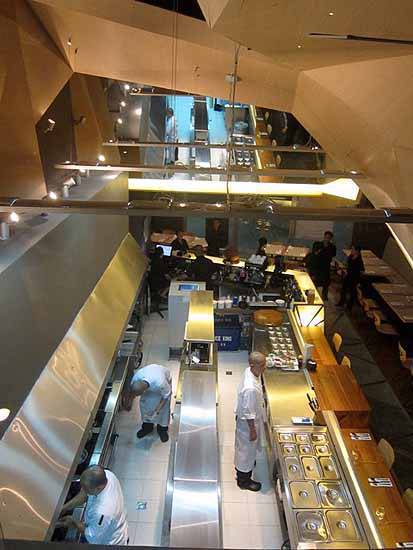 ADVERTISEMENT - CONTINUE READING BELOW
The little details here really set you in the mood. Walls are accented by these geometric shapes popping out from them, lines and angles forming floating shapes--and then are coupled with a weave pattern that pays homage to tapestries. The desks are riffs on school desks made by the chef's parent's company. There are little slots on the side to rest your pencil, which I'm sure you won't have on you, but of which they have thoughtfully provided. Etched on the pencils are two URLS: one of the restaurant, and one of the chef's marketing company. When I asked what they marketed, he simply said, "well-- they market me." Slick, this guy--or rather, slick, his designer!
I just have to say my piece, too, about the music they play. I am a music lover, bordering on freakishly obsessive actually, and I listen to just about anything I can get my hands on. It absolutely pains me when restaurateurs bother spending good money on sound systems and play an endless loop of bossa nova cover songs--like "With Or Without You" by U2. In today's vernacular: FOR REALZZZZZ??! There is too much good music out there to ignore, not to mention that it would be nice to put some thought into your playlist and tailor it to your concept. My dining companions all noticed that Chef's Table played interesting enough music and at a volume that didn't have to make us raise our voices in conversation. It was not a bar, after all (though they very well could be!), and music was supposed to be more ambient, but it most definitely added to the atmosphere. So far, so good!
ADVERTISEMENT - CONTINUE READING BELOW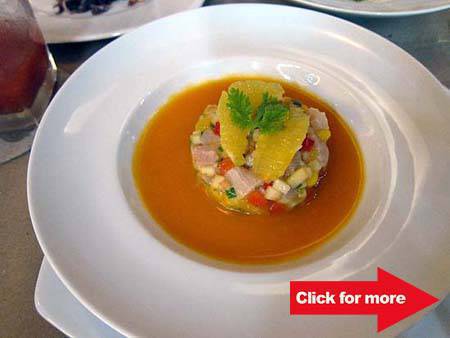 Carrot and Ginger Soup (P250). Click for more photos.
On to the most important stuff: the grub. To know where the menu is coming from, you have to know a bit about the owner. Gone for more than 10 years, he came back to do his thing after kitchen stints in the United States (Vegas, baby!) and Europe. In a way to touch base with his roots, he took what he knew and spun the food of his homeland into other directions--the closest thing around these parts would probably be Roland Laudico's Bistro Filipino. The menu runs parallel to this in some way, but still retains his personality and, not to mention, a breath of fresh air.
To get me in the mood, I had a cocktail to start with--a Filipino take on a Bloody Mary (called Tomato Cozy, P150), made with calamansi, tomato juice and lambanog. 'Twas okay...I would've wanted my tomato part more pronounced and spicy (next time I'll ask for Tabasco!)--a decent picker-upper nonetheless.
ADVERTISEMENT - CONTINUE READING BELOW
We ordered all sorts of interesting looking things--for apps: a beer-marinated squid (Hot Rock Pusit, P250), seared between hot rocks, makes for something out of the ordinary. Very tasty, fresh and flavorful, the only thing I would've wanted was a bit of crust for texture--but even if I didn't get that, it was still a good choice. A Caesar salad with grilled chicken was tasty enough, too (it'll make a great light lunch), but it wouldn't be high on my priority-ordering list, as there are too many other things to check out first.
I'm a soup guy, so I just had to investigate this part of the menu. My seatmate's "reverse sotanghon" (P150) showed off Chef Lim's playful side--bits of pork (another recurring theme that night!) and crisped up vermicelli was laid out on a bowl, then the rich soup was poured in. If you ate it right away, you'd get a bit of crunch still, but if you waited long enough, it transformed into sotanghon soup as we know it--soup with a sense of humor. I had an order of chilled carrot and ginger soup (P250) that came with a kinilaw of fish, red peppers and singkamas in the middle. The kinilaw was a great touch (again if a bit under seasoned--a recurring setback for this evening) but there was so much of it! I'm not complaining--they were very generous with this, and it certainly makes the dish worth what you're paying for it--but I just feel that the soup because more of a "sauce" for the kinilaw, which was a shame because the soup was quite bright and refreshing!
ADVERTISEMENT - CONTINUE READING BELOW
Our mains turned out to be a meaty huge braised pata (P480)--a take on Iloilo's "kadyos"--came atop a tartly flavored monggo and bean combination. This was positively massive, and a great flavor combination, if slightly under seasoned. Cooked 'til tender, with gelatinous bits, and eaten all together with the monggo and beans (and in our case, a tiny bit of kosher salt), I think it's something to come back to.
A dish of stewed, pulled pork (well, they call it "corned pork", P380) came with crispy bits of skin on top and sat on a bed of laing (nice, right? Stop salivating.) This food just screams for some hot rice, and cuts to the chase: these are the kinds of flavors local taste buds will lap up. A bit of heat in the laing would've brought it up the yummy bracket a few notches. Maybe you can ask for some chopped chilies.
When C asked for recommendations, the waiter suggested a bowl of nilagang baka (P490). It was a very flavorful version of it, for sure, but it was just that--nilagang baka. Well, some people really love this stuff, I suppose. Again, it's good, but for me, would come low in the priority list. Why order that when you can have...
Chill-a-fino! A play on "Chinese Filipino", the chef's heritage, it's a signature dish. This was a home run and a slamdunk rolled into one (P550). A take on your Cantonese-style fish steamed in soy and ginger, and atop an absolute killer of an ube puree, this was the supreme champion of the evening by far. I would go here just for this, and enjoyed it so much I found myself scooping the little streaks of ube when all the fish was gone. The chef was apparently challenged to come up with a savory ube presentation, and this was the happy outcome--a simple, yet well-executed dish.
ADVERTISEMENT - CONTINUE READING BELOW
In the middle we ordered a take on carbonara (P280)--a cream based sauce on pasta, with grilled chicken and puso ng saging. Sadly, it was pretty cold, and again quite under seasoned. Seeing a pattern, I felt compelled to tell the chef our comments. What a lot of people can't seem to understand is that opening a restaurant is a damn tough business--and shooting it down is not kosher, in my book. Let 'em get their sea legs, so to speak. I told them our comments because I really wanted them to succeed--so far they had a lot of promise. The little hiccups were just growing pains. Here's what made him earn my respect--he had the dish re-made and served again, despite our telling him we were full and had eaten at least half of it anyway. Well, he wouldn't have any of it... and the dish appeared again, this time hot and flavorful.
By the time dessert had come along, we were really digging the place and the vibe. A trio of desserts--langka creme brulee (P130), kakanin with calamansi creme (P110), a really good banana mousse (P110) as well as a special proprietary coffee blend ended everything on a sweet note.
Since we were the only ones left in the restaurant, the good proprietor took us around the restaurant. It was during this time that we asked him how long Chef's Table had been in service. His answer: 6 DAYS. 6 days?! In which case, what they had going was quite impressive.
ADVERTISEMENT - CONTINUE READING BELOW
This has the premise to be a very good restaurant, with character, style, and a good head behind it in the guise of Bruce Lim. It's great for our dining scene, and even greater for the residents of the Fort. I'm looking forward to a return to see how they're coming along.
RATING: 3 out of 5 Spots ...


Share this story with your friends!
---
Help us make Spot.ph better!
Take the short survey
Load More Stories