UAAP Photos: Three-peat Champs Ateneo Blue Eagles' victory vs. FEU Tamaraws
Ateneo Coach Norman Black calls it "the most gratifying championship we've had by far."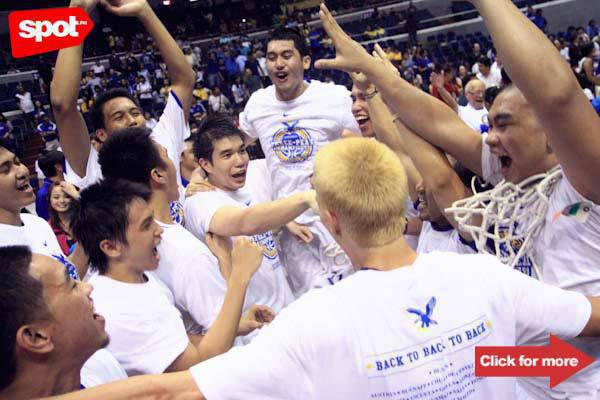 The Blue Eagles celebrate their hard-fought win. Kirk Long's (blonde, center) shirt says it all: "Back to back to back." Team captain Eric Salamat (far right) wears the net around his neck. Photo by Jenner Ong.
Not one Eagle scored a spot in the Mythical Five, but as a group, the Ateneo Blue Eagles reclaimed their back-to-back crown on September 30, making it to the elite club of three-peat UAAP champs for the first time. They finished 65-62 against the Far Eastern University (FEU) Tamaraws, who bounced back from their facepalm-inducing act in Game 1 of the best-of-three finals. Although the Tams put up a good fight early on, they just could not overcome the Eagles' championship experience, as their own athletic director Mark Molina said.

Averaging only 7.7 points before the finals series, Ryan "Buenafat" Buenafe came through for the blue team, scoring his season-high 23 points. Undeniably the most fist-pump-worthy was the triple he coolly sank with 21 seconds left, giving Ateneo a five-point lead. He was crowned Most Valuable Player of the finals.

FEU Coach Glen Capacio remained in the dugout during the entire second half because his blood pressure shot up after contesting a call. His team, which topped the elimination round at 12-2, will have to seek FEU's 20th basketball title next season. Inquirer Sports Tweeted after the game, "Inside the FEU dugout: Players, coaching staff in tears."

Over 17,000 spectators came to witness the Thursday game at the Araneta Coliseum, including former President Joseph Estrada, May 2010 presidentiable Dick Gordon, comedian Vice Ganda and TV host Bianca Gonzalez.
ADVERTISEMENT - CONTINUE READING BELOW
CONTINUE READING BELOW
Recommended Videos
The scores, according to Inboundpass.com:

ADMU (65) - Buenafe 23, Monfort 10, Salva 9, Long 7, Chua 7, Salamat 3, Golla 3, Escueta 2, Austria 1, Erram 0, Gonzaga 0, De Chavez 0.

FEU (62) - Cervantes 15, Sanga 13, Ramos 9, Cawaling 8, Noundou 6, Garcia 6, Romeo 2, Exciminiano 2, Bringas 1, Cruz 0, Guerrero 0.

Quarter scoring: 13-22, 30-31, 52-50, 65-62
Fourth quarter of game two (Part 1)
Fourth quarter of game two (Part 2)
Fourth quarter of game two (Part 3)
Photos by Jenner Ong.
Load More Stories