Bobby Chinn on his favorite eating cities around the world
Restaurateur and TV host Bobby Chinn answers our SPOT.ph blogger's questions on eating and filming around the world.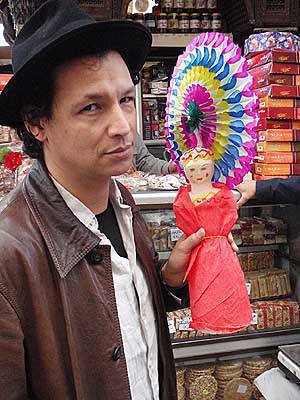 In the new TLC series World Cafe Middle East, Bobby Chinn takes viewers to an exhilirating tour of street foods and culinary customs of the Middle East
Bobby Chinn is an interesting mix--a mongrel, if you will - and he'll be the first to admit it.

Part Egyptian, part Chinese, raised all over the place, US and Brit-educated (with a year in Egypt to boot)--one look at him will leave you scratching your head about his origins. Suffice to say it's a bit tricky to pigeonhole him.
This former suit and rat race runner also sold seafood to the mob, worked as a waiter, and even--get this--a stand-up comedian (which may explain why he's got his TV persona down pat--definitely not a shy guy, this one).
His food epiphany came one day as he was watching cooks do their dance while working in the front of the house--fascinated, he learned some dishes and eventually wound up falling in love with the idea of cooking.

Then one day he got whisked off to Vietnam--and the rest is history. Not finding anything interesting in the corporate world, he decided to open a restaurant, and after a few rough patches, slammed it home with Restaurant Bobby Chinn. He figured if he put his name on the line, he would have no choice but to bring his A-game. Suffice to say, it was, and is, a success--one of Hanoi's most popular eating destinations.
ADVERTISEMENT - CONTINUE READING BELOW
A clip from the World Cafe TV series
I have to admit that if you watch his shows without knowing a thing about him, all I could think about was that this guy was just full of himself (well, that was how I felt). He looked so smug--I'm guessing he is, just a wee bit--but as I said, that was before I knew where he was coming from.
If you read up on his background, I have yet to see something with lots of specifics--but my deduction is that this guy had to wade through tons of crap to get to where he is right now, perhaps more than is normal for cooks. He is, by all accounts, a fighter and a survivor--a scrappy guy and a bit of a hustler, who probably ate a lot of humble pie before his success. He has, indeed, paid his dues, and now I'm even more curious about him.
CONTINUE READING BELOW
Recommended Videos
I recently got to ask him a few questions just to dig a bit deeper to see what he's all about. I get the impression that he's sharp, got a healthy dose of wit, and best of all--naturally curious about the food world--a trait of the best cooks.
Here, then, is a sneek peek into Bobby Chinn, a man who Anthony Bourdain calls a true International Man of Mystery.

What was the first thing that you wanted to know when you approached the 5 countries that you've visited for this season?

There was a couple of things. The show is the same format, except the show is now 1-hour long versus 30 minutes. I think there was more travel involved in Season 3. As far as the food, the sophisticated, got about, was all very existing. I think we started filming in Istanbul which have been appropriate to understand that the an Empire has ruled the land for so long that a lot of the cuisines are very much the same. Because the empire ruled, the food was kinda like the same. Like in the Philippines, the Spanish cuisine is very strong. The same kinda happened in the East.
ADVERTISEMENT - CONTINUE READING BELOW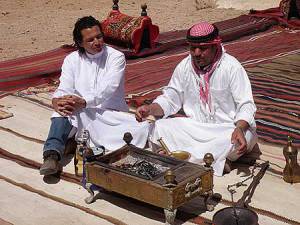 Bobby Chinn in Jordan
What was it like settling down in that part of the world to film? What was the hardest adjustment for you?

It wasn't very difficult, whenever we film these shows sometimes we film 15 to 18 hours a day. When we travel back and fort the Middle East to shoot this, you usually show up exhausted and your mood and you performance, I didn't want it to come into play. For this season, I have a place in Cairo where I can stay with my family and travel from there. I think the hardest thing for me was probably going to Israel. I was kind of hurt by the idea that people lived in refugee camps for 50 years. It was hard traveling to those places which we can consider military zones, because I found out that traveling as an American, half- Egyptian half-Chinese with an English education, you know I don't have really national prode or patriotism.
ADVERTISEMENT - CONTINUE READING BELOW
Going into Israel, I went VIP because in the normal route you have to wait until the bus is full. So you can be the first person there and wait until 3 hours until there are more people and then you get to cross the border to get to Israel. I didn't have that much time since I'm filming so I went VIP service where you pay extra hundred bucks and you get a van-type of thing.


What country or which area surprised you the most in terms of Middle Easters cuisine? Where would you recommend world travelers actually heading for special meals?

I think it was Syria. I thought that the food there was exceptional. A lot of times many people say Lebanon has the best food and I believe that they probably do because they were all part of one country way back. So there becomes a national pride towards your country's cuisine. In Syria, the food was just fantastic.

I'd recommend Syria. They have friendly friendly people.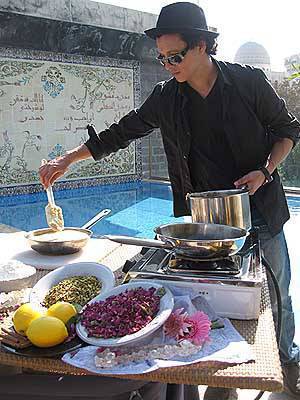 ADVERTISEMENT - CONTINUE READING BELOW
He travels to Istanbul, Damascus and Aleppo, Jordan and the West Bank, Cairo and Alexandria in the new series which started October 25 on TLC
What's your favorite eating city in the world?

For Middle Eastern food, probably Syria. It's really difficult to pick any given your favorite anything. It depends on your mood. But you know when it comes to really great food, in 35 dollars, I say San Francisco, you can eat Indonesian, French, Japanese, all is there. There's great food anything in the world and that's what you discover doing this type of shows.


Who do you consider your culinary hero? Have you met anyone whom you can consider as one?

I think that, when you meet people that really cook with a tremendous amount of passion, that do it with incredible love... it's not ego food. It's people that cook for people to share. There are so many great moments in this last series when I cooked with a Christian family. The woman was really, really warm. When you see people who are so giving, they don't really have much but she was so giving, it was really touching to see.


If you could invite anyone, alive or dead, to dinner, who would it be and why?
I say Jesus or Mohammad, Judah and Moses so I could show them what they left behind.


What's the best thing you have ever put into your mouth, and the nastiest?

My thumb (laughs)

Nastiest? I say probably the silk worm. I just can never get rid of the taste.


ADVERTISEMENT - CONTINUE READING BELOW
Did you get to employ your Western culinary skills to interact with Middle Eastern cuisine, as you did here in Asia?

The technique is, it's like language. We all have our own language and we apply them in communication. In the culinary world, you have an idea on how to do things, how you cut it, why you cooked this first over that one. So I think, if you have to make your own dish you have to do it your own way.


Do you have any plans of expanding your restaurants in other places? Like here in the Philippines or anywhere else in the world?

I'd like to do so, yes probably also in the Philippines.
WORLD CAFÉ: MIDDLE EAST premieres every Monday, at 10:00 pm, starting October 25 on TLC.
Photographs from TLC

Share this story with your friends!
---
Help us make Spot.ph better!
Take the short survey
Load More Stories