MOVIE REVIEW: Harry Potter & The Deathly Hallows Part 1
For Harry Potter fans, this is easily the best film to date, says SPOT.ph movie reviewer Paul Daza.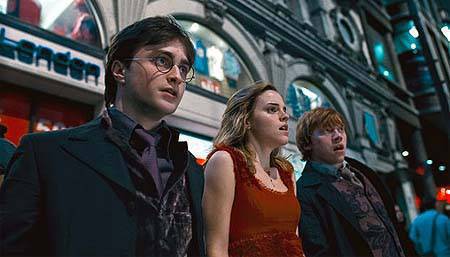 Daniel Radcliffe, Emma Watson and Rupert Grint return in Harry Potter & The Deathly Hallows Part 1
As cliffhanger movie sequels go, especially those that end with the bad guys having the upper hand, Harry Potter and The Deathly Hallows Part 1 is right up there with The Lord Of The Rings: The Two Towers and Star Wars: The Empire Strikes Back. From the moment when the platinum silver Warner Brothers shield becomes corroded with rust and decay at the start of the film, to the last moments showing Voldemort achieving a new level of malevolence, this penultimate Harry Potter movie is a mesmerizing, spell-binding cinematic achievement, and easily the best Potter film to date.
Deathly Hallows Part 1 follows best friends Harry Potter (Daniel Radcliffe), Ron Weasley (Rupert Grint) and Hermione Granger (Emma Watson) as they try to find and destroy the Horcruxes which the evil Lord Voldemort (Ralph Fiennes) hid pieces of his soul in as part of his chilling plan to cheat death and rule all. The teen wizards and witch, however, are up against much deadlier obstacles this time around. Not only must they try to achieve their goal without the wisdom and guidance of Albus Dumbledore (he died at the end of the previous movie, Harry Potter and The Half-Blood Prince), they must also do so without being caught by Voldemort's supporters, who are all out to destroy  Harry.  

If any of the names and nouns in the preceding paragraph don't ring any bells--especially Horcrux--chances are you're not a Harry Potter fan and you'd be wise to simply avoid the movie, because its makers do assume that you've seen the other films in the series and even read the books. Even with the luxury of the running time of two films telling the dense story of J.K. Rowling's seventh and final Harry Potter book, there are several instances when Deathly Hallows Part 1 feels like it's rushing from one chapter to another with little regard for common sense or the audience's emotional investment in the series' heroes. When a beloved character is killed during an aerial attack by the Death Eaters, for example, no one is shown mourning or shedding a tear. There's also a  wedding that comes from nowhere which takes place in a location that's anything but safe, and held on an evening that's a perfect example of bad timing.

But when the film does allow certain story developments to linger, the results are often sublime. Never in the previous installments have Daniel Radcliffe, Rupert Grint and Emma Watson been given so many acting challenges to hurdle than in this film, and they conquer them all with high marks. While Radcliffe has always been good in the dramatic scenes, he outdoes himself in a quick but unforgettable comic scene in the film's first few minutes. It shows Harry's friends - both male and female - taking Polyjuice Potion to look like him so they can serve as decoys for the ambush they're expecting from Voldemort as they move Harry to a safer place. And seeing Radcliffe perform multiple versions of Harry using the mannerisms and body language of  Hermione, the Weasley twins and other personas is one of the comic hallmarks of the film, though it lasts just a few seconds.  Likewise, Emma Watson's Hermione continues to mature and show new facets as a wonderfully gifted actress, improving by leaps and bounds in this installment.  In Deathly Hallows Part 1, her many highlights include two very moving scenes which aren't even in the book: the first shows her removing all traces of herself from the memory of her muggle parents and their muggle home, while the other shows her slow-dancing with Harry in a moving physical display of their platonic friendship. Rupert Grint's Ron is also given a couple of moments to make an indelible impression. Though utilized primarily as the series' comic relief, Grint aces the demanding scene where he explodes with anger at Harry because of a Horcrux's influence.  

And it's not only the young cast who shows spectacular new colors- even director David Yates shows a flash of brilliance never hinted at in his earlier Potter work. Before Deathly Hallows Part 1, the hallmark of Yates' work in the Potter series was the consistently good acting in Order of the Phoenix and The Half-Blood Prince. I thought of him as an actor's director first, and a good (but not brilliant) storyteller second. Thanks to one scene in the latest Potter movie, however, Yates proves himself to be a superb cinema stylist as well. Appropriately enough, the scene that many fans will be buzzing about from Harry Potter and the Deathly Hallows Part 1 is the one that identifies exactly what the Deathly Hallows are. Looking like the mutated offspring of a Turkish shadow play and stylized computer animation, this scene now ranks as one of my absolute favorites in the Harry Potter movie franchise, on the same level as the hyper-kinetic Quidditch game from Harry Potter & The Sorcerer's Stone and the eerie Black Lake challenge from Harry Potter and the Goblet of Fire.
ADVERTISEMENT - CONTINUE READING BELOW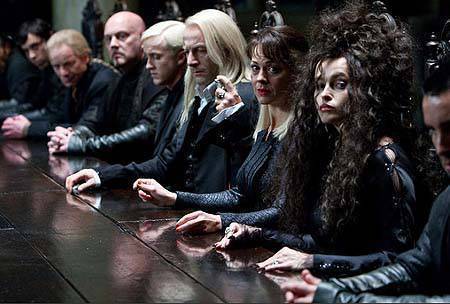 CONTINUE READING BELOW
Recommended Videos
Paul Daza says, "...this latest Potter installment has more in common with an intense and violent horror movie than a harmless fantasy film for the entire family."
Speaking of Goblet, I guess now's as good a time as any to recall an observation which horror master Stephen King made when Harry Potter and the Deathly Hallows was published in 2007. It was King's opinion that the boy wizard's creator, J.K. Rowling, stopped writing the Potter stories for children from The Goblet of Fire until the last book, The Deathly Hallows. That statement by King (which I agree with) is doubly true for the first part of the movie adaptation of Deathly Hallows. With its allusions to Nazism, a high death toll on the side of the good guys, and the hair-trigger suspense resulting from Voldemort's relentless pursuit of Harry, this latest Potter installment has more in common with an intense and violent horror movie than a harmless fantasy film for the entire family. Parents of very young children be warned- this is literally the bloodiest and most unnerving Harry Potter movie yet. It's also, to use a popular British expression, the bloody best of the lot and a bloody wicked good time at the movies.   

Rating: 4½ out of 5 spots ....
ADVERTISEMENT - CONTINUE READING BELOW
Check to see where the movie is showing.
Photographs from Warner Bros. Pictures
Share this story with your friends!
---
Help us make Spot.ph better!
Take the short survey
Load More Stories