Apartment 1B
G/F One Lafayette Square, 132 LP Leviste corner Sedeno St.,
Salcedo Village, Makati City
Tel. No. 843-4074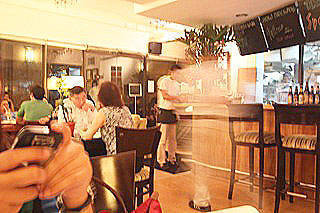 It's Apartment 1B's food that keeps people coming back, says JJ Yulo
I've always said that if ever I had my own restaurant, I'd like it to be just like Apartment 1B. Big words, for sure, but if you've ever been there, you'll get what I mean. I believe the person behind all this is Marivic Diaz-also one of the people who was behind another late, lamented restaurant that I used to really enjoy: Ñ. The lady has obviously travelled and experienced a lot of things, all of which she brings to her little corner of Salcedo Village.
Apartment 1B is certainly a favorite of people who live in the area-and how could it not be? Serving comfort food (a great name for dishes that are simple, stomach warming, and familiar), they attract all sorts of people, making the place a great spot for people watching. On any given night, you'll likely to find a bunch of friends hanging out, some dudes from the office unwinding, a couple out on a date (I love spotting them and wondering what they're talking about!), perhaps a family, or even a bunch of runners coming in for a...ahem.. snack, not necessarily of the healthy variety.
ADVERTISEMENT - CONTINUE READING BELOW
One look at the menu, and immediately you will realize that it is the food that keeps packing people in. It reads well, with a vast array of dishes from all over the place (mostly American.) I have heard people wax poetic over their meatloaf, or fish and chips, or salpicao. Yep, it's that kind of place.
So my posse and I (all three of us!) revisited one night because we were in the area after watching the Christmas light show in Ayala Triangle (you must go, by the way, in case you haven't. Quite pretty!) As always, it was pretty full.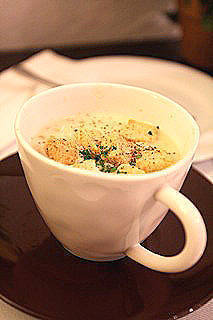 A serving of hot and hearty corn chowder
It's always fun to hang around here, even on nights like that night, when the food was a bit off.  My corn chowder (P190) was hot and hearty, as it usually is- with whole corn kernels and bits of potato, sprinkling of herbs, croutons, and broth and cream all nice and fortifying. My friend N's soup, however-a chicken noodle (P160)-tasted too much like bouillon cubes. Very salty in the way that chicken cubes can be. Now, I understand that using stuff like that can really ease up things in a kitchen-there are times when it helps efficiency-however, there is also a fine line between using it and over using it.  Sure, broth is always better but if you must use cubes then use it wisely - a sodium bomb is never good, in my book.
CONTINUE READING BELOW
Recommended Videos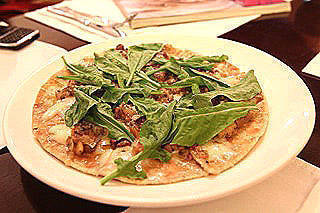 Apt 1B's pizzeta is topped with a lot of garlic, anchovies, cheese and arugula
A pizzeta (P350) was a nice starter-a crisp, pizza like dough topped with a lot of garlic, anchovies, cheese and arugula. If you like your food boldly seasoned, this one is for you. Buffalo wings (P360) came with a very Pinoy (and kinda funny) twist. Usually, it's fried wings tossed in butter and hot sauce (Frank's Hot Sauce, for purists), but here it's tossed in butter and Knorr seasoning.  Great stuff on the outside, with skin properly crisped up, however, the flavor didn't permeate the meat. It didn't taste like anything. Not their finest hour for wings, but we ate them anyway.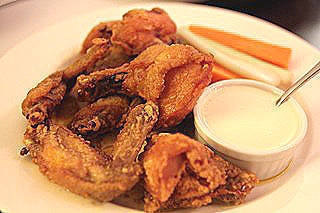 ADVERTISEMENT - CONTINUE READING BELOW
Buffalo wings with crispy skin

A's Ceasar Salad (P330), something all restaurants should have, as it is our "national salad", methinks, came a little skimpily dressed. Normally, as a red-blooded male, skimpily dressed things can be quite exciting, but here it just resulted again in lack of flavor. Sure, I could've asked for more dressing, but there was another problem: the greens (mostly iceberg for today, sadly) weren't properly dried out, so it was sadly soggy. Boo. Yes, I should've returned it, but I didn't. It was one of those nights.
C's Tenderloin Chunks (P450)was pretty good, for some reason, salpicao isn't on their regular menu: it only makes appearances as a special. Tender chunks of tenderloin smothered in a rich brown gravy and served with garlic rice (yes, it's different from their salpicao recipe) is the kind of food that hits the spot, especially when it's exactly what you're looking for. Was it enough to make our dinner awesome? Unfortunately, not that night. The kitchen was pretty off, and the stars were not aligned for them. Not to mention that it wasn't my order. Boo.
But here's the rub: I would still go back anytime, simply because they usually have their game in check. Service is always pleasant, and spot-on, and the food is always of high standards. The sins weren't grave-they are the kind that you can let slide, and hopefully it will get back on track as soon as possible. Sometimes we forget that running a restaurant is a tough business-sometimes your kitchen will slip up. But cliché as it sounds; the best are always the ones who get up right away. I'm hoping these guys prove themselves to stand right up there where I expect them to be, because I know they can do it.  

Rating: 2.75 stars ...


ADVERTISEMENT - CONTINUE READING BELOW
Photographs by JJ Yulo
Share this story with your friends!
---
Help us make Spot.ph better!
Take the short survey
Load More Stories