FOOD REVIEW: Queens Crystal Garden on Jupiter Street
Our SPOT.ph food blogger goes vegetarian for a day and loves it at this Indian joint.
Queens Crystal Garden Restaurant
146 Jupiter Street, Makati
Tel. 895 1316
Open daily from 11:30 a.m to 3 p.m.; 6:30 p.m. to 10:30 p.m.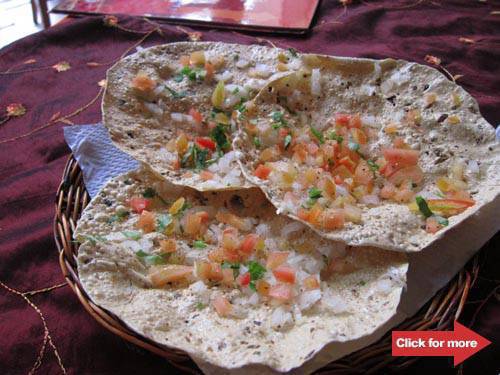 Indian delights and other Asian favorites at Queens. Click for more photos.
I've read that this year is "the year of the vegetable" and I'm inclined to believe it.
ADVERTISEMENT - CONTINUE READING BELOW
CONTINUE READING BELOW
Recommended Videos
Aligned with this statement, and inspired by this effort in America called Meat Free Monday, which calls everyone to eat less meat not only to promote good health but also to help the environment, I started a Facebook group called Meatless Mondays Manila, just for kicks. How hard could it be to give up meat once a week?
Now, if you go out fairly often like I do, you begin to realize that there aren't many meatless choices available, which is a shame. Of course, this makes total sense considering that we are a nation of carnivores, but the truth of the matter is that vegetables (and tofu) can,  and should be celebrated as well, and can be made as equally delicious and satisfying as your slab of sizzling hot, juicy, tender grilled liempo (oh fine, maybe a close second.)
Since I have to stick to my guns on this, I decided to head off to the most accessible place to eat vegetarian: an Indian restaurant. It was time to visit a place I have enjoyed many times in the past, but haven't been to in a long time, Queens.
ADVERTISEMENT - CONTINUE READING BELOW
Located in Jupiter, my memories of this place have always been good. I even remember the owner, a closet comedian, who would often come over to our table and crack jokes a mile a minute while his daughters watched from the sidelines and rolled their eyes. You've got to love family-run joints, though this time around I didn't see any of them.
I cannot say that I've had much Indian food, for although I find it quite intriguing and delicious, it's often low on my totem pole of eats. It's a shame, really, because there are so many facets to it that are just waiting to be discovered by my taste buds. Luckily, I have had quite exemplary versions a few times (though I don't know how it stacks up to the real deal from the land of origin), and after perusing the menu, my interest was once again piqued by the sheer variety of it all.
ADVERTISEMENT - CONTINUE READING BELOW
The thing about Queens is that it has two menus-one Indian, and one they dub as "fusion," or more dishes of Southeast Asian bent with a lot of Indonesian stuff. My tip for you is to order from just one or the other. Don't mix it up, lest you find yourself with strange combinations that although are delicious individually, may not exactly be great bed partners.
So anyway, I went with N, and since we arrived at around 2 p.m., we were famished. Happily for us, there was a huge selection of interesting looking, and meat-free eats! We were so hungry that we were greedily picking on the pickled cucumbers and onions and condiments. Not a good idea if you have a date, as the onion breath factor was killer, but since I was with N who I'm with practically every single day, it was a free for all. Yes, we stank equally.
ADVERTISEMENT - CONTINUE READING BELOW
Normally I don't order them, but we started with a simple plate of papadums (P120). Fun food; it was crispy and not at all greasy likes ones I've tried in a lot of other Indian restaurants. It's a great vehicle for all those pickled onions.
Palak Paneer (P330) is another famous little Indian vegetarian dish of spinach and Indian cheese called paneer, all in a curry sauce. Found in practically any Indian restaurant, most versions I've tried tasted good enough, but would fall with an almost audible thud into your belly. Talk about heavy food. Queens, for some reason, almost seemed light and fluffy. I can see why it is very popular with vegetarians-it really quells your hunger pangs.
Malai Kofta (P299) are veggie substitutes for meat kofta (or meatballs). It certainly tastes like veg, with a lot of root crops in it (potatoes, I believe), nuts and a lot of coriander. Delicious, this one, and great with some long grain rice to sop up all the rich sauce.
ADVERTISEMENT - CONTINUE READING BELOW
Because I wanted to order something from the "fusion" side, I got a vegetarian nasi goreng (180). This was already pretty tasty on its own-an exemplary fried rice-but it went extremely well with one of Queen's ultimate best sellers, Szechuan mock duck (P330). Yes, it looks like duck, and is kind of shaped like duck chunks, but it surely didn't ever quack. The secret is, of course, the delicious sauce-a lot of ginger, garlic, and chilies wok'd with whole dried chilies and chopped green onions. Heck, you could probably eat just the sauce and be totally satisfied.
As I mentioned earlier, all this, of course, didn't really go together-order from one menu or the other, unless you don't mind getting all sorts of flavors mixed up on your tongue.
All in all, it was a great way to start exploring the world of the vegetarian-food that is an often-disrespected faction by the meat lover's brigade. I believe vegetarian food is delicious too, and I think I'll spend a considerable amount of time looking for the good stuff as well. I shall keep you posted. In the meantime, go explore Queens if you haven't yet. If you haven't been in awhile, it's time to re-discover it. And yes, they have meat of every sort on the menu as well.
ADVERTISEMENT - CONTINUE READING BELOW
Easy on the pickled onions, OK?
Photos by JJ Yulo
Load More Stories