10 Private Dining Spots in Manila
Tired of the restaurant scene? Check out these private chef services that are just as good, or maybe even better than the last spot you dined in.
It's not that restaurants don't serve good food anymore. Sometimes, we're simply looking for a place to enjoy delicious dishes in a relaxing space, sometimes even in the comfort of our own homes. Private dining does just that-it offers a unique dining experience you won't usually get from the usual restaurants, like personalized service, adventurous menu choices, a cozy ambience, and home-cooked food prepared with a lot of love. So the next time you plan an intimate group dinner, a fun family get-together, or a date with your honey, take a break from the restaurant scene and give these private dining spots a try. (Arranged in no particular order).
The Home Chef

Food: You have a choice of menus that range from Filipino, Asian, Italian, Spanish, and Mediterranean cuisine. Owner Minnie Puno suggests ordering their specialties like the paella and pasta. Appetizers like the Thai chicken wrap, Caesar chicken wrap, and fresh salad rolls (popular buys at the Legazpi Sunday Market) are also must-tries. Not to be missed is Minnie's signature dessert: the Minnie Mousse, a liqueur flavored mini chocolate mousse.          

How much to shell out: Prices range from P1500 to P2000 per person depending on the ingredients used.

Setting: Expect a simple setup with a few rustic elements and a casual ambiance-much like dining at home, only with much better food and a more elegant table setting.

Perfect for: With a minimum requirement of eight people and a maximum of 22, it's suited for intimate family functions. Two-week notice is required.
ADVERTISEMENT - CONTINUE READING BELOW
For inquiries, email minniepuno@yahoo.com or call 842-2559, (0917)8382559.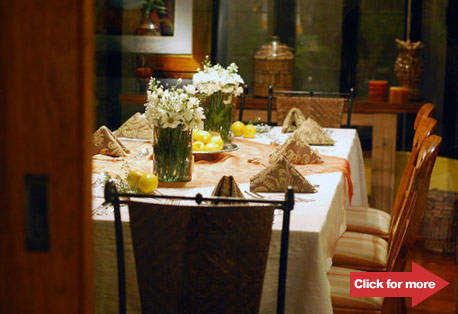 More than just desserts at Minnie Puno's The Home Chef. Click for more photos.

Pinoy Eats World Guerilla Dinners

Food: No fixed menu here. Pinoy Eats World comes up with dishes and menus based on what the client wants. Being bona fide foodies, they love preparing dishes they enjoy eating. Manning the kitchen is SPOT.ph food blogger JJ Yulo (who has a culinary degree from the Institute of Culinary Education in New York City) and Chef Namee Jorolan (third-generation restaurateur from the family behind popular Pampanga food destination Everybody's Café). Here's a tip: leave it up to the chefs to decide on the menu.
How much to shell out: The full tasting menu rate begins at P1,800 but they can also adjust the rate depending on the client's budget.
Setting: With an anything-goes attitude, Pinoy Eats World conducts their Guerilla Dinners anywhere, preferably with a full kitchen. Foodies who have joined a Guerilla Dinner guarantee a fun-filled dining experience. With witty dish names like Toast de Nacho Libre and Clam Chow There, what do you expect?

ADVERTISEMENT - CONTINUE READING BELOW
Perfect for: Fun foodies who don't mind exploring and trying out new dishes in a no-frills setting.
For inquiries, email jjyulo@pinoyeatsworld.com or call (0917)530-1160.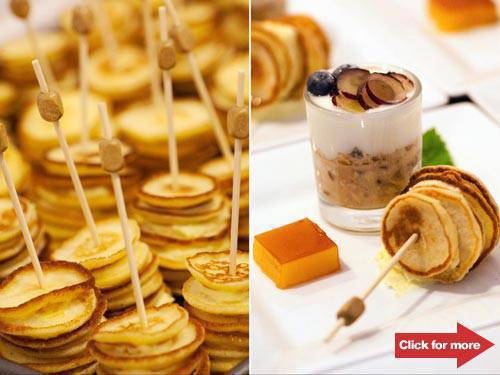 Pinoy Eats World Guerilla Dinner serves adventurous eats in a no-frills setting. Click for more photos.
Modern Epicurean Kitchen
Food: "I like to call it "Mediterrasian" cuisine," shares Steph Zubiri, chef of the Modern Epicurean Kitchen. "I love to make Mediterranean food but I also love spices and studied Thai cuisine." Though the menu is dependent on the client's desires, a must-try is Chef Steph's delicious updated versions of Filipino classics.
How much to shell out: Menu prices depend on the number of people and what kind of event or service is requested. Modern Epicurean Kitchen goes as far as planning the whole party for you-the theme, decorations, even the entertainment.
Setting: Wherever the dinners are held-they have a small space in Makati that can accommodate a sit-down dinner for a maximum of 16 or at your preferred venue-expect a classy setup with flowers, elegant china, glassware, and a full service staff if necessary.?                 
ADVERTISEMENT - CONTINUE READING BELOW
Perfect for: Indulgent dinners for two, intimate group gatherings.
For inquiries, email mek@epicurusinc.ph or call 799-3171, (0917)830-8393, (0922)889-1750.
Indulgent dinners are Modern Epicurean Kitchen's specialty. Click for more photos.
Chef Cuisine

Food: Pick from a lineup of chefs who will tailor-fit a menu exclusively for you. With Chef Him Uy De Baron at the helm, expect meticulously prepared dishes with fantastic flavors. Chef Cuisine is known for the bold neo-Asian dishes that come out of its kitchen.        

How much to shell out: Prices are determined after menu selection.

Setting: Chef Cuisine can provide a table anywhere you wish. They have an in-house designer who can help you decide on the theme of your function, whether it's an intimate dinner for two or a laid-back, informal get-together. They make it happen, whatever "it" may be.

Perfect for: A romantic date and group get-togethers.
For inquiries, email chefcuisine06@gmail.com or call 633-6577.
ADVERTISEMENT - CONTINUE READING BELOW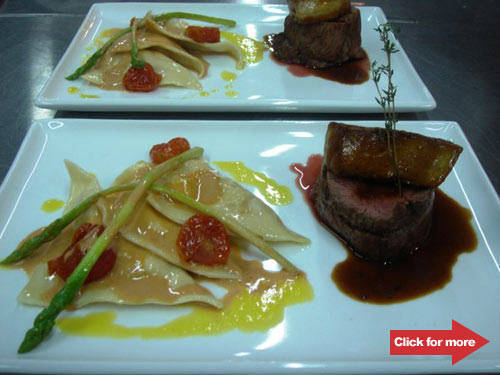 Pick a chef, pick a cuisine. Click for more photos.
Damaso Residencia

Food: The menu depends on what the client wants.  "I prefer them to give me a guideline, be it a country or a theme, then I come up with a menu for them," says Chef Bambi Sy Gobio, the owner of Damaso Residencia. She adds, "You can't go wrong with the turkey."

How much to shell out: Menu rates begin at P1000.

Setting: With its French and Italian-inspired eclectic interiors, you'll be transported to another time and place when dining here. Don't be intimidated by the bold colors, prints, and big paintings-the space is quite relaxing. Chef Bambi decided to open her home for private parties because her restaurant Pia y Damaso in Greenbelt 5 couldn't not accommodate big groups because of its limited space.  

Perfect for: Relaxed group get-togethers for 12 to 32 people.
For inquiries, email damaso@skybroadband.com.ph or call (0917)848-0620.
ADVERTISEMENT - CONTINUE READING BELOW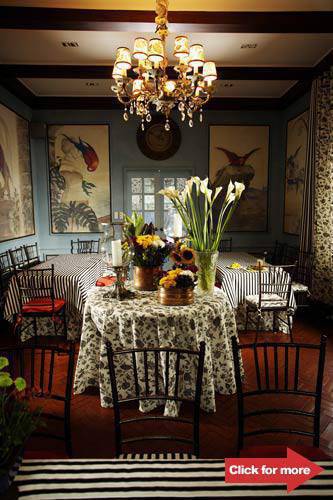 Enjoy Bambi Sy Gobio's customized menu at her French and Italian-inspired dining space
La Cocina de Tita Moning

Food: The menu compiles the Legarda family's heirloom recipes. Order from set menus or go a la carte (minimum of P1,500 per person).
How much to shell out: A minimum of P1,500 per person.
Setting: If history, romance and good food is the combo you have in mind, La Cocina de Tita Moning creates the perfect backdrop with its heirloom furniture, books, magazines, and even medical supplies from the 1930s. A tour of the grand Legarda Mansion precedes the meal, where the table is elegantly set-up with silverware and flowers just the way Manila's genteel families dined during the 1930s.
Perfect for: Impressing a girl (or staging a proposal, perhaps) or a family dinner celebration. La Cocina de Tita Moning is strictly a reservations-only affair. Make sure to call one day in advance.
ADVERTISEMENT - CONTINUE READING BELOW
Call 734-2141 for inquiries ands reservations. La Cocina de Tita Moning is at 315 San Rafael Street, San Miguel District, Manila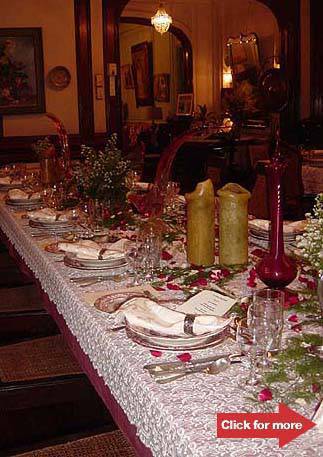 History and good food come together at La Cocina de Tita Moning

Chef Tatung's

Food: Expect to find European and Mediterranean cuisine on Chef Myke Tatung Sarthou's menu-the standard four-course dinner at his home-turned-private dining space includes freshly-baked bread, soup, salad, main course and dessert. Chef Tatung creates everything from scratch. He says, "We do not use industrial commercial seasonings or flavor enhancers. Our service is 'casually formal,' the way we had formal family dinners growing up."
How much to shell out: P500 per person; P750 if you opt for the steak. His Valentine's Day dinner menu starts with a welcome cocktail, a four-course menu with a glass of wine and a gift for the ladies, at P700 per person.
Setting: Casual is the rule of the day at Chef Tatung's but the dinner tables are nicely set-up for Chef Tatung's food, which is really the star of the show. "It is my home, my private space and I like having good company around. I love good conversation and I wanted my place to be the perfect background to the human experience. Not too much funfare, not too many surprises, no big ideas. It's not just about the food and eating, it's more about sharing of grace, the sharing of ourselves," he says.
ADVERTISEMENT - CONTINUE READING BELOW
Perfect for: For a casual dinner sans the crowd, head to Chef Tatung's when you want to want to mingle with friends over good food.
Call 352-6121, (0915) 846-3234 for reservations. Chef Tatung's is at 17 Matipid Street, Sikatuna Village, Quezon City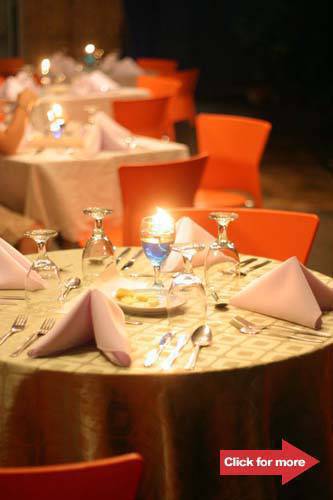 Affordable four-course menus are available at Chef Tatung's
New Manila Kitchen by Myrna Segismundo

Food: Be prepared to be won over by comforting Filipino fare by food writer and chef Myrna Segismundo. Partake of ubod, shrimp and pomelo salad, empanaditas, kinilaw, beef caldereta, and more. A menu with international dishes is available as well, plus take-out items like adobo pate, empanadas and homemade potato bread.

How much to shell out: Segismundo serves dinner for groups with at least 10 people or more at P1,500 per person.

Setting: The basement of Segismundo's home has been transformed into a private foodie hangout which seats 20 people. The cozy space showcases Segismundo's expertise in the kitchen and doubles as a cooking studio-she holds cooking classes and shares her 20-plus years of experience in the restaurant business.

Perfect for: Intimate get-togethers where sumptuous food is king, or for when you're in the mood for great food. Call ahead to make arrangements.
ADVERTISEMENT - CONTINUE READING BELOW
Call 721-0736 or email newmanilakitchen@gmail.com for reservations. New Manila Kitchen is at 45 Sunrise Hill, New Manila Rolling Hills Village, Quezon City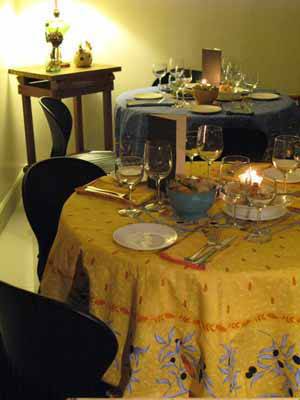 New Manila Kitchen showcases Myrna Segismundo's expertise in the kitchen
Isabelo's

Food: Isabelo's menu spoils you with choices-pick out from the a la carte menu which lists pizza and pasta options, soup and salads, entrees such as Beef Bourguignon and Lamb Steak, and dessert. Servings are generous and can be shared by 2-4 people.
How much to shell out: The a la carte menu lists appetizers starting at P220 and entrees start at P295.
Setting: Al fresco dining at Isabelo's garden takes you away from the din of the city. The mementos and antiques that decorate the place adds a personal touch to the rustic outdoor café.
Perfect for: A quiet dinner away from the frenzy of the city. Isabelo's is open from Mondays to Sundays, 6 p.m. to 12 mn. Three days' advance notice is recommended.
ADVERTISEMENT - CONTINUE READING BELOW
Call 510-6914 for reservations. Isabelo's is at Isabelo Street, San Roque, Marikina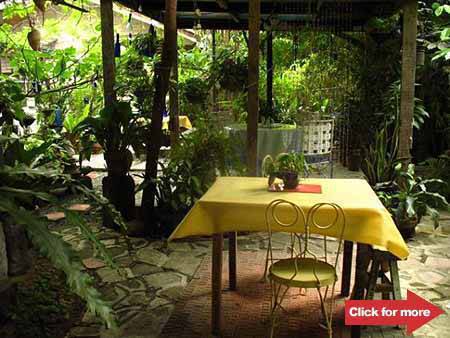 Isabelo's outdoor cafe takes you away from the frenzy of the city
Qasa 61

Food: Qasa 61 is all about home-cooked meals, but cook and owner Beth Cobarrubias adds a touch of sophistication to the dishes, just the way she normally does for her family's meals. "I cook everything [the way] I would cook for family and never scrimp," she shares. The themed menu echoes periods of their family life: "Marikina Heirloom Recipes" features dishes Cobarrubias grew up with; "Pacific Northwest Pinoy-style" and "Summertime in the 503", family favorites from their time in Portland, Oregon; and "Home Sweet Home," Pinoy-style fare.
How much to shell out: P750 per person inclusive of rice, drinks, and dessert (minimum of two persons per menu).
Setting: "It's about creating a homey place away from home," says Cobarrubias, who turned one part of the family apartment complex into a private dining area. The lounging area has comfy couches with an LCD TV while the dining area seats 10 people. If you are hosting a larger group for an intimate party, you'll be happy to know that the space can fit up to 25 people.
ADVERTISEMENT - CONTINUE READING BELOW
Perfect for: Dodging the crowd at mall-based restaurants where you have to wait long for a table. For V-Day, Qasa 61 prepared a five-course meal at P1,500 per person with includes Taco Yogurt Dip Salad and Tuna Mac salad, choice of Steak Tenderloin, Darling Baked Salmon or Sweetheart Prawns served  with Baked or Mashed Potato or rice and flan with fruit compote. The menu is available on February 11 (7 p.m.), 12 and 13 (12 noon and 7 p.m.) and 14 (7 p.m.)
Call (0927) 941-1241 for reservations. Qasa 61 is at 61 Lopez Jaena Street, Marikina City. Limited seats available for February 14.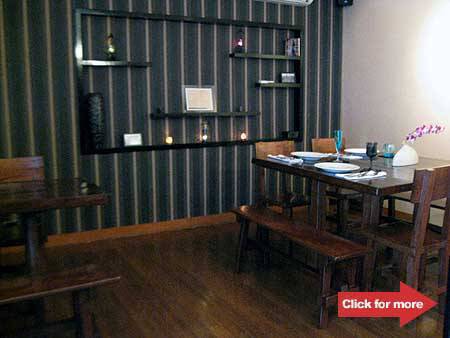 Homecooked meals get an upgrade at Qasa 61.

Photos from minnipuno.multiply.com (The Home Chef), Facebook (Pinoy Eats World Guerilla Dinner and Modern Epicurean Kitchen), Modern Epicurean Kitchen, chefcuisine.multiply.com (Chef Cuisine), and courtesy of Damaso Residencia, Gar Buenavista (Chef Tatung's), lacocinadetitamoning.com, Isabelo's Facebook page, Trixie Zabal (Qasa 61), Lori Baltazar (New Manila Kitchen by Myrna Segismundo)

ADVERTISEMENT - CONTINUE READING BELOW
Load More Stories