Joel Trinidad, Carla Guevara star in Breakups & Breakdowns February 18 to March 12
This musical defines "It's Complicated."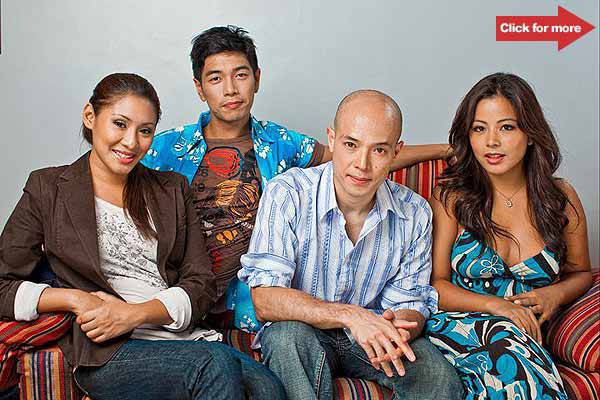 Carla Guevara-Laforteza, Reuben Uy, Joel Trinidad and Emerita Alcid. Click for more photos.
Breakups & Breakdowns defines and plays out today's favorite relationship status "It's Complicated." The first major offering of veteran thespian Joel Trinidad's new theater company Upstart Productions, the musical stars four people who realize the extent of their intertwining lives one night.

Trinidad plays Mark, who is working on a play heavily inspired by his failed relationship with Nina. Little does he know that Nina, portrayed by theater veteran Carla Guevara-Laforteza, is starting to miss him.

Meanwhile, Mark's best friend Derek (actor-singer Reuben Uy) wants to quit playing games and get serious with Sandy (Miss Saigon US tour alumna Emerita Alcid, also Trinidad's wife in real life). But Sandy's got her commitment-phobe face on, having been burned by her last boyfriend who found her too needy, earnest and available.

One stormy night finds all four stuck at Mark's place where everyone discovers Sandy and Mark know each from the time when Sandy was "a little too needy, a little too earnest and a little too available."
ADVERTISEMENT - CONTINUE READING BELOW
The making of Breakups & Breakdowns

Trinidad wrote the show with Hong Kong Disneyland Musical Director Rony Fortich, who took charge of Breakups & Breakdowns' music. It runs from February 18 to March 12 at Teatrino in Greenhills, San Juan. For tickets and inquiries, email upstarttickets@gmail.com or call TicketWorld at 891-9999.
Recommended Videos
Load More Stories