Good Charlotte on revisiting Manila, the evolution of their music, and more
The pop-punk band we all love is back with a new album loaded with their signature music, plus a one-night-only show.
(SPOT.ph) Fifteen years in the music industry and Good Charlotte is still pop-punk rocking. It all started with a Beastie Boys performance that blew away twins Joel and Benji Madden, pushing them to assemble the band in 1996. Today, Good Charlotte-composed of Joel Madden (vocals), Benji Madden (guitar and vocals), Dean Butterworth (drums), Billy Martin (guitar and keyboard) and Paul Thomas (bass)-is out with their fifth studio album titled Cardiology, which brings back the band's good old rock and roll sound.
Fresh from celebrating their 15th anniversary on April 1, Good Charlotte is back in the Philippines for a one-night-only performance on April 6. SPOT.ph got to know this post-grunge, pop-punk outfit even more.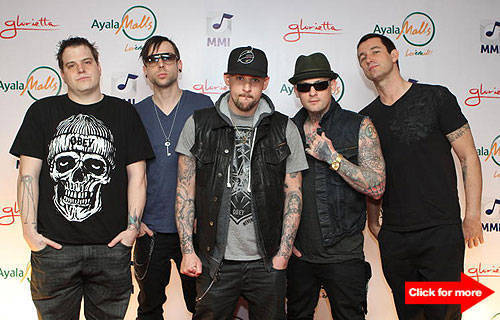 Paul Thomas, Billy Martin, Joel Madden, Benji Madden, and Dean Butterworth of Good Charlotte. Click for more.
On the name of their band taken from Carol Beach York's book Good Charlotte: The Girls of Good Day Orphanage:
ADVERTISEMENT - CONTINUE READING BELOW
Joel: "Well, we all actually grew up in an orphanage together so...just kidding. Honestly, we were 15 when we named the band and the book was on a bookshelf and there wasn't really a lot of significance at the time. We were 15, we thought it sounded cool. That's a very honest answer. If you read the book, there actually could be some significance to the name because it actually has a good story, but if I'm being honest, we just thought it was a cool name."
Benji: "Let's face it. It's not a great name."
CONTINUE READING BELOW
Recommended Videos
On their other artistic ventures:
Joel: "I think we found, over the years, we've done a lot of different things but I feel like it suits us best to play to our strengths. Billy is actually a full-time artist; he does comic books now. He's actually talented when it comes to designing and creating artistic things."
On Joel's children possibly pursuing a career in music:
Joel: "I will encourage my children to follow their dreams and if that happens to be music, then I'll support them. If their dream is to be a musician, then I'll support them. If their dream is to be a doctor, then I'll support them."
Benji: "I'll be their manager."
Joel: "Whatever my children's' dream is, I'll support. If it's music, then so be it."
On their return to their original sound:
Benji: "I think that when we finished Good Morning Revival, it didn't have heavy dance influence on the record and then I think, over the last few years, it seems like the dance music has completely taken over. So usually when everyone goes this way, we try to go that way. So we wanted to get away from dance music because dancing music is everywhere...I think it was time for us to make a guitar-driven record."
ADVERTISEMENT - CONTINUE READING BELOW
Billy: "I think there's no telling what we'll do in the future, but for the near future anyway I think all of our recordings and all of our records are going to be a little more guitar-driven and a little more rock just because we're hearing less of that these days. And, like he (Benji) said, we always like to go on different directions."
On their new album Cardiology:
Joel: "I would say there are a few key songs in the record that kind of represent where we are right now-songs like "1979," "There She Goes," "Last Night," the new single "Right Where I Belong," "Silver Screen Romance." We're definitely kind of swinging back into a really guitar-driven, kind of pop-punk direction-kind of like where we started when we started the band. That's kind of where we're at. I think the lyrics of these songs; I don't think we could have written 10 or 12 years ago."
Benji: "I think this record is just a fun record. We don't take ourselves too seriously. We don't take anything too seriously...We made the record for fun. We started this band for fun...The record is just a fun record."
Good Charlotte's latest single "Like It's Her Birthday"
On Good Charlotte's vision:
Joel: "It's funny because April 1st was actually our 15th year anniversary. April Fool's Day is our band's anniversary. I think when we started the band, I don't know if we actually had a vision. I think the bands that we love at the time were bands like Weezer and the Beastie Boys. Those were the bands that kind of didn't really have any rules. They can make a lot of different records that sound a lot of different ways. That was kind of our goal-that we wouldn't be confined to a certain genre or confined to making a certain type of record. And that is still our vision, to want to continue to make records that we love, that push the limits a little bit and inspire other kids to start bands and write songs themselves."
ADVERTISEMENT - CONTINUE READING BELOW
On touring and revisiting Manila:
Billy: "We wanted to get into tour buses, we wanted to play big shows, we wanted to tour all across the world and meet our fans. I think that's what we wanted to do."
Benji: "We wanted to come to Manila."
Joel: "It's interesting when you think about it. Especially where we grew up people don't get to travel a lot...Just by starting a band and writing songs, we kind of followed our dream. It's always kind of crazy to think about when you come to a place like Manila-a place you'd hear about but you never thought you'd get to come. When we do, it's always kind of crazy...Being here just a few days after celebrating our anniversary, we're so far away from where we started, it's really special to us. We don't take it for granted. Thank you, guys."
On the hardest lesson they've learned from the music business:
Dean: "All business is difficult, but like these guys were just saying, if you have a dream, then you work hard to make your dream come true-and that has been our experience, that has been my experience over my career with Good Charlotte and doing other things...I think the biggest lesson for me is just to never quit, and if you have a dream and you keep working, you'll get it."
On going around Manila's malls and meeting fans:
Joel: "We're actually big fans of malls in general when we tour. The malls are very nice so we're big fans. It's the first thing I got to do when I get into town, I got to the mall. I saw some fans the other day. That was cool; it's really cool for us.
ADVERTISEMENT - CONTINUE READING BELOW
On other artists like Bruno Mars:
Joel: "I like Bruno Mars."
Dean: "I love Bruno Mars."
Joel: "I think he's really talented. A lot of people don't know how hard he's worked."
Benji: "I think we're probably an influence on them."
Joel: "I'm a fan of how hard he's worked. I got to meet him and he's really nice. He stands out to me because I got to meet him and he was so down to earth and nice and I know how hard he's worked to get to where he is. I'm a big fan of his."
Dean: "I'm a big fan of Good Charlotte."
Benji: "We definitely keep up with pop music and what's going on. I think none of us wants to turn into one of those guys that go, 'What is this that all these kids are listening to?' It seems like it's really positive like the pop music right now is really positive and that's always a good thing. We definitely like seeing positive music become successful more than music with negative message.
On what their Filipino fans can expect:
Benji: "It's going to be a lot of fun. I think one of the things that makes the show so fun in a place like Manila, being here months before we had such a good experience the last time we were here. We made friends the last time we were here. We had such a good experience. We were so excited about coming back when we found out that we we're going to come back. I think anytime a band shows up and they're so excited to be there, you can feel the energy, you can feel it onstage, and we're all definitely really, really excited to be back in the Philippines. I think the kids are really going to genuinely feel how much we really want to be here and how much fun we're having. I think that makes it fun for everyone...Mahal kita."
ADVERTISEMENT - CONTINUE READING BELOW
Catch Good Charlotte at the Glorietta Activity Center, Makati City on April 6, 6:30 p.m. for a one-night-only performance. Joel and Benji Madden will also be spinning at LAX Nightclub Manila, Structure C, SM by the Bay, Mall of Asia, Pasay City on April 6. Gates open at 9 p.m.
For updates about the band, log on to www.goodcharlotte.com.
Photos by Jean Natividad and courtesy of Visions and Expressions.
Share this story with your friends!
---
Help us make Spot.ph better!
Take the short survey
Load More Stories