Catch STOMP from October 18 to 23
Watch the stage transform into a witty, pulsating, and irresistible theatrical event.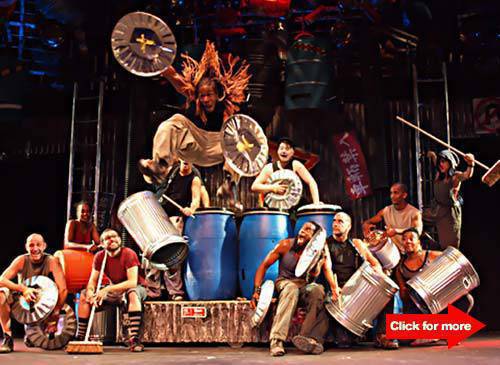 Catch this rhythmic extravaganza this month. Click for more.
(SPOT.ph) Percussion, movement, and visual comedy-these are the three major components that make up STOMP, the loudest, liveliest, highly anticipated musical that will be shown from October 18 to 23 at the Tanghalang Nicanor Abelardo, Cultural Center of the Philippines for an eight-show series.
ADVERTISEMENT - CONTINUE READING BELOW
A flurry of banging pipes, scraping floors, slamming trash cans, and swishing paint, Stomper Fraser Morrison defines the show as "a hybrid of genres-music, dance, theater, comedy, and performance." There's no exact definition, he says, adding "Why label yourself as one thing when you can be a bit of several?"
The award-winning show, created by Luke Cresswell and Steve McNicholas in 1991, has enjoyed sold-out performances all over the world, including Broadway and London's West End. A little bit of trivia: since its inception some 20 years ago, the STOMP cast has consumed over 50,000 boxes of matches, 30,000 brooms, 20,000 trash bins, 10,000 drumsticks, 25,000 liters of black paint, and 737 paint rollers. Celebrities who have seen the show include Jodi Foster, Jim Carrey, Steven Spielberg, Demi Moore, Michael Jackson, and Oprah Winfrey.
The teaser for STOMP's Manila show

For ticket reservations and inquiries, call +632-891-9999 or visit www.ticketworld.com.ph.
ADVERTISEMENT - CONTINUE READING BELOW
Recommended Videos
Load More Stories