Catch the 2nd Taiwan Film Festival from October 21 to 26
Travel to Taipei from your seat. Plus, catch Bayani Agbayani and Epy Quizon in <em>Pinoy Sunday</em>.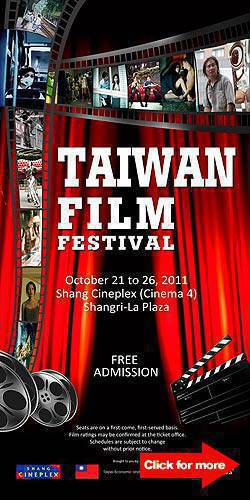 For the schedules and synopses, click for more.
(SPOT.ph) Cinephiles and culture aficionados are in for a cinematic treat at the 2nd Taiwan Film Festival from October 21 to 26 at the Shang Cineplex Cinema 4 in Shangri-La Plaza. This year's lineup includes acclaimed full-length features, shorts, and documentaries.
Fans of romantic films should catch Three Times, a film showcasing three different stories of unfinished love; while the dark side of commitment is explored in Zoom Hunting as a photographer discovers infidelity and deception in her subjects' relationship.
ADVERTISEMENT - CONTINUE READING BELOW
Follow the story of Li Wu-hsiung as he struggles with the shocking revelation that he could lose his legal rights as a father in the poignant film, No Puedo Vivir Sin Ti . Or, discover the world of a small-time gangster and a band singer as they try to make it big in the entertainment industry in  Gangster Rock.
Pinoy Sunday, featuring Bayani Agbayani and Epy Quizon, is the local entry for this year's lineup. The film centers on the events that occur during two Filipino migrant workers' day off, which involves an abandoned couch that they haul through the streets (earning them weird looks from passersby). Check out the whimsical story of The Magical Washing Machine, where a little girl discovers a washing machine that turns garments either old or new, or keeps them dry.
Insired by true events, Small Station follows a 60-year-old woman and her 35-year-old mentally-disabled son from Taipei to Taiwan; while Respire tells the sad tale of a young girl who lives in a fictional world transformed by a deadly airborne virus.
ADVERTISEMENT - CONTINUE READING BELOW
The documentary Jump! Boys tells the story of Taiwanese boys who go straight to the gym after school to undergo intense physical training.
Admission is free. Seats are on a first-come, first served basis. Schedules subject to change without prior notice. For inquiries, contact 633-7851 loc.113 or log on to www.shangrila-plaza.com.
Images courtesy of Buensalido
Recommended Videos
Load More Stories