CHECK IT OUT: Lolo Dad's New Tasting Menu
The new tasting menu gives you new reasons to celebrate.
This establishment is closed.
Lolo Dad's Cafe
899 President Quirino Avenue corner Leon Guinto,
Malate, Manila
Tel. No. 524-2295
Open from 6:30 p.m. to 10:30 p.m. (Mondays);
11 a.m. to 2 p.m. for lunch, 6:30 p.m. to 10:30 p.m. for dinner (Tuesdays to Saturdays)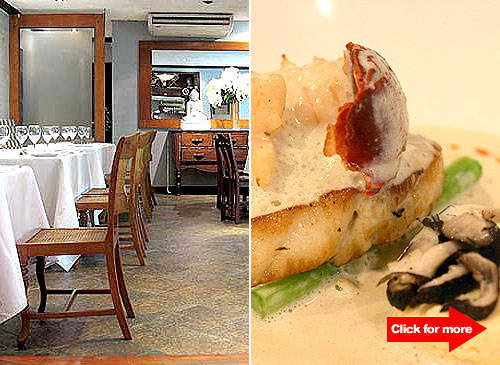 Spoil yourself with the new tasting menu at Lolo Dad's. Click for more.
ADVERTISEMENT - CONTINUE READING BELOW
(SPOT.ph) Chef Ariel Manuel's masterpieces at Lolo Dad's in Malate are usually reserved for birthdays, anniversaries, celebratory dinners, even the occasional marriage proposal. If you don't like waiting for an excuse to indulge, the new four-course tasting dinner menu gives you a great reason to pick up that phone, make the reservation, and celebrate good food.
A plate of Soy and Vinegar marinated Duck Foie Gras Terrine and Sous Vide of Goose Breast starts off the four-course meal. The chunk of foie gras, a mosaic of smooth, sigh-inducing mousse of duck fat lightly seasoned with vinegar, is the perfect accompaniment to the thinly sliced goose meat, given extra texture and bite by rock salt. "Foie gras is our specialty," reminded Chef Ariel Manuel. We recommend putting all these-a sliver of foie gras, a slice of goose meat and a chunk of the guava jelly served on the side-in one spoonful and allow the decadent layers of subtle sweet and rich flavors to whet your appetite for the rest of the meal.
ADVERTISEMENT - CONTINUE READING BELOW
The Seared Fillet of Black Seabass and Poached Lobster Tail sits prettily in a pool of sweet oyster cream sauce and will get points from seafood lovers for its mild, succulent flavors. The uncomplicated but impressive plate of Roast Rack of Lamb and Stewed Sheep Leg, Soft Potatoes and market vegetables shows off Chef Ariel's partiality to preparing lamb dishes. "I really love cooking with lamb," he shared. The pair of soft, juicy lamb racks roasted medium rare will make lamb fans out of the most resistant to game meat.
Make sure to save space for the meal's perfect ending: a simple but satisfying medley of White Valrhona Chocolate Flan, Fresh Berries and Salted Vanilla Ice Quenelle with Olive Oil drizzle with rock salt-peppered vanilla ice cream as the perfect foil to the brick of sweet, flavored flan.
The new tasting menu is priced at P2,200+ and is available until November 30. The dishes may also be ordered a la carte. Reservations are recommended.
ADVERTISEMENT - CONTINUE READING BELOW
Photos by Mario Mendoza and from lolodadscafe.com
Recommended Videos
Load More Stories