10 Tunes to Listen to This Month
Katy Perry's super sentimental single, holiday originals by Jack Johnson and Noel Cabangon, the latest music video from Duran Duran, and more!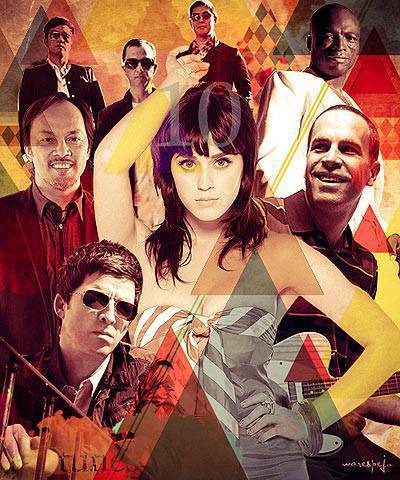 (SPOT.ph) This December, we recommend Jack Johnson and Noel Cabangon's holiday originals; Katy Perry's heartache hit; Duran Duran's hot music video; Noel Gallagher's latest masterpiece; Seal's soulful cover; plus winning OPM sounds by Gaijin, Never the Strangers, Gracenote, and Nina.
Song: "The One That Got Away"
Artist: Katy Perry
After releasing a series of playful dance tracks, sexy songstress Katy Perry launches a tear-jerking single that most (if not all) of us can relate to. In this tune, Perry's vocals are, as always, impressive, and the simple melody makes it easy to remember yet hard to forget (read: LSS).
Fun Fact: Perry won a special American Music Lifetime Achievement Award at the recent American Music Awards (AMA) for being the first female artist to have five consecutive number one singles off the same album.
Song: "Alive"
Artist: Never the Strangers
This rocking local track by new wave-pop rock group Never the Strangers is invading local radio charts,  and why not? It's catchy and pumped up with energy. The trippy keyboard in the beginning works and the sick guitar solo towards the end is just too kick-ass.
Fun Fact: Never the Strangers was once called Leonecast. Formed in 2006, the group decided to change their name after some member changes.
Song: "In the Morning"
Artist: Jack Johnson
It's like Jack Johnson's voice was made for the season-it's cool, smooth, and reminds you of waking up to a quiet Christmas morning. The track showcases his signature sound highlighting the superb acoustics. And the song's message couldn't be more perfect for the holidays.
ADVERTISEMENT - CONTINUE READING BELOW
Fun Fact: This track is off This Warm December, A Bushfire Holiday Volume 2 featuring various artists that have come together for a cause.
Song: "Pasko Na Pasko Na"
Artist: Noel Cabangon
You can't go wrong with Noel Cabangon! One of the country's most respected musicians is out with a brand new album titled Panaginip and for the holiday season, Cabangon has released a special Christmas edition. This track in Filipino perfectly captures the sights and sounds of the Pinoy Christmas.
Fun Fact: The Panaginip Christmas edition album features all tracks in the original Panaginip album plus four new Christmas songs.
CONTINUE READING BELOW
Recommended Videos
Song: "If I Had A Gun"
Artist: Noel Gallagher's High Flying Birds
The older Gallagher brother from the now-disbanded group, Oasis, has been getting raves for his new band Noel Gallagher's High Flying Birds. Fans of his songwriting skills won't be disappointed by his solo debut, with lyrics like: "If I had a gun, I'd shoot a hole into the sun/ and love would burn this city down for you." His somewhat throaty singing works, too.
Fun Fact: Noel's younger brother and former band mate Liam has formed his own band as well, called Beady Eye.
Song: "Goodbye"
Artist: Gaijin
Jesse Grinter's effortless singing with Raimund Marasigan's surprising bass skills and Shinji Tanaka's superb drumming makes the Gaijin trio a winning combination. In this track, Grinter leads and Marasigan provides backing vocals. You'll hear a number of different influences, like old-school rock, punk, and blues.
ADVERTISEMENT - CONTINUE READING BELOW
Fun Fact: Gaijin is the Japanese word for "alien" or "outsider."
Song: "Girl Panic!"
Artist: Duran Duran
Eighties New Wave band Duran Duran has recently released their much-anticipated super music video for their single "Girl Panic!" featuring glamazons Naomi Campbell, Helena Christensen, Eva Herzigova, and Cindy Crawford. The sound as well as the visuals will take you back to the time when supermodels were the key to creating cool music videos.
Fun Fact: In the video, the supermodels play different Duran Duran members: Naomi Campbell (as lead singer Simon Le Bon), Helena Christensen (Roger Taylor), Eva Herzigova (Nick Rhodes), and Cindy Crawford (John Taylor).
Song: "Minsan Lang Naman"
Artist: Gracenote
The debut single of pop rock-alternative band Gracenote has "original Pinoy rock" written all over it. It has that distinct Pinoy rock energy with an exquisite violin sound to boot. Eunice Jorge's vocals is something to watch for, too.
Fun Fact: A grace note refers to an actual music notation that embellishes or decorates the melody or harmony of a piece.
Song: "Wishing On A Star"
Artist: Seal
Seal's soul is just too infectious. The soul and R&B singer-songwriter is out with his 11-track Soul 2 album, including this rendition of a Rose Royce original. The slight rasp in his voice, which works beautifully in this track, stands out.
Fun Fact: Seal's birth name is Seal Henry Olusegun Olumide Adeola Samuel. (We think we'll stick to Seal.)
Song: "Dance"
Artist: Nina
ADVERTISEMENT - CONTINUE READING BELOW
The country's Soul Siren has launched her first single off her latest album Stay Alive. Known for her soulful ballads, Nina does a good job in this upbeat, club mix type of track. Her new album combines pop, ballad, house, club, and R&B sounds.
Fun Fact: Nina's musical influences include Mariah Carey, Regine Velasquez, and Whitney Houston, to name a few.
Artwork by Warren Espejo
Share this story with your friends!
---
Help us make Spot.ph better!
Take the short survey
Load More Stories