Top 10 Viral Videos of 2011
Which videos took over cyberspace in 2011?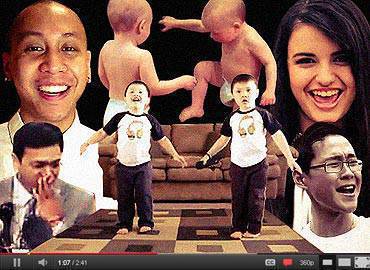 (SPOT.ph) Whether it's looking back on Steve Jobs' Stanford commencement speech from 2005 or cringing at Rebecca Black's infamous "Friday," the Internet always finds ways to keep the public entertained, especially in the form of videos. Year in and year out, links to these clips sprout like mushrooms all over the social networking sites, and the past 12 months have been no exception. We rounded up 10 videos that had Pinoys aww-ing, grr-ing, and LOL-ing in 2011:
10. Christopher Lao's floating car
Date posted: August 3, 2011 by WhenInManila1
Stats as of writing: 228,756 (excluding hits from reposts, memes, and Facebook support and hate pages)
It's the MMDA's fault! It's the flood's fault! It's Juaning's-that's a typhoon, by the way-fault! Law student and now infamous social media star Christopher Lao played the blame game in the video that made him nothing short of a celebrity. The video, a GMA News report, showed Lao drive his sedan through a heavily flooded Mother Ignacia Street, causing his car to float. After he and his car were safely "ashore," Lao launched an emotional tirade during an interview with 24 Oras reporter Jun Veneracion. "Tingnan mo, who will tell me? Who will tell me? Really, did you guys even tell me? Nobody even stopped (me), nobody informed (me). It's like people were waiting for somebody to just do that," he exclaimed.
ADVERTISEMENT - CONTINUE READING BELOW
The footage generated several Facebook hate pages, blog entries, and tweets against Lao as well as spoofs of the interview. After several traumatizing months, however, Lao turned everything around by lampooning himself in an insurance commercial.
9. Midas Marquez
Date posted: November 22, 2011 by PHILMEDIACOM
Stats as of writing: 339,922 (excluding reposts and spoofs); the original and full version can be seen on ABS-CBNnews.com
At a press conference back in November, Supreme Court Administrator Midas Marquez may have revealed a little too much. As he busied himself with answering media questions, one of the microphones on the podium fell, causing the respected lawyer to react in a less than manly fashion. A clip of Marquez shrieking and daintily covering his mouth with his hand immediately went viral, prompting questions about his sexuality. He's happily married with two kids, by the way.
CONTINUE READING BELOW
Recommended Videos
8. Coca-Cola OFW project
Date posted: December 1, 2011 by cocacola
Stats as of writing: 1,006,492 (version without subtitles has 406,120)
This month, Coca-Cola's new OFW-themed promotion has been making netizens tear up in front of their laptops. The video documented Coke's Happiness is Home project where selected overseas workers, who haven't gone home in as long as 11 years, got a chance to return to the Philippines for the holidays. It also includes footage of families reuniting, a father seeing his son for the first time after a while, and lots of tears of joy. Now, excuse us, we have something in our eye.
7. Filipino Accent Tutorial By Mikey Bustos
Date posted: February 25, 2011 by MikeyBustosVideos
Stats as of writing: 1,040,016
ADVERTISEMENT - CONTINUE READING BELOW
Flaunting Pinoy pride, Mikey Bustos launched a tutorial on how to perfect that oft-ridiculed Filipino accent. The Fil-Canadian, who can speak in pitch-perfect American diction at will, gave out one important tip: Remember that there are no F's and V's in the Filipino alphabet; case in point: pollow (follow), bictory (victory), and libing la bida loca (living la vida loca). We love a man who knows how to laugh at himself.
6. Petra Mahalimuyak's How To Dance In A Club
Date posted: November 16, 2011 by ashleyslips
Stats as of writing: 1,042,778 (excluding reposts)
From the girl who brought us the How to Get Abs in 1 Minute tutorial comes a hilarious new guideline for living it up in a club-Petra-style. Here, YouTube sensation Petra Mahalimuyak (real name: Ashley Rivera) pulled out her hippest dance moves and characteristic cringe-worthy (fake) Filipino accent to teach the world killer steps like "Washing Windows" and "Folding the Laundry." We're pretty sure that over a million people all around the world are clubbing right now, and doing the "doji."
5. Justin and Jeremy Garcia
Date posted: June 20, 2011 by choynina
Stats as of writing: 4,457,695 (excluding reposts and Facebook and Twitter shares)
These toddler twins have reached YouTube numbers far more than they can count. Wearing pajamas and clutching Wii controllers, Justin and Jeremy Garcia grooved to Outkast's "Hey Ya" courtesy of the Just Dance video game. Justin and Jeremy have gotten so big that they've been featured on The Insider, The Rosie Show, CBS News, The Huffington Post, and a couple of Just Dance commercials.
ADVERTISEMENT - CONTINUE READING BELOW
4. Alexandra Wallace
Date posted: March 13. 2011 by mangoh69 (repost)
Stats as of writing: This particular copy has reached 1,330,068 hits-that's excluding the (deleted) original, reposts, and numerous parodies and comeback videos uploaded in reaction to her racist rant.
When you're blonde, buxom, reasonably pretty, and with a good head on your shoulders, you tend to think that you can get away with anything. UCLA student Alexandra Wallace earned the ire of the cyber-world after posting an extremely racist three-minuter, complaining about Asians in the library. "If you're going to come to UCLA, then use American manners," she fumed. "In America, we do not talk on our cell phones in the library... I'll be like deep into my studying, into my political science theories and arguments and all that stuff... and then all of a sudden, when I'm about to like, reach an epiphany, over here from somewhere, 'Ohh! Ching chong ling long ting tong? Ohh!" Her rant launched a series of spoofs as well as video responses from very irate Asians.
3. Sophia Grace Brownlee
Date posted: September 19, 2011 by SophiaGraceBrownlee
Stats as of writing: 26,538,718 (excluding reposts)
Cuteness can do no wrong. Wearing a princess costume and holding a wand for a microphone, eight-year-old Sophia Grace Brownlee wowed the online world with her flair for rapping and cool swag. Backed by friend Rosie McClelland (who has some moves of her own), Brownlee sang Nicki Minaj's "Super Bass" without missing a beat-a feat most adults can't do. Yes the song is PG but the whole scene was so adorable that we forgot about all the F words in it.
ADVERTISEMENT - CONTINUE READING BELOW
2. Talking Twin Babies Part 2
Date posted: February 14, 2011 by jayrandall22011
Stats as of writing: 56,354,483 (excluding reposts and Talking Twin Babies Part 1)
A pair of diaper-clad twins made the rounds online after their father uploaded a video of them conversing in what we can only make out as baby talk. As if the gibberish wasn't adorable enough, the two boys seemed as though they were really into the conversation, making elaborate hand gestures and stomping.
1. Rebecca Black's "Friday"
Date posted: The original video, which was taken down after a series of death threats, was uploaded in YouTube on February 10, 2011.
Stats: Over 100 million hits. According to MTV.com, the total views including parodies and reposts have reached up to 200 million, surpassing Lady Gaga's "Born This Way" and Justin Bieber's "Pray" videos.
When God personally handed the then-13-year-old Rebecca Black the gift of auto-tune, she made it her mission to assault the cyber-world's eyes and ears with it. In "Friday," Black sings (albeit in a monotone-ish robotic voice) about three things: waking up in the morning, the days of the week, and the predicament of where to sit in the car. Although her song has been touted "the worst ever" and her vocals "terrible," the joke's on her detractors. Despite her bad reception, over 100 million people have seen her video-though most of them only to click on the YouTube "dislike" button. She also made a guest appearance on Katy Perry's "Last Friday Night" music video.
ADVERTISEMENT - CONTINUE READING BELOW
Share this story with your friends!
---
Help us make Spot.ph better!
Take the short survey
Load More Stories