CHECK IT OUT: Buddha-Bar in Makati
This world-famous venue finally has a branch in Manila
Buddha-Bar
Picar Place, Kalayaan Avenue
Makati City
Tel. No. 856-6719; 856-68-59
Open from 7 p.m. to 3 a.m. daily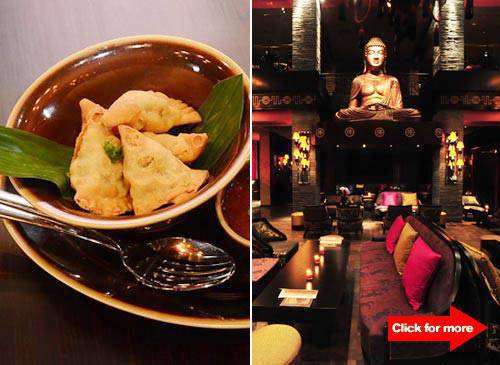 Bar, restaurant, and lounge all rolled into one. Click for more.
(SPOT.ph) Lavish is one word to describe it. Buddha-Bar, which just opened on Kalayaan Avenue in Makati, is a large, three-storey venue divided into a bar, restaurant, and lounge with enough seating for over 500 people. Various cultural references can be found in its interiors: apart from the expected gigantic image of Buddha at the center of the bar, Chinese and Japanese art objects, Khmer statues, Vietnamese chandeliers, and framed Portuguese mosaics fill up the space. The opulent setting seems almost intimidating, but with its chill-out music, mahogany furnishings, and warm red-and-orange-hued lighting giving the spot an almost spa-like ambience, Buddha-Bar provides the intended serene atmosphere.
ADVERTISEMENT - CONTINUE READING BELOW
CONTINUE READING BELOW
Recommended Videos
According to Buddha-Bar Vice President for development Franck Fortet, they want to offer a "timeless experience where [one] can be with the right people, in the right atmosphere." But that doesn't mean they don't focus on quality and creativity. Case in point: the place doesn't do guest lists. "We're not elitist... We can't say we like fusion [cuisine] without fusing people."
The kitchen, meanwhile, is headed by Executive Chef Soc Santos, who translated Buddha-Bar staples to appeal to the local palate. The menu is based on Pacific Rim cooking-a style which mixes East and West culinary methods, which, in this case, is French with Thai, Filipino, Chinese, Japanese, and more. The Buddha-Bar Chicken Salad (P280), for instance, is a sweet-and-tangy dish that's more Oriental than European, though Chef Soc swears the ingredients are very French. And while indulgence is frowned upon in Buddhism, one can't help but yield to the gastronomic pleasures of the Thai Curry Prawns (P790), a delightful combination of succulent shrimp over coconut rice, served in a coconut bowl.
ADVERTISEMENT - CONTINUE READING BELOW
For some light pica-pica in between drinks, Buddha-Bar also serves a vast selection of sushi: there's the signature Buddha-Bar Rolls (P680) which are carefully wrapped in thin cucumber skin; Crazy Spicy Tuna (P250)-faint-tongued beware; the Pink Lady (P200-P380); and Tuna Tataki (P80), which is a welcome deviation from the usual sashimi.
Tour the world with desserts like Toffee Banana Turon, Creme Brulee (P230), and an eye-popping, tangy Caramelized Lemon Tart (P210). Chef Soc herself recommends the Chocolate Sesame Bars (P250), thin sticks that can pass for gourmet versions of the popular Kit Kat bar.
Buddha-Bar, a French-owned bar-restaurant chain, is the brand's latest branch-and the first on this side of Asia. Photos courtesy of Ram Bucoy.

Are you sure you want to delete this list?

Load More Stories