Battalia Royale Live Action Game: Your New Generation Theater Production
Catch this one-of-a-kind, interactive theater production based on Koushun Takami's novel <em>Battle Royal</em> until March 11.
Remember every time you watch a suspense film or stage play and you just want to shout "Takbo! Bilis, bilisan mo pa!" to your favorite character being hunted by the masked, psycho killer? And remember how you would want to step into the screen or just march up the stage and be able to do something to help the protagonist? And then remember how you always stop yourself from doing so in fear of being escorted out of the theater house?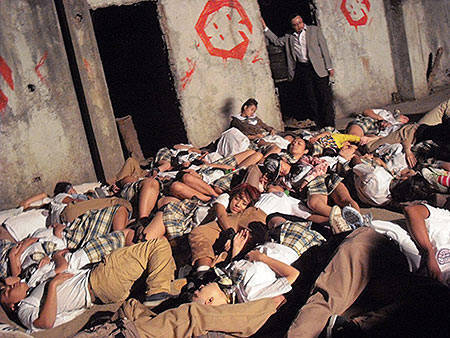 The students of Our Lady of Guadalupe High School are sedated and brought to an inescapable fortress where they are each given a "weapon" they can use to kill as many classmates as they can. At the end of eight hours, only one student should be standing or else, they all die.
Well those days are over and such rules do not apply to Battalia Royale, an interactive theater production by the Sipat Lawin Ensemble. With their fresh, young cast and their marketing strategy that involved creating fake Facebook accounts for each of the characters, the Ensemble can now proudly claim that they have brought blood back into the theater scene - literally and figuratively.
ADVERTISEMENT - CONTINUE READING BELOW
The story: Loosely based on Koushun Takami's novel Battle Royale, the plot revolves around the forty students of Our Lady of Guadalupe High School, who were abducted during a class field trip and were then brought to an inescapable fortress to compete in a game. The only rule of this game is kill or be killed.
The adaptation: The translation of the novel to stage and making it into something more "Filipino" is ironically a collaborative effort of international playwrights David Finnigan, Jordan Prosser, Sam Burns-Warr,  and Georgie McAulye. Each night has a different ending but keeps the original set of characters. Whereas in the novel, there are forty-two students and the characters are given twenty-four hours to hunt and kill one another, in this adaptation, the students are only given eight hours. Several characters were also inspired by the original characters such as the mafia boss wannabe Basti, the crazy and manipulative Kakai and the "good boy" hero Victor.
CONTINUE READING BELOW
Recommended Videos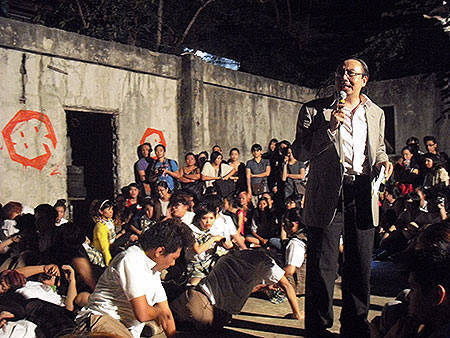 ADVERTISEMENT - CONTINUE READING BELOW
Our Lady of Guadalupe High School instructor Fraser Salamon played by theater veteran Bodjie Pascua explains the rules of the game, both to the players and the audience.
The treatment: As mentioned, the production is interactive and the stage is in an abandoned school in Cubao. To watch the scenes, you have to follow the characters around the school as they hunt down one another. Marshalls are set around to instruct the audience where to go next, but it is up to the audience members where to position themselves or where to watch the scene from. For a specific scene happening in the gymnasium for example, some decided to climb up a nearby staircase to get a better view. The others sat close to the characters and had the privilege of having blood spattered on them during intense battle scenes.
The interactivity doesn't end with all the running around the campus and getting your share of blood. At some point, audience members are asked to be executioners and decide whether some of the characters get to live or die. There's also a "choose your own adventure" twist at the end, where things really get interesting.
The acting: It won't take a theater connoisseur to say that the cast have committed themselves to their roles 110%. When it is not their scene, they remain in character while they lurk around the school, hoping to catch a prey. The choreography is believable and gripping. Theater veteran Bodjie Pascua delivered, as always. Another interesting facet of the game is that when they are killed, players remain motionless where they have met their end. The audience members are allowed to take photos of their "corpses" and they really won't budge. Promise.
ADVERTISEMENT - CONTINUE READING BELOW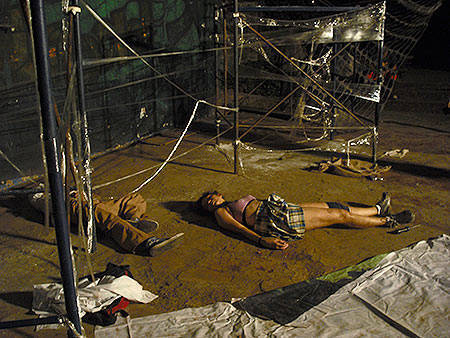 Actors remain dead on the ground after their scene.
The verdict: If you do not have a background of Takami's Battle Royale, you may have a hard time digesting the story. Why are they being asked to kill one another? The original version explains it. This adaptation, not so much. The story however thrived on the back stories of the characters. If you're too excited about watching the play and meeting the "players", you can check out their Facebook accounts which can all be found linked to a Facebook account of their fake school. You can read their posts on one another's wall to check out who hates who and who has a crush on who, which are actually main driving points in the play.
Viewers need not worry about falling into an open pit or down a dilapidated staircase (yes there are many of them) because survival kits which include a map and a flashlight are made available at the beginning of the game. The technical crew would also follow the players with their lights and scoring while still remaining in the darkness. And the scoring, courtesy of the Radioactive Sago Project and sound designer Teresa Barrozo, deserves an extra pair of disembodied thumbs up.
ADVERTISEMENT - CONTINUE READING BELOW
Most of the running around will guarantee you a beat up pair of feet (or legs, or arms - depends how much you participated) but every moment is an adrenaline rush, with an unspoken, internal game among the audience members on who can outrun who to the best watching spot for the next scene. But for what it's worth, Battalia Royale may just the most real watching experience you can ever have.
Battalia Royale runs from March 9 to 11, 7:30pm at Victoria School, 79 Ermin Garcia St., Brgy. Pinagkaisahan, Cubao. Tickets are priced P350. Walk-ins are accepted. For inquiries, contact JK Anicoche at (0917) 500-8753.
Photos by Nicai de Guzman and Doreen Mendoza, flashbox photo from the Battalia Royale Facebook page
Share this story with your friends!
---
Help us make Spot.ph better!
Take the short survey
Load More Stories