SPOT.ph's Top 10 Favorite Karl Roy Songs
We pay tribute to the man who changed Pinoy music forever.
(SPOT.ph) Tuesday's gray skies joined local music fans from all walks of life in mourning the death of one of Pinoy funk and rock's most iconic masters. On March 13, 1:01 a.m. Kapatid frontman, Karl Roy (also of Advent Call and P.O.T. fame), bid his family, friends, and fans goodbye. He was 43.
With his passion for music, undeniable talent, and electrifying stage presence, Roy started out with the band Advent Call in the early '90s. By the time he fronted P.O.T. in the mid '90s, it was clear that he was a force to be reckoned with. After P.O.T., Roy formed Kapatid with rock heavyweights J-Hoon Balbuena (drums), Nathan Azarcon (bass), Ira Cruz (rhythm guitars), the late Chico Molina (lead guitars), and Paul Zialcita (percussions). The members of the band left one by one until Roy was the only original member left. Not long after, he was joined by new members Paolo Rosal (drums), Louie Talan (bass), and Anjones Elemos (guitars).
To pay tribute to the legend that elevated and changed Pinoy rock music forever, we list Top 10 Karl Roy songs we will never listen to the same way again. Can't find your favorite in our list? Leave us a comment to celebrate the Karl Roy's music.
Also read Lourd de Veyra's latest blog post on Karl Roy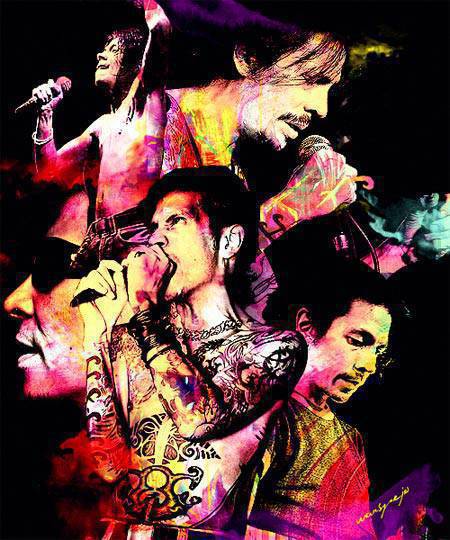 ADVERTISEMENT - CONTINUE READING BELOW
Rest in peace, Kapatid. And thank you for the music.
Art by Warren Espejo. Photos by Mari Arquiza, Carlo Casas, Leonardo Coll, Thots Urpiana, and from rakista.com.
10. "Fishcake"
In an old MTV Live & Loud episode, Roy, in true rock star fashion, explained the song: "What's it all about? It's all about mushrooms. It tastes good."
9. "Luha"
This is one track by Kapatid that has tugged at the heartstrings of many. The title track off the band's 2006 album, which is believed to be a tribute to the late Chico Molina, shows a softer, vulnerable side of Roy with its mellow tune.
CONTINUE READING BELOW
Recommended Videos
8. "Doon"
Also from Kapatid's album, Luha, "Doon" touches on death and tragedy. Behind the kick-ass and heavy sounds are gripping lyrics matched with Roy's rough rock vocals.
7. "Prayer"
"Prayer" dates back to 2003 when Kapatid released its self-titled debut album, but remains a favorite among the group's fans today. The song has also been shared by netizens in offering their prayers to the rock legend.
6. "Sunday Shining"
Another Kapatid hit: the raucous tune, "Sunday Shining," is part of the soundtrack for Peque Gallaga's 2005 flick, Pinoy/Blonde. The group joins other local acts like Radioactive Sago Project, Sugarfree, Mayonnaise, and Bamboo in the lineup.
5. "Piece of This"
This slow P.O.T.takes you back to the 90s-or wish the group stayed together. In a 2007 FHM interview, Roy was asked about his relationship with his former bandmates. His answer: "Yes, I still see them. What happened to is sacrifice rin in order to still make good music. Kaya my life now focuses on the band, Kapatid and music. Period."
ADVERTISEMENT - CONTINUE READING BELOW
4. "Ulitin"
We love the spunk and attitude of this P.O.T. hit, and the acoustic version is just as eargasmic-highlighting Roy's signature rasp. It's the same rasp that inspired his musician brother, Kevin, of the band Razorback. In a Facebook post Kevin shared hours after his brother's death, he said, "Karl was an inspiration. Seeing Karl at 13 years old made me want to be him. Karl was The Man. I soooo wanted to be him. He asked me to be myself... and I did. I learned my rasp from him.... I learned some moves from him-to his dismay."
3. "Yugyugan Na"
Who can forget this dance-y single from P.O.T.?  "Yugyugan Na" is definitely one of the band's most massive hits. Though just a rendition of the Advisors Band original, P.O.T.'s version had become one of the '90s funk-rock anthems.
2. "Pagbabalik ng Kwago"
When Kapatid released "Pagbabalik ng Kwago" in 2003, it became an instant hit. The dark and heavy rock sound is far from Roy's P.O.T. days, giving you more proof of his versatility and musical genius.
1. "Panaginip"
In a 2009 Rogue interview, Roy said his grandfather actually wanted him to be a soldier-and eventually the president of the Philippines. In an article written after Roy's passing, Philippine Daily Inquirer Totel V. de Jesus revealed that Roy was the grandson of the late Senator Jose J. Roy of Moncanda, Tarlac. In any case, Roy chose music instead. He told Rogue, "But I just want to play, play, play."
ADVERTISEMENT - CONTINUE READING BELOW
Share this story with your friends!
---
Help us make Spot.ph better!
Take the short survey
Load More Stories