In the Spotlight: 50+ Pinoys Who've Shined on International TV Talent Shows
Jessica Sanchez, Jasmine Trias, Paul Qui, and more Pinoys rock reality television.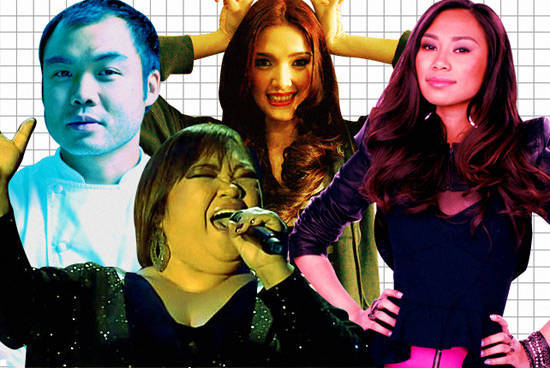 (SPOT.ph) From karaoke parties to hitting it up in the club, dancing and singing are culturally ingrained in Filipinos. When it comes to performing-whether it's in front of the camera or just before family and friends-we're the first ones on stage. We haven't won Idol yet, but we've been close.
It's not just in the performing arts, either; our love for food shines through internationally, too. Philippine-born Paul Qui displayed superb skills in the kitchen when he took home the Top Chef crown. In light of all these achievements, we're showing off our pride for our kababayans by listing 30 (or so) Filipinos who made waves on American Idol, So You Think You Can Dance, Top Chef, and more.

Note: This article was originally published on March 21, 2012. It has been updated to include more Filipino talents who have shone on international reality TV.
Sheldon Simeon
Top Chef Season 10
Airdate: November 7, 2012 to February 27, 2013
Third Place, eliminated on Episode 16
He came so close to replicating Texan-Filipino chef Paul Qui's achievement. Unfortunately, this Hawaiian-based Filipino fell short after his full-course menu for Tom Colicchio's restaurant didn't cut it. His is that classic rags-to-riches underdog story that Filipinos always seem to be associated with. He started out as a dishwasher before becoming executive chef. Of all the Filipinos who joined the show, no one flaunted his Filipino roots more than Sheldon, introducing Filipino ingredients and dishes throughout the season. Coincidentally, Filipino food's popularity peaked after the show.
ADVERTISEMENT - CONTINUE READING BELOW
Josie Smith Malave
Top Chef Season 10
Airdate: November 7, 2012 to February 27, 2013
Seventh Place, eliminated on Episode 12
Josie Smith Malave is part Puerto Rican, part Filipino, and part Italian. She was eliminated during the Fried Chicken Challege when her black garlic cayenne interpretation wasn't at par with the rest. She studied at the Art Institute of New York City where she received a degree in Culinary Education.
Chrissy Camba
Top Chef Season 10
Airdate: November 7, 2012 to February 27, 2013
16th Place, eliminated on Episode 4
Her appearance was short but sweet. Chrissy exemplified the vivacious Filipino personality. She once said that if she were a fruit, she'd be santol. She graduated from the Loyola University in Chicago with a degree in Biology. Prior to Top Chef, she was a chef at Bar Pastoral. She has been on the cover of Time Out magazine and featured onGrubstreet.
CONTINUE READING BELOW
Recommended Videos
Khristianne Uy
The Taste Season 1
Airdate: January 22, 2013 to March 12, 2013
Winner
Khristianne was born in the Philippines until her family migrated to the US when she was a teenager. She was a personal chef to Charlie Sheen who encouraged her to join the new competition. The controversial actor even tweeted about the finale. The Taste works like a culinary version of The Voice: the contestants are divided into teams and assigned to mentors. Dishes can only be presented in tasting spoons, making sure that the flavor profiles can really create an impact with just one bite. Khristianne was under the tutelage of Chef Brian Malarkey.
ADVERTISEMENT - CONTINUE READING BELOW
Dino Ferrari
E&O's Search For AFC's Next Celebrity Chef
Airdate: 2011
Winner
Dino Ferrari  trained for eight months in France. He beat fellow Filipino chef Diane Montecillo to become the first ever winner for the AFC show. He was given a one-year contract to be E&O's Creative Chef. In 2012, he collaborated with The Old Spaghetti House and came up with several recipes.
Madonna Decena
Britain's Got Talent Season 2
Airdate: April 12 to May 31, 2008
Semi-finalist
With a name like hers, Madonna Decena has a lot to live up to. This belter studied at AMA Computer College for high school and completed a bachelor's degree from Miriam College. She went to Singapore then the UK in search of greener pastures. Her talent didn't go unnoticed: she found herself an agent who encouraged her to audition for Simon Cowell's hit show. She didn't make the finals, but Decena got the approval of all three judges-Cowell, Piers Morgan, and Amanda Holden. She returned to the country shortly after her departure from the show to be reunited with her family and to launch a local career instead.
Arisxandra Libantino
Britain's Got Talent Season 7
Airdate: April 13 to June 8, 2013
Eighth Place, reached the finals
This tween had a mighty voice that made the judges sit up and take notice. Stand up is more like it actually. Her rendition of Jennifer Hudson's version of "One Night Only" resulted in the judges giving her a standing ovation. Despite her jaw-dropping talent, however, Arisxandra's appearance on the show did not go without controversy. Critics questioned her song choice-how an 11-year-old could sing about a one-night stand-and how she might not be mature enough to handle the pressure of competition.
ADVERTISEMENT - CONTINUE READING BELOW
Arisxandra moved to Nottingham from the Philippines when she was six years old. She started singing at a young age and her parents helped develop her skills further. After her stint on the reality show, she wanted to pursue a singing career and visit the Philippines. Her parents, however, insisted that she can join showbiz after getting an education.
Jal Joshua Lebumfacil
Australia's Got Talent Season 3
Airdate: February 2007
First Runner-up
The then 12-year-old crooner wowed the country with his Barry Manilow renditions but lost out to opera teen Mark Vincent in the finale. Amazingly, despite his achievement, Jal managed to avoid the local media radar.
Genesis Cerezo
Australia's Got Talent Season 6 
Airdate: April 16 to July 25, 2012
Eighth Place, reached the finals
A friend introduced him to beatboxing and the rest, as they say, was history. Prior to Australia's Got Talent, Genesis won a beatboxing competition in Australia. He also represented the country in the DMC World Championships.
Kookies N Kream
Australia's Got Talent Season 6 
Airdate: April 16 to July 25, 2012
Sixth Place, reached the finals
This dance crew is comprised of Filipino-Australian street dancers: Gerina Perez, Kimmey Grana, Geraldina Hnitko, Isabel Martinez, Emily Le, Charmaine Bohol, Natasha Pinto, Emilynn Villanueva, Bridgette Badger, Dylan Ellul, Gabby Mendoza, Glen Gaspi, Harry Harrop, Romer Macapuno Patrick Maglaque, and Robert Mejica. They formed the KnK in 2009. They also hold dance classes.
Stephanie Retuya
Asia's Next Top Model Season 1
Airdate: November 25, 2012 to February 17, 2013
Runner-up/Top 3 (second and third place were not determined)
ADVERTISEMENT - CONTINUE READING BELOW
This demure cutie quietly made her way to the finals of Asia's Next Top Model early last year. Stephanie started as a top contender but plateaued in the middle of the competition, settling for the Bottom Two five times (one was during a non-elimination episode). But this young mother proved her mettle and she was one of the three who met Tyra Banks during the Final Runway. Post-competition, Stephanie became the It model of the Philippines. She has modeled for SM and Natasha. She's also been touring Asia for more modeling gigs. Read more about her here.
Katarina Rodriguez
Asia's Next Top Model Season 2
Airdate: Ongoing
The doe-eyed mestiza considers herself an underdog because of her petite-ish frame and athletic build. Prior to the competition, she never modeled professionally because she prioritized her studies and position as a varsity member of the Women's Track and Field Team in De La Salle University. She was the school's muse during the last UAAP Opening Ceremonies. Modeling is in her blood, however. She is the niece of Tweetie De Leon Gonzalez.
Jodilly Pendre
Asia's Next Top Model Season 2
Airdate: Ongoing
If her face is familiar, that's because Jodilly has modeled professionally, notably for the Rajo Laurel X Parisian collaboration and for a spread in Preview magazine. She graduated from the University of Sto. Tomas and joined the school's Ideal Thomasian Personalities competition, but lost.
Joseph Apostol
The Voice UK Season 2 
Airdate: March 30 to June 22, 2013
Semi-finalist, eliminated in Week 2
ADVERTISEMENT - CONTINUE READING BELOW
He was only 21 when he brought the house down with his powerful pipes. The Whitney Houston fan confesses he prefers "old music" over contemporary ones. Joseph had a good start on The Voice, but he didn't make the finals. He was picked by Sir Tom Jones, whom he wanted as a mentor.
Rose Fostanes
The X Factor Israel Season 1
Airdate: October 26, 2013 to January 14, 2014
Winner
She is considered to be the Susan Boyle of this side of the world. The Filipino caregiver had been in Israel for only six years when her employers encouraged her to show off her talent on The X Factor. For her final song, Rose sang Frank Sinatra's "My Way," breaking all negative connotations associated with that controversial karaoke favorite. After her win, the government granted her a license to work as an entertainer instead.
Jiggly Caliente
RuPaul's Drag Race: The Search For America's Next Drag Superstar Season 4
Airdate: January 20 to April 30, 2012
Eliminated on Episode 7
It's ironic that the plus-sized Barbie from New York who named himself after the Pokemon Jigglypuff was eliminated for being "too serious" and not having enough fun with RuPaul's flamboyant challenges. Jiggly, real name Paulo Arabejo, hailed from the Philippines and can speak basic Filipino. He even set up a large Philippine flag in his sewing station. He considers himself the "only Asian on the show with swag," but he also plays up his racially ambiguous features.
Phi Phi O'Hara
RuPaul's Drag Race: The Search For America's Next Drag Superstar Season 4
Airdate: January 20 to April 30, 2012 
Second Runner-up, eliminated on Episode 7
ADVERTISEMENT - CONTINUE READING BELOW
Despite his initial surprise at being picked for the show, Phi Phi was one of the most competitive queens in the history of RuPaul's Drag Race. His melodrama, strategies, and cattiness even prompted some viewers to open hate accounts on Facebook. He is considered by many viewers as the person responsible for Jiggly's elimination. Phi Phi told his voluptuous friend to play it serious in spite of the show's favoring flamboyance. His humor was also described by his fellow queens as "off color." After the show, Phi Phi admitted that the behavior was caused by the $100,000 prize money and that he was assigned by the producers to play the villain. Phi Phi is part Portuguese, part Filipino.
Vivienne Pinay
RuPaul's Drag Race: The Search For America's Next Drag Superstar Season 5
Airdate: January 28 to May 6, 2013 
Eliminated on Episode 4
Vivienne was eliminated on a double-elimination episode with Honey Mahogany. In an interview, he has said that he experienced culture shock in the show because he didn't know anybody and it was a huge production.
Jonathan Allen Yabut
The Apprentice Asia Season 1
Airdate: May 22 to July 31, 2013
Winner
The UP Economics graduate won the first Asian edition of Donald Trump's The Apprentice after a tense competition. Jonathan, then 27 years old, was a senior product manager for a pharmaceutical company before being hired by Tony Fernandes, billionaire CEO of Air Asia. He was promised a one-year contract and a salary of at least $100,000.
ADVERTISEMENT - CONTINUE READING BELOW
Celina Le Neindre
The Apprentice Asia Season 1
Airdate: May 22 to July 31, 2013
Fired in Week 7
Celina is an expert on food and hospitality management. Her father's status as general manager of a chain of hotels allowed her to travel all around the world. Unlike other contestants who held business or law backgrounds, Celina had a culinary degree. She once owned a pasta bar and she currently works as a restaurant consultant.
Dale Talde
Top Chef Season 4
Airdate: March 2008 to June 2008
Sixth Place, eliminated on Episode 11
In Season 4, Chef Dale wowed the judges with a fancy rendition of a Filipino favorite, halo-halo, earning him praises and a top-three finish for the episode. While this tugs at the heartstrings of his Filipino brothers, the rest of the world will always remember him for blowing his top in Season 4 and again at celebrity chef Michael Chiarello in Top Chef Masters Season 1. Working as a sous chef in the Masters franchise, Dale went ballistic on Chiarello after the latter called him "young man," which he deemed condescending.
His feisty tirades earned him the moniker "Angry Dale" upon his return in Top Chef Season 8 (All Stars). He has since taken anger management classes in between seasons and portrayed a much more mature and calm demeanor in All Stars.
Leah Cohen
Top Chef Season 5
Airdate: November 2008 to March 2009
Sixth Place, eliminated on Episode 12
Half-Filipino chef Leah made a quiet showing during her season, but drew flak when she drunkenly kissed eventual winner Hosea Rosenberg (both of them were dating other people at the time). She admitted regretting the kiss on People. "I definitely regret cheating on my boyfriend on national television. He's not my boyfriend anymore because of what happened on the show and other things."
ADVERTISEMENT - CONTINUE READING BELOW
Though she's primarily an Italian chef, Leah loves her Pinoy roots. In an interview with Andrew Zimmern, she said: "I think the Filipino part influenced me the most. I have been going to the Philippines since I was 5 years old," adding, "When we go to the Philippines we always stop somewhere else in Asia.  I was very lucky as a child to be exposed to so many different cultures and different kinds of cuisine."
Paul Qui
Top Chef Season 9
Airdate: November 2011 to March 2012
Winner
In the latest season of this award-winning cooking contest, Filipino-born Paul Qui bested 28 other chefs with his delicious three-course Asian-inspired feast. For a chef who likes culinary innovation, however, Chef Paul's favorite Filipino "dish" is surprisingly simple: the pandesal. In the Philippine Daily Inquirer, he admitted that while he ate Filipino food growing up, he was "not a very good cook of Filipino dishes."
"I'm extremely proud to say I'm from the Philippines and I kicked everybody's ass," he said in an ABS-CBN interview. "Filipinos have a lot of heart. I got that from my parents."
Sally Camacho
Top Chef Just Desserts Season 2
Airdate: August 2011
First Runner-up
Prior to almost winning the reality show, Sally Camacho had already been recognized for her achievements in pastry-making. She was part of the first all-female dessert team to compete in the National Pastry Team Championship in 2007; they won silver. The next year, she won gold for representing the  USA in the Culinary Olympics. In April 2011, months before Top Chef, she won the Valrhona C3 Competition in France.
ADVERTISEMENT - CONTINUE READING BELOW
Camacho was born at Clark Air Force and she grew up developing a love for Filipino cuisine. Her desserts at WP 24 at the Ritz Carlton are infused with Asian influences.
Greggy Soriano
Cake Boss: The Next Great Baker
Airdate: December 2010 to January 2011
Seventh Place, eliminated on Episode 5
In The Next Great Baker, 10 of America's top bakers compete to win $50,000 and a chance to work with renowned award-winning cake designer Buddy Valastro of Cake Boss. Prior to this show, the Greggy appeared on Season 5 of reality show Beauty and The Geek under the label "Gaysian." In an interview with the Asian Journal, this self-proclaimed "fashionista of cakes" said that his initial television experience prompted him to join another show that gave him a chance to work with what he loves. "I literally use my cake as a canvas," said Soriano, describing his work as "an art."
Soriano also added that food has played a big part in his life. "My mom and dad are amazing cooks. My aunts and uncles have competitions on who can make the best longganisa and the cousins would do a blind tasting and be the adjudicators. My dad would always win."
Despite a fine showing at the start (he won the first major challenge), Greggy was eliminated halfway through the show.
Mikey Bustos
Canadian Idol Season 1
Airdate: June 2003
Eighth Place
Cyberstar Mikey Bustos' online following tipped over from his Canadian Idol days. Though his YouTube accent tutorials tout him as a proponent of Filipino culture, Mikey's trademark on the singing show was wearing bright blue contact lenses. Read more about Mikey here.
ADVERTISEMENT - CONTINUE READING BELOW
Charlie Green
Britain's Got Talent Season 2
Airdate: April to May 2008
Semi-finalist
The young talent didn't last too long on the show but he did manage an achievement only a few have gained: Simon Cowell's rare seal of approval. During auditions, Charlie's rendition of Frank Sinatra's "Summer in the Wind" earned him a standing ovation, and Simon deemed him "a little star." Just before he was booted off, the controversial judge gave Charlie's performance a 10 but his song choice a 2.
Camille Velasco
American Idol Season 3
Airdate: January to May 2004
Ninth Place
It was a heartbreaking night for Filipinos everywhere when both their bets-Camille and fellow Filipino Jasmine Trias-were placed in the bottom two in AI Season 3.  After hearing negative criticism from the judges the night before, however, Camille had somehow predicted her time was up. In her final performance, she replaced some of the song's lyrics to express her gratitude for her fans.
Post-Idol, Camille went to the Philippines to perform a Christmas concert with Martin Nievera. In a Manila Bulletin interview, the Makati-born crooner, who moved to the US when she was a baby, said, "I feel so honored to be able to go back. I've been wanting to go back, because it's where I am from." She's also a fan of Pinoy fare like pinakbet, dinuguan, and adobo.
Jasmine Trias
American Idol Season 3
Airdate: January to May 2005
Third Place
Jasmine's third-place finish sparked controversy after frontrunner Latoya London was eliminated. Disgruntled viewers claimed Jasmine's fans were able to vote for her before the allowed two-hour period and that an inconsistent percentage of voters came from her home state, Hawaii. The judges were also visibly disappointed with the turnout.
ADVERTISEMENT - CONTINUE READING BELOW
Of course, it didn't help that Jasmine's next song (which eventually got her eliminated) was "All By Myself"-a tune Latoya herself sang during the semi-finals which received a standing ovation from the judges (except Simon, of course).
Ramiele Malubay
American Idol Season 7
Airdate: January to May 2008
Ninth Place
Ramiele's claim to fame on American Idol is, first, being deemed by Simon Cowell as one of the top three competitors during her season; and second, being noted as the shortest person in Idol history (she stands 4'11"). Photos of Ramiele apparently groping some of her female friends' breasts leaked on the Internet, but the controversy was short-lived. In 2009, she sang the American National Anthem at the Manny Pacquiao-Miguel Cotto fight in Las Vegas.
Thia Megia
American Idol Season 10
Airdate: January to May 2011
11th Place
Before American Idol, Thia already had a bit of practice performing in front of an audience by singing the national anthem at various sports events and appearing on several TV shows (specifically Showtime at the Apollo). She also auditioned for the fourth season of America's Got Talent, but unfortunately failed to make the cut.
Though known for her powerful ballads, Thia's mother revealed in a PEP.ph interview that her daughter, like most Filipinos, loves singing karaoke. Her favorite? "Dahil Sa 'Yo."
Jessica Sanchez
American Idol Season 11
First Runner-up
She may be one of the youngest Idols, but this half-Mexican, half-Pinay is already a veteran on stage. Like her predecessor (and friend), Thia, Jessica was also a semi-finalist on America's Got Talent (Season 1), and rendered judge David Hasselhoff speechless with her performance. Prior to that, she performed on Showtime at the Apollo.  She also appeared in a national commercial for Cricket Wireless. Her experience and talent haven't gone unnoticed. Jessica's performances on American Idol have generally been met with positive reviews. Randy Jackson even deemed her the "voice to be reckoned with in this whole competition."
ADVERTISEMENT - CONTINUE READING BELOW
Her fans got the fright of their lives when she announced she had cancer in the latter half of 2012, but Jessica has announced in 2013 that she is cancer-free.
Claire Unabia-James
America's Next Top Model Cycle 10
Airdate: February to May 2008
Eighth Place, eliminated on Episode 7
Since her stint on the reality show, Claire has been a regular in New York fashion shows. Last summer, she also worked the Philippine Fashion Week stage by modeling for clothing brand Oxygen. But for all her achievements, we will always remember Claire as the contestant who drank her own breast milk on ANTM.
Cheesa Laureta
The Voice Season 2
Airdate: February to May 2012
Finalist, eliminated on Week 4
With all the hype surrounding American Idol's Jessica Sanchez, no one seemed to notice another Filipino on another singing contest-vocal powerhouse Cheesa Laureta on The Voice. Cheesa, whose parents hail from Cebu and Manila, is 100-percent Pinoy. She lives in Hawaii. She beat another belter, Angie Johnson, for a spot in the live show. She was mentored by CeeLo Green, but he ultimately chose someone else during her Last Chance performance in Week 4.
Josephine "Banig" Roberto
Star Search 
Airdate: 1990
Second Place (overall)
Banig will perhaps forever be known as the little girl who beat Christina Aguilera in the long-running talent show, Star Search. She was also the first Filipino to compete on the show.
In 2010, she released an eponymous album containing 14 original tracks that she wrote with her sister, Jhoanna.
MiG Ayesa
Rockstar (INXS season)
Airdate: July to September 2005
Third Place
ADVERTISEMENT - CONTINUE READING BELOW
Listening to Mig sing, one would never believe he had a stutter and a speech defect as a kid. "When I spoke, I couldn't say the Rs or Ws, Ts or Ds," he revealed in an article in the Philippine Daily Inquirer. "When I sang or read a script, my stutter disappeared. That's why I fell in love with being a performer." And, as we all know, the stutter was completely gone when he nearly became the lead singer of INXS.
Manila Luzon
RuPaul's Drag Race: The Search For America's Next Drag Superstar Season 3
Airdate: January to May 2011
First Runner-up
With his kooky antics and flamboyant creativity, Manila Luzon (Karl Westerberg) could have won the third season of RuPaul's Drag Race. Unfortunately, he missed the drag crown by inches when Raja Gemini (Sutan Amrull), an early favorite and former America's Next Top Model makeup artist, was declared the next drag superstar instead. His most notable displays were dressing up as Big Bird when he "lip-synched for his life" and impersonating, who else, Imelda Marcos.
Raised in Minnesota, Manila has visited his namesake city only once, when he was 13. In an interview with SPOT.ph last year, he said that he remembers "a lot of traffic; even cars driving on the sidewalks!" and "SM." Apart from celebrating his Filipino roots, the stage name "Manila" was chosen because it started with "Man" and it had the same number of syllables as Madonna. Read more about Manila Luzon here.
Ryan "Ongina" Ong Palao
RuPaul's Drag Race: The Search For America's Next Drag Superstar Season 1
Airdate: February 2009
Fifth place, eliminated on Episode 5
ADVERTISEMENT - CONTINUE READING BELOW
The highlight of Ongina's Drag Race career was when he won the MAC Viva Glam Spokesperson for the Day Challenge. Overcome with emotion, Ongina broke down and admitted on national television that he had been suffering from HIV for the past two years-a secret so big, even his parents had no idea about it.
Antoinette Taus
The Sing-Off Season 3
Airdate: September to November 2011
Eliminated on Episode 3
Antoinette hadn't made headlines since her highly publicized split with long-time boyfriend Dingdong Dantes. When news broke out that she was part of the Kinfolk 9, one of the finalists on the a capella competition, The Sing Off, the former child star was suddenly back on our radar. Unfortunately, Kinfolk 9 was eliminated early despite a performance that earned good reviews from the judges.
Kinfolk 9 also included another Filipina, Jenilee Reyes.
Jay Sario
Project Runway Season 7
Airdate: January to April 2010
Third Runner up, eliminated on Episode 13
As the first Filipino to join the hit design show, Jay didn't disappoint-he placed fourth and even won two challenges along the way. He is known for his volumetric and architectural pieces-an aesthetic that didn't always fare very well with fashion mentor Tim Gunn. In an interview with Movieline.com, Jay admitted: "He didn't necessarily disagree [with] my point of view, he disagreed with that kind of thing that I always do." Though we didn't get to see his "decoy" collection at Bryant Park, we heard it was fabulous.
Jay was born in the Philippines and moved to Hawaii when he was 17. Prior to his reality-show stint, Jay worked for The Gap as a visual merchandiser and stylist. According to his website, working for the esteemed brand helped "sharpen his design and styling skills, develop and evolve his taste level, and grow as an individual."
ADVERTISEMENT - CONTINUE READING BELOW
JJ Racaza
Top Shot Season 1
Airdate: June to August 2010
Third Place, eliminated on Episode 10
Filipinos are known for many things but being a good shot is not one of them. JJ (Agent JJ?) might change that perception, though. JJ's skill is part genetic and part training. Born in Cebu City, JJ started shooting when he was six years old; at age 9, his father (an A class shooter) started bringing him to practices and matches. After ranking high in competitions, JJ was appointed head of the firearms program for the Department of Homeland Security. He is also part of the US Gold Team. He's gotten so big in the shooting industry that he even has a gun designed specifically for him, the Razorcat Racing Gun.
Melody Lacayanga
So You Think You Can Dance Season 1
Airdate: July to October 2005
Runner-up
She may have lost out to Nick Lazzarini, but the two remain best friends to this day. Filipinos were so impressed with Melody's technical ability and artistic merit that award-winning columnist Nestor Torre even suggested that she was the only one credible enough to revive the dance-show industry in the country (a genre left empty after Dayanara Torres returned to her home country of Puerto Rico in 1998).
Dominic Sandoval
So You Think You Can Dance Season 3
Airdate: May to August 2007
Eliminated in Week 7
Dominic, or D-Trix, is the second Filipino break-dancer to "break" into the competition (the first being Ryan Conferido from Season 1). In one performance, he once dropped dancing partner Sabra Johnson on her head-probably giving her the jolt she needed to win. Apart from his rad hip-hop skills, Dominic was known to have a crush on leggy host Cat Deeley. However, he eventually started dating Season 7 winner Lauren Froderman and even made her a cheesy Valentine's dance video last year. He, along with other SYTYCD alums, formed the Quest Crew; it was crowned America's Best Dance Crew (Season 3).
ADVERTISEMENT - CONTINUE READING BELOW
Marko Germar
So You Think You Can Dance Season 8
Airdate: May to August 2011
Third Place
Modern dancer Marko Germar was born in Dedado, Guam, to pure Filipino parents. He trained in dance for nine years and cleaned the desks and rooms in exchange for dance classes. A favorite of judge Mary Murphy, he was a frontrunner throughout the competition and was never included in the bottom two. Prior to the show, Marko had sustained gunshot wounds from a robbery. He thought he would never dance again.
Tadd Gadduang
So You Think You Can Dance Season 8
Airdate: May to August 2011
Fourth Place
Tadd or Taddpole started dancing when he was 15-a hobby that eventually grew to be his passion. He describes this freeform, self-taught style as "urban dancing." Though the lack of formal training can sometimes be a disadvantage on SYTYCD, Tadd wowed the judges with his breathtaking performance of the very technical Viennese Waltz (a dance even Season 2 winner Benji Schwimmer had trouble with).
Tadd is very proud of his Filipino heritage. Before a performance, he was shown saying, "A lot of people are taking pride in the fact that I'm Filipino. And I'm here to represent the Filipino community." He is dating fellow Season 8 contestant Caitlynn Lawson.
Michelle "Mochi" Camaya
Step It Up And Dance
Airdate: April to June 2008
Runner-up
During the competition, Mochi's experience and training made her an immediate threat to the rest of the contestants. Mochi had worked as a dancer for the Broadway production of Lion King before she joined the show; she also toured with other musicals. She graduated from the San Diego School of Creative and Performing Arts and attained a BA in dance from the University of California, Irvine.
ADVERTISEMENT - CONTINUE READING BELOW
Mochi danced in the Disney movie Enchanted and in Memoirs of A Geisha.
Jabbawockeez (as of winning, four of them were Filipinos)
America's Best Dance Crew
Airdate: February to March 2008
Winner
The pop-and-lock group has 11 members but only six got to compete in the Randy Jackson-produced show-four of them were Filipino: Rynan Paguio, Chris Gatdula, Phil Tayag, and Joe Larot. According to an interview with the Philippine Daily Inquirer, Jabbawockeez leader Gary Kendall died before the show; this motivated them to push harder. When asked if there was a Pinoy element in their dance moves, Chris said "Well, we're a little behind the times, but we can do the ocho-ocho."
James Paul Ancheta
The Fashion Show Season 1
Airdate: May 2009
Third Place
With his geometrically coiffed black hair and thick-rimmed glasses, James Paul Ancheta's resemblance to former Project Runway winner Christian Siriano was unnerving. Like the fierce young designer on the rival show, James Paul had an unbelievably daring aesthetic-volumetric and experimental. But the similarity ends there. While Christian focused on theatrics, James Paul was all about practicality regardless of the uniqueness.
The fact that James Paul was born in the Philippines, raised in California, and trained in London influences his style. "Inspired by where I came from, a poor immigrant from a post-colonialist country; coming to America who had colonized it, and moving to England, believing I was American," he said. "The clothes I create are centered within how ethnicities are shaped within the Western and Westernized societies." In his bio, he described his style as "a post-colonialist approach through fabrication and silhouette."
ADVERTISEMENT - CONTINUE READING BELOW
Sara Jimenez
Work of Art Season 2
Airdate: October 2011
Third Place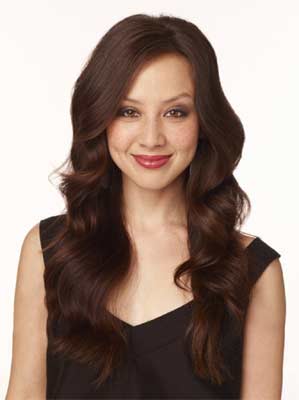 Photo from Bravo TV.
After Filipino-Canadian Sara earned her BA from the University of Toronto, she moved to New York to further her experience. She studied at the Rhode Island School of Design, Parsons School of Design, and School of Visual Arts.
On the show, Sara revealed a vulnerable side of herself through the Kids challenge: she created a piece relating to her parents' divorce. In an interview with artinfo.com, she said, "I was very nervous about my family and how my mom and dad would perceive the Kids challenge... I called them before the episode aired and I let them know this piece brought up a lot of feelings for me."
Charmaine Hunt
The Apprentice Season 5
Airdate: February to June 2006
Fired in Week 10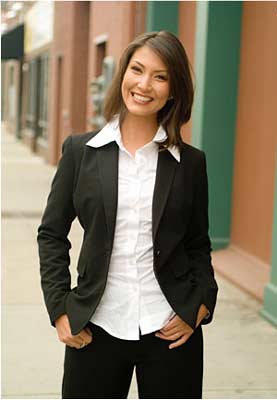 ADVERTISEMENT - CONTINUE READING BELOW
Photo from Charmaine Hunt's website.
Charmaine inherited her drive from her mother, a spunky Filipino who left everything behind and moved to the US. "I am a very spontaneous and adventurous person and I love new challenges," she said in an interview after being fired from the show. As project manager, Charmaine was fired after failing to manage one of her team members.
SPECIAL MENTIONS:
We know a lot more Filipinos joined international talent shows apart from the ones mentioned above-we love singing, dancing, and eating after all; below are a few more who we believe deserve a mention.
Cristeta Comerford, the first Filipino executive chef of the White House, teamed up with Bobby Flay in a Super Chef Battle against Mario Batalie and Emil Lagasse in Iron Chef America. The secret ingredient, announced by Kitchen Stadium Chairman (and fellow Filipino) Mark Dacascos, was crops from the White House garden. Prior to the challenge, Bobby Flay, who is known for his bold combinations, advised Cristeta to go big on flavor and to take inspiration from her Filipino roots.
Fr. Leo Patalinghug didn't out-cook 20 people, but he did beat world-renowned chef Bobby Flay on The Throwdown with Bobby Flay. In this show, Flay goes around the country looking for "experts" in certain dishes. He challenges them to a showdown where the winner is decided via a blind taste test. For this episode, Fr. Leo, who has his own following from his Internet gospel-recipe show-turned-book Grace Before Meals, cooked Fusion Steak Fajitas to beat Flay's Red Curry Skirt Steak Marinated Fajitas. Praise Jesus! Fr. Leo studied in Rome for six years. There he met Italian chefs and restaurateurs and learned their secrets. He was ordained in 1999 and became a parish priest in Maryland.
ADVERTISEMENT - CONTINUE READING BELOW
Gina Michaells is a La Union-born singer who joined Norway's Got Talent in 2010.
Xander Alexander is a half African-American, half Filipino singer who joined the X-Factor in 2011. He describes himself as "the next Donald Trump meets Martha Stewart without the jail time, meets Britney Spears meets Beyoncé without the ugly husband." He's sassy, outspoken-a quality that didn't bode well with judge Simon Cowell who was turned off by his backtalk. Watch him here.
Carol Banawa, the famous Filipino singer, migrated to the US several years back, and Filipino AI fans were surprised when, during the audition segment in Season 5, the camera panned over an aspiring contestant who looked remarkably like the Pinay child star. Unfortunately, those three seconds were the only air time Carol got.
Renaldo Lapuz made waves when he dedicated a self-written song to Simon called "We're Brothers Forever." Wearing a furry hat and shrug, Renaldo's performance was deemed a spoof and he was touted as the William Hung of that season. Watch him here.
The So You Think You Can Dance dancers: Apart from the three mentioned before, several more Pinoys made a showing on the hit show, like Ryan Conferido (Season 1), Karla Garcia (Season 5), Nathan Trasoras (Season 6), Ellenore Scott (Season 6), Pauline Mata (Season 6), Brandon Dumlao (Season 6), and Alexie Agdeppa (Season 7).
Share this story with your friends!
---
Help us make Spot.ph better!
Take the short survey
Load More Stories