The Family That Brawls Together, Stays Together
Our favorite blogger on the Tulfo-Santiago brawl: "People beat the shit out of other people everyday, but it becomes truly magical when celebrities do it."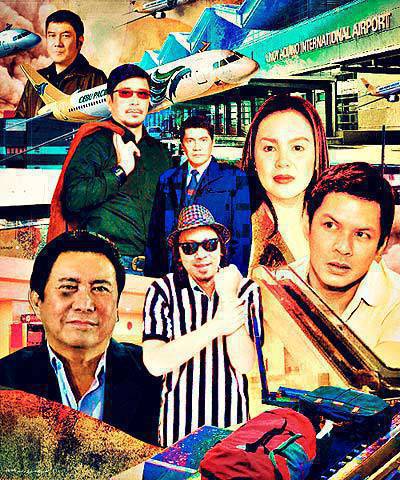 To be human, after all. To remain steadfast and calm after hours of being stuck inside a confined space for hours is to be a joyless robot-or just someone with a nice stash of horse tranquilizers. Off-loaded baggage? I'd blow my top, too. Hell, I myself feel like punching someone if for ten minutes I'm unable to find the hotdog stand.
There is a long history of aviation-related melees involving celebrities and media people. For one, there's Bjork, who in 1996 beat the shit out of television reporter Julie Kaufman upon arriving at the Bangkok airport. And Kaufman was neither a pesky paparazzi nor a TMZ staffer willfully provoking the subject. What did she do to merit a Bjork going medieval on her ass?
All the reporter said was "Welcome to Bangkok!"
Bjork goes ballistic at the airport.
But that's Bjork, who likes wearing dresses made from dead swans and who sang songs like "And if you complain once more, you'll meet an army of me." However, it was said that the reporter had been trailing Bjork for four days. And if you saw Bjork in that footage, she was pushing her cart with her head down, the universal gesture for "I am so not in the mood."
Things, however, were different with what happened on that fateful day of May 6, 2012 at the NAIA Terminal 3. We shall no longer go into details. After all the jokes, the punchlines, the threats, the social media comments, after the whirl of speculation as to who really was at fault- after the smoke clears and the dust settles- let us now talk about Celebrities Behaving Badly (badly, in this case, means more than just dancing drunk in Boracay on Holy Week).
ADVERTISEMENT - CONTINUE READING BELOW
Sen. Miriam Santiago was asked about the NAIA 3 brawl. (The senator is not related to Raymart Santiago, but her husband is.)
There is also a long history of Pinoy showbiz personalities who have figured in a fracas one way or the other.
Divina Valencia on national TV once whacked the head of Dr. Rey dela Cruz with a microphone. Rudy Fernandez also hit Bert "Tawa" Marcelo for a joke the action icon did not find funny (Not captured on tape, sadly). Richard Gomez and Robin Padilla once traded blows during a heated basketball match during the Star Olympics sometime in the '90s (This, too, was captured on TV). There are many others, some of them just near-blows.
CONTINUE READING BELOW
Recommended Videos
People beat the shit out of other people everyday, but it becomes truly magical when celebrities do it. One of the hallmarks of modern civilization is the ability to have transcended behavior that would be otherwise described as barbaric. That's why we invented sports, game shows, and Jersey Shore-to put our penchant for such bloodlust and competition within a controlled framework. But Mon Tulfo and Raymart and Claudine are simply human. To invoke the most badass motherfucker of them all, Shakespeare in The Merchant of Venice: "If you prick us, do we not bleed? If you tickle us, do we not laugh? If you poison us, do we not die? And if you wrong us, shall we not revenge?"
Now the National Press Club, the National Union of Journalists, Gabriela, the MTRCB, and a senior citizens' party-list are jumping into the discussion? Heck, even Mar Roxas of the Department of Transportation and Communications was asked to comment (Kasi nga naman: airport = transportation, right? "It's a private matter" was his thankfully sober comment). Fortunately, Malacañang had the good sense to refrain from giving an opinion. But this is the Philippines, where everyone has say on everything. I'm surprised they didn't ask for Doña Dionisia's expert views on the matter. (Hey, they once asked her about the RH bill.)
ADVERTISEMENT - CONTINUE READING BELOW
Is bad publicity really good for anyone's career?

Now due charges have been filed, people have been suspended and vaguely sincere apologies have been issued. But the trading of subtle yet pointed statements continues.  In an interview, Tulfo said: "Hindi ko naman siya kilala. Maganda ang mukha niya, pero mataba siya." Ouch.
"Hindi ko naman siya kilala," said Santiago. Both can be construed as snarky potshots, subtly mean dismissals of a person's social standing. It's in effect saying, "Who the f---k are you? Why should I even bother?" Whaaaaaaaaat? You mean Mr. Tulfo never saw Mula sa Puso and Milan? Was he too busy writing about abusive cops and Mike Arroyo? This is Mon Tulfo, who casually calls P-Noy "panot" on his radio show. On the other hand you can say, "Whaaaat? You mean Claudine and Raymart have never read Tulfo's column on the Inquirer? They've never watched Hoy Gising back in the days? But the stinging jab is: "Hindi naman ako tinuruan ang mga magulang ko na pumatol sa matanda." Booom.
The more hurtful part of the whole incident, it seems, is not simply Mon's right black eye-it's the big bruise on the family name's macho ego. Which is why all three younger Tulfo brothers, as of this writing, were suspended by TV5. The official statement contains the phrase "emotions at play." The original Tulfo- the one who started it all and with a perennial baseball bat on the Inquirer website - beaten up by the stars of Ang TV, Gimik, Estudyante Blues, and Bantatay?!  And he admits that it wasn't the physical part that stung. "Sanay naman tayo diyan, bilang isang lalaki," he said. He admitted on TV that it was truly the humiliation. But he waxed lyrical, "A man has to suffer defeat in other to be victorious in the end." Hmmm. What could that mean?
ADVERTISEMENT - CONTINUE READING BELOW
Ramon Tulfo and Raymart Santiago "face off."

Many are the lessons to be learned from this unfortunate incident.
• Pink is not always the color of tranquility as psychology says. In the skirmish, all three parties were wearing pink. Bayani "Hitler" Fernando, you're dead wrong. Pink, paint psychology believes, relaxes the muscles. It is said to have soothing, healing qualities. (And to think that it is essentially a girlie color is wrong; such notion is not hard-wired in the human brain according to studies.) Buuuuuut....
• Grave threat? But how is that any different from an FPJ movie where he always threatens Paquito Diaz and Eddie Garcia in the most dramatic of manners. Okay, granting it's fiction.... But why is it when Annabelle Rama threatens Nadia Montenegro the MTRCB doesn't really do anything? Or Amalia Fuentes? Is it because that when the Tulfos threaten, they look like they really mean it?
• Even serious news programs are not above reporting on the delightfully silly memes spreading throughout social media. It only took less than a day for geniuses to paste the heads of the Tulfos and the Santiagos-including Miriam-onto the bodies of Avengers characters, or on the field of a Mortal Kombat game, or an MMA event poster. But that's what happens when you've got an impeachment trial that's so excruciatingly boring that it would even put a corpse to sleep.
• Being in airport arrival areas put you in a fragile mental state. You're tired and cranky after being stuck in a cramped space in cattle-like conditions, unfed except maybe for a desperate cup of criminally overpriced coffee, and you're bound to snap anytime. You are a ticking time bomb. The next time you see somebody barking at an airline crew, stay the f-k away, unless it's a matter of national security. To paraphrase an old adage: "Magbiro ka na sa lasing, 'wag lang sa na-bad trip sa Cebu Pacific."
ADVERTISEMENT - CONTINUE READING BELOW
• As to the issue of child abuse. But nobody in their right mind would want to behave like this in front of children (perhaps with the exception of some Catholic priests). It's bad enough for Raymart and Claudine's children to have personally witnessed the fracas. But repeated airing of the footage brawl on national TV? What does that do except to raise the number of young children to terrifying multiples? What values does that teach them?
That the family that brawls together, stays together?
Art by Warren Espejo
Share this story with your friends!
---
Help us make Spot.ph better!
Take the short survey
Load More Stories