SPOT.ph's Top 10 Political Hotspots
We list the spots where the country's fate is decided.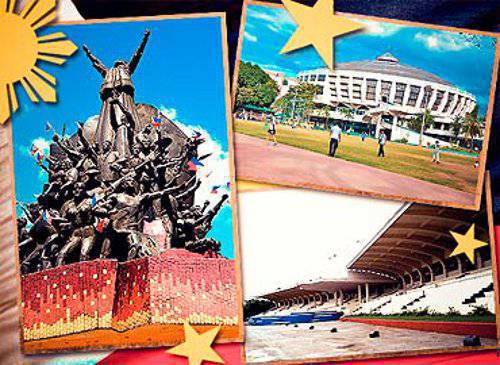 (SPOT.ph) As the country celebrates its 114th Year of Independence, we list 10 places in Metro Manila where this independence is either practiced in earnest or showcased before the whole nation. These are the spots where the country's movers and shakers make things happen (or keep things from happening).
10. Quirino Grandstand
Best known for: Under normal circumstances (barring a coup or the ouster of the incumbent leader), it's where new presidents take their oath of office and deliver their inaugural address to the nation. It goes without saying that the new top man's or top woman's posse will also be in the area to officially celebrate their candidate's victory. Think of it as the "church" of a political wedding, with the politican being officially "wed" to the country. Other large-scale gatherings have also been staged in the location.
Most recent big moment: The June 30, 2010 inauguration of President Benigno Simeon "Noynoy" Aquino III, where 101 dignitaries from 81 countries were in attendance.
Tragic turn: On August 23, 2010, a disgruntled dismissed police officer named Rolando Mendoza hijacked a tourist bus with 20 tourists from Hong Kong, one tour guide from Hong Kong, and four Filipinos on board. Eight tourists were killed.
Unsolicited advice for the Department of Tourism: Please don't place any "It's more fun in the Philippines" posters in this area.
9. Club Filipino
Best known for: For some reason, it becomes the de facto "staging point" of events led by those who oppose the incumbent government. The write-up posted on its website indicates that it was "set up on November 6, 1898, in the aftermath of our century's declaration of independence on June 12 of that same year."
ADVERTISEMENT - CONTINUE READING BELOW
Landmark moment: On February 25, 1986, the country's first female president, Corazon Aquino, was sworn in at in this location. Considering the chaos in the aftermath of the EDSA Revolution, the spot was a good enough substitute setting.
Controversial press con: On February 12, 2012, the lawyers of impeached Chief Justice Renato Corona gathered at the venue to accuse Malacañang of getting involved in Corona's impeachment trial by pressuring senator-judges to defy a court order in exchange for ₱100 million. The court order being referred to was the the Supreme Court's temporary restraining order for the Senate to examine Corona's dollar accounts in PSBank. Needless to say, that didn't turn out too well for Team Corona.
CONTINUE READING BELOW
Recommended Videos
Proposed corny tagline: "50% Club and 50% Filipino"
8. La Salle Green Hills
Best known for: It's a school for boys run by the Fratres Scholarum Christianarum (FSC) or the Institute of the Brothers of the Christian Schools. They're more popularly known as the De La Salle Brothers.
Historic purpose: According to the school's website, "The big old tally board used by  the National Citizens Movement for Free Elections (NAMFRE) from 1984 to 2004 national elections at the St. Benilde Gym has been preserved to serve as a relevant historical place depicting the warm and ardent political and social interests of the Filipinos."
Whistleblower's sanctuary: At the height of the NBN-ZTE scandal in 2008, Rodolfo "Jun" Lozada Jr. was given sanctuary at the school.
ADVERTISEMENT - CONTINUE READING BELOW
Fantasy promo: "Bring in a whistleblower and your tuition is free!"
7. Plaza Miranda
Best known for: It's a favorite venue for proclamation-of-candidacy shindigs, campaigns, and gatherings. Most often, the events are spearheaded by opposition groups or those who have an axe to grind with those in power.
Harrowing moment: On August 21, 1971, two grenades exploded during a political campaign rally of the Liberal Party. Nine people died and 95 were injured. Due to the blast, former Senator Jovito Salonga left eye was blinded and his right ear was rendered deaf. Other prominent LP members were also injured.
Comeback point: Former president Joseph "Erap" Estrada chose this location as the venue of his proclamation rally to start off his 2010 presidential campaign.
Must-know factoid: The plaza is named after José Sandino y Miranda, who served as the Philippines' Secretary of the Treasury between 1833 and 1854.
6. Mendiola
Best known for: It's the go-to place for activists. It's the starting point for their rallies, it's where they put finishing touches on their awesome effigies, and where they warm up for their chants.
Horrific incident: On January 22, 1987, a farmers' march was dispersed by thje government's anti-riot forces. Thirteen protesters were killed and many others were wounded.
The UP connection: The street is named after educator Enrique Mendiola, a member of the first Board of Regents of the University of the Philippines.
Rebel rep: If you want to flash a dirty finger at the Establishment, so to speak, this is where you do it. It's just near the seat of power itself, Malacañang Palace.
ADVERTISEMENT - CONTINUE READING BELOW

5. Batasang Pambansa Complex
Best known for: Situated in Commonwealth, Quezon City, this is the turf of the House of Representatives.
Controversial milestone: In 2006, as documented by the Philippine Center for Investigative Journalism, Bayan Muna Reps. Satur Ocampo, Teodoro Casiño and Joel Virador, Gabriela's Liza Maza and Rafael Mariano of Anakpawis "left the premises of the House of Representatives, where they have been under protective custody for more than two months." The problem was the five lawmakers had been "accused them of being among the so-called 'conspirators' in a plot to overthrow the Arroyo government." As such, the group, known as the Batasan 5, temporarily "lived" at the House to evade possible (unjust) arrest.
Reptilian comparison: Some critics jokingly call the House of Representatives a "crocodile farm."
Annual fashion show: The president delivers his annual State of the Nation Address at this location. As such, it turns into a showcase of elaborate ternos and other spiffy outfits.
4. Malacañang Palace
Best known for: It's where the President of the Philippines holds office. All sorts of state events are held in this location.
Latest Hollywood moment: On February 22, 2012, The Bourne Legacy star Jeremy Renner paid a courtesy call to President Benigno Simeon "Noynoy" Aquino III. He wore a barong Tagalog and cargo pants. His upper body was all official but his legs were ready to party.
Most glamorous ex-resident: The crown still belongs to former First Lady Imelda Marcos, who gained notoriety (though this has tapered off considerably) as the woman with 3,000 pairs of shoes.
ADVERTISEMENT - CONTINUE READING BELOW
Seal searching: Up until today, we can't get over the fact that the presidential seal features a sea lion. Isn't it time to change it to another animal?
3. Epifanio De los Santos Avenue
Best known for: The site of the 1986 EDSA People Power Revolution, which had the whole world cheering on Filipinos.
Commuter's credo: Traffic may always be kind of heavy on EDSA, but at least it's always moving. Stick to EDSA instead of gambling on a short cut where you'll be trapped for hours.
Former names: Before it became known as EDSA, it was known as Circumferential Road 4, Avenida 19 de Junio, and Highway 54.
Realistic traffic tagline: "Want to oust a president? Increase your success rate by marching here."
2. Government Service Insurance System (GSIS) Building in Pasay

Best known for: It's the location of the Senate of the Philippines. It's the turf of the senators and their staff.
Most recent news-worthy moment: The impeachment trial of Chief Justice Renato Corona was held at the Senate. It took 44 sessions. Corona was ousted on May 29, 2012.
Rental woes: In 2008, a report published in The Philippine Star revealed that the senate is renting the GSIS Building complex "for ₱8.29 million a month or about ₱100 million pesos each year."

Fangirl moment: GMA News Online reports that back in March, "Marikina Rep. Miro Quimbo, a spokesman of the prosecution panel in the impeachment trial of Chief Justice Renato Corona, had an unlikely visitor durin trial in the Senate. Maria Cordelia "Aya" Bacay, a self-confessed admirer of Quimbo, dropped by the Senate (one) afternoon to give him a wine bottle filled with paper stars."
ADVERTISEMENT - CONTINUE READING BELOW
1. Commission on Elections (COMELEC) Headquarters in Intramuros

Best known for: It's where politicians file their certificates of candidacy. They all converge here.
Crazy statistic: For the 2010 elections, 99 people aspired to run for president. Only nine were cosnidered legit: Sen. Noynoy Aquino III (Liberal Party), JC de los Reyes (Ang Kapatiran), former President Joseph Estrada (Pwersa ng Masang Pilipino), Sen. Richard Gordon (Bagumbayan), Sen. Jamby Madrigal (Independent), Nicanor Perlas (Independent), former Defense Secretary Gibo Teodoro (Lakas-Kampi-CMD), Bro. Eddie Villanueva (Bangon Pilipinas), and Sen. Manuel Villar (Nacionalista Party).
Wired moment: The COMELEC made history when it used the precinct count optical scan machines (PCOS) for the 2010 elections. Finally, Philippine polls got automated.
Fiery development: In 2007, the COMELEC's old two-story old building in Intramuros burned down. The fire "ate up" applications for gun ban exemptions and media accreditations, as well as COMELEC employees' payroll documents. The COMELEC relocated to a building in the same area. In any case, the fire spawned talks of conspiracy and sabotage. Naturally, the COMELEC dismissed the rumors.
Art by Warren Espejo
Image credits: Screenshots from videos uploaded on YouTube.

Share this story with your friends!
---
Help us make Spot.ph better!
Take the short survey
Load More Stories