Working with Pride
People on the street tell us why they love what they do (and are proud of it)!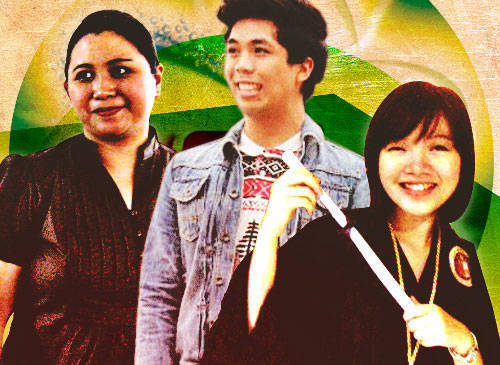 (SPOT.ph) It's funny that we all seem to view the idea of a job in a similar way: it's just a way of passing time, a means to get money. We go to school for almost half of our lives and study our asses off to attain this job, only to wallow in its mediocrity when we finally get it. It's just another way to make money, some may say. It's easy to think so, as it always seems so routine, so ordinary and sometimes it even feels like a dead end. But contrary to that belief, there is a sense of satisfaction and pride that comes with a job well done. One must see that there is a higher purpose to any job, and we should take pride in that. It's something we must find in any kind of job, no matter what color of collar it may be.
ADVERTISEMENT - CONTINUE READING BELOW
Take for example, the job of a stylist. There's a sense of mediocrity in picking out clothes, shoes and accessories someone else will wear. The fashion world might sound incredibly glamorous, but it has its downsides as well. "In this kind of job there is no such thing as 9 to 5pm. You can be up for 28 hours before you know it or have the quickest work day ever for just 2 hours," shares a young stylist, still looking for a way to break into the world of fashion. In such an unstable environment, you have to learn to find pride in the little things that you experience.
CONTINUE READING BELOW
Recommended Videos
"I felt most proud when Ruffa Gutierrez finally gave me a beso. After a lot of weeks of helping style her, I thought she didn't like me or something. But look after look of making her beautiful, she finally loosened up to me and started talking to me and asking my opinions on her shoes, bags, etc. And then she finally gave me "the" beso - the ultimate sign of acceptance in the fashion industry. It only meant that I was doing something right and I am making the client satisfied." You have to learn to take pride in the little things, as well, because it is in being happy with the little things that we can find pride in the work we do.
Pride can also come in big moments of revelation, as shared by an HR assistant. A fresh graduate who is just trying to make her way into the world, and she somehow stumbled upon this job. "I wish that I could have made the most out of unemployment," she shares. But, as life went on and the more she immersed herself in the world she was being thrust, she began to find purpose in her work life, particularly when faced with a difficult task of stepping in for her own boss. "I felt the adrenaline rush as I struggled to address the day's deliverables. I felt a boost in work ownership and a significant leap in my morale."
ADVERTISEMENT - CONTINUE READING BELOW
More than a boost in morale, however, she began to find pride in her job. "HR plays a crucial role in business. What you hold in your hands is the lives of the people. A simple approval of a maternity leave causes much security and convenience in a person's life, a simple SSS deposit can change a whole lot of people's lives." Her pride in her job comes from the way that it makes her feel, that boost in confidence you get when you realize that you actually accomplished something today-something that has helped someone else. As people who work, we have to realize that our ultimate purpose is not to make money (although it seems to be the first purpose of a job), but to be able to serve others in a way that we choose.
There are also some jobs that require a bit more dedication than most are ready to give. For someone who's been teaching all her life, there's no bigger reward than finding pride in what you have been able to do for others. "I am proudest when I call each and every one of my students' names on graduation day. Hearing about what they have become, and the kindness they still show to me (even if I haven't seen them in so long), these are definitley the moments when I feel most proud."
If it's a matter of pride, it's about finding that thing that you love to do, and reaching out of your comfort zone to do it. "If your work is where your heart is, then you should be proud. You work where your passions are. Pag may saya, may puso."
ADVERTISEMENT - CONTINUE READING BELOW
So here's some advice from real people, with real jobs. When you love what you do, you will be proud of what you did. And when you're proud of the little accomplishments, the world will be proud of you too. You have to try and find purpose in everything you do, and maybe you won't think it's such a dead end anymore. There is pride in finding purpose. In the long run, pride and happiness go hand in hand. If you love what you do, if you understand that what you do is something to be proud of, then happiness will follow.
Share this story with your friends!
---
Help us make Spot.ph better!
Take the short survey
Load More Stories