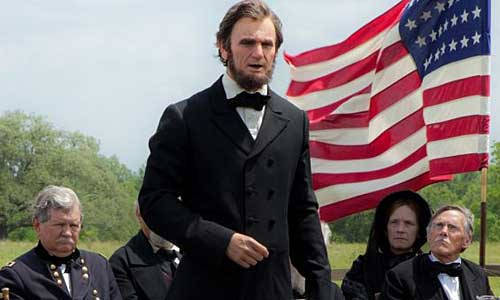 The movie shows the beloved US president sidelining as a vampire hunter.
(SPOT.ph) Fact meets fantasy, history meets horror in Abraham Lincoln: Vampire Hunter,  based on the similarly titled bestseller by Seth Grahame-Smith, who also wrote the screenplay. The movie tells the untold/untrue story of how the USA's 16th president also sidelined as a vampire slayer. We see how young Abe dedicates his life to decapitating the fanged bloodsuckers after one of them kills his mom in 1818, and learn how powerful vampires kept slavery alive even as Lincoln was occupying the White House.


Watch the trailer here.

Pluses:

The Philippines isn't the USA. From the film's dismal rating on Rotten Tomatoes- a depressingly rotten 34 percent-we might conclude that US film reviewers didn't take kindly to the film's reimagining of perhaps their greatest, most beloved president as a vampire slayer. Since we're Pinoys who don't have specially deep feelings for Lincoln, maybe it'll be easier for us to accept that the film is nothing more or less than an imaginative popcorn entertainment where certain incidents from Lincoln's life intersect with the activities of Dracula's descendants.

Henry Sturgess' secret. Dominic Cooper (last seen as Howard Stark in Captain America: First Avenger) plays Henry Sturgess, the young Lincoln's mentor in the grissly art of chopping off vampires' heads. Halfway into the film, we learn why Sturgess prefers to teach others how to slay vampires rather than kill them himself in a nifty plot twist. Also clever is Sturgess' elegant explanation for why silver can kill ungodly creatures such as vampires and werewolves. (Before this movie, though, I had no idea that silver was fatal to vampires.)
ADVERTISEMENT - CONTINUE READING BELOW

The magnificent cinematography and art direction. With potent visualists Tim Burton (producer) and Timur Bekmambetov (director) realizing the film's 19th century vistas, it's a given that Abraham Lincoln: Vampire Hunter looks better than other vampire movies. Add the dusty, sepia-toned lensing of Caleb Deschanel (the Oscar nominated cinematographer of The Passion of the Christ), and you have a film whose sets and costumes are sumptuous to behold. Among these vistas are the half-finished White House and Washington Monument surrounded by acres of marsh land. Similarly arresting are  sweeping views of hundreds of soldiers-both human and inhuman- engaged in Civil War skirmishes.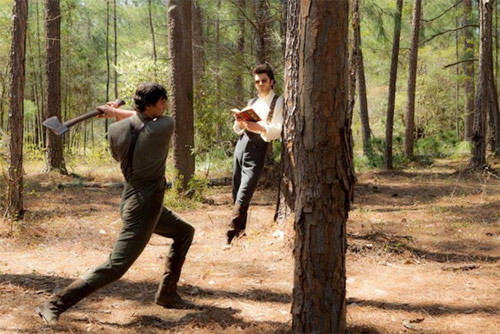 Vampire slayer in training

The convincing (finally!) "elderly gentleman" makeup. The art of aging actors using prosthetics took two alarming steps backward in two recent high-profile Hollywood flicks- J. Edgar and Prometheus. In those respective films, Leonardo DiCaprio's J.Edgar Hoover and Guy Pearce's Peter Weyland looked like the fumbling first attempts of makeup students who were just beginning to learn how to use prosthetics. Oscar-winning makeup artist Greg Cannom (Bram Stoker's Dracula, The Curious Case of Benjamin Button) shows them how it's done by transforming baby-faced Liam Neeson lookalike Benjamin Walker into a completely convincing Abraham Lincoln.
CONTINUE READING BELOW
Recommended Videos

That stunning horse stampede! If the "emergency surgery" scene from Prometheus was that film's wow! moment,  then the stallion stampede Abe Lincoln finds himself in as he pursues the fanged ones is Vampire Hunter's astonishing, signature setpiece. Outlandish and over the top, the scene makes the wildebeest stampede in Disney's The Lion King look deathly dull by comparison.

Minuses:

The Matrix meets 300 technique used in the fight scenes. Apparently, even a master of stylish, kinetic filmmaking like Timur Bekmambetov (he directed the terrific 2008 action thriller Wanted, starring Angelina Jolie and James McAvoy) hasn't found a better way to stage fight scenes. In Vampire Hunter, Bekmambetov again employs the now-clichéd technique of having opponents swing at each other in fast-motion, and then just as quickly slow the action down to a near freeze-frame. Popularized by the Wachowski brothers in the Matrix films and improved on by Zack Snyder in 300, the once exhilarating-to-behold technique now feels tiresome and repetitive.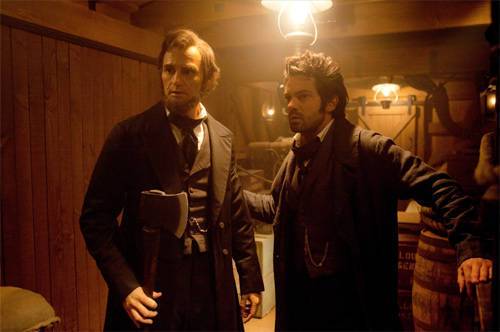 ADVERTISEMENT - CONTINUE READING BELOW
Benjamin Walker as Abraham Lincoln and Dominic Cooper as Henry Sturgess

The 'see-how-scary-we-are' posing of the vampires. In the fight scenes, there's usually a split second during the scuffle where said vampires just have to show Lincoln how scary they look by revealing their ugly visages as their faces are mere inches away from his. If the bloodsuckers had just immediately bitten Lincoln's throat rather than pose for a moment or two to pay homage to the transfixed Bilbo from The Lord of the Rings, then Lincoln's career as a vampire-slayer could have been nipped in the bud even before he finished studying law. (I know...then it would have been a really short movie.)

Parting Shot:
Abraham Lincoln: Vampire Hunter is eccentric entertainment, the kind of film you'd recommend only to those with very specific tastes. If the film's title sparks your interest, chances are you'll enjoy it, because this is one movie that delivers everything its title promises.

RATING:
3 out of 5 spots •••
Share this story with your friends!
---
Help us make Spot.ph better!
Take the short survey
Load More Stories