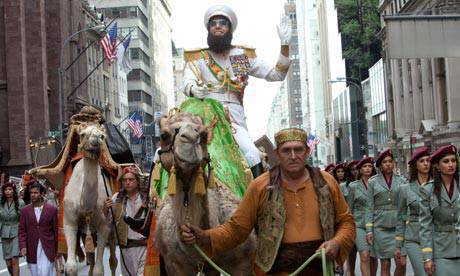 Sacha Baron Cohen stars as Admiral General Aladeen.
(SPOT.ph) This politically incorrect comedy satire stars Sacha Baron Cohen (Borat, Bruno) as strongman Admiral General Aladeen, tyrannical leader of the (fictitious) North African state of Wadiya. When he visits New York to address the United Nations, his right-hand man and uncle, Tamir (Ben Kingsley), wants Aladeen kidnapped and killed so that Wadiya can give democracy a try. Tamir's plan, however, hits a snag when Aladeen survives the attempt on his life. Unrecognizable after his would-be assassin cuts off his trademark beard, the penniless Aladeen wanders around New York, keen to regain his power. He finds help- and love- in the form of Zoe (Anna Faris), a green grocer who helps unemployed immigrants find work in New York.
Watch the trailer here.
Pluses:
Sacha Baron Cohen's fearless and funny portrayal. Cohen's Borat electrified the comedy world in 2006 with its sidesplitting look at America from the point of view of Borat, a Kazakhstan TV journalist. Using just a couple of actors, documentary techniques and real people, the movie was as hilarious and illuminating as the best jokes on TV's Candid Camera. Cohen's 2009 follow-up, Bruno, used the same mockumentary format to follow a gay fashionista's bid to become as famous in Hollywood as he was in his native Vienna. Bruno, however, was only about half as funny as Borat. With The Dictator, the British comedian sets his satirical sights firmly on the likes of Quaddafi, Osama Bin Laden, and Kim Jong Il, forgoing his usual "reality" approach and using a conventional script for the first time. While Cohen's latest isn't as hilarious as Borat, it's more rib-tickling than Bruno. Among the many sidesplitters are the scenes where Aladeen can't help but chuckle as he tells his people that Wadiya's nuclear weapons are being used for peaceful purposes, where he discovers the joys of masturbation (the film is rated R-13 by the MTRCB), and his run-ins with Latinos, Jews, and African Americans. There's even a brief gag where Aladeen does his impression of a Filipino.
ADVERTISEMENT - CONTINUE READING BELOW
Anna Faris being a good sport. While Faris isn't exactly a household name among Pinoy movie lovers (she's perhaps most famous for spoofing Neve Campbell in the two Scary Movie comedies), the comedienne proves an ideal love interest for Cohen in The Dictator because she was apparently willing to do every off-putting thing the script asked her to do, and still look like she had a blast making the movie. These include playing a character who doesn't shave her arm pits, and who's repeatedly referred to as a gay Hobbit. She also shines in the scene where she teaches Aladeen how to masturbate, even though having the skill to do so makes no sense whatsoever.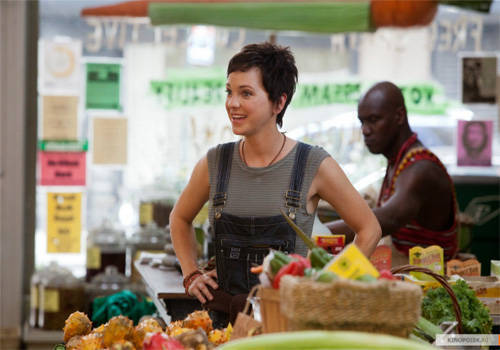 Anna Faris manages to play a good match for Aladeen.
The depiction of the dictator's opulent lifestyle. One of the best things about being a dictator must surely be having all that money and power. In addition to being able to live in a golden palace, Aladeen also gets to play computer games made only for him, such as the one inspired by the 1972 Munich Olympics massacre. He also gets to be paraded through a New York street surrounded by Arabian beauties and a fleet of camels in a shot reminiscent of the "Prince Ali" production number from Disney's animated  Aladdin. Best of all, Aladeen also gets to have one-night stands with the likes of Lindsay Lohan, Megan Fox...and Arnold Schwarzenegger!
CONTINUE READING BELOW
Recommended Videos
The timing. Following the gloomy heaviness of The Dark Knight Rises and the horrific killings in Colorado, surely there are lots of moviegoers out there who are looking for a good laugh. In its 83 minutes, The Dictator has about two dozen rib-ticklers.
Minuses:
The unfunny toilet humor. Many of the satirical jokes in the movie hit more often than they miss. The gags involving urine and feces, however, uniformly bomb like the excrement Aladeen has to unload on a pedestrian in a zipline scene. Also crass and corny is a scene involving a pitcher of urine in a televised United Nations press conference.
The absence of "real" people. Some of the best scenes in Borat and Bruno were those where fashion models, etiquette instructors, politicians, gay bashers and even celebrities like Paula Abdul were "punk'd" into showing bits of their true selves by Sacha Baron Cohen. By abandoning the mockumentary format in his latest opus, Cohen discards one of his strong suits as a funnyman: the ability to provoke both ordinary citizens and Hollywood A-listers into revealing their thoughts on charged topics.
In brief:

Sharp and offensive, fearless and tasteless, The Dictator has nearly everything you'd expect from the creator of Borat. If you don't like Cohen and are offended by racial slurs and anti-feminist remarks, you probably won't be amused by anything here.
Rating: 3½ spots out of 5 •••.
Check out the movie schedule for The Dictator here.
Share this story with your friends!
---
Help us make Spot.ph better!
Take the short survey
Load More Stories