Plays to Watch This Month
The theater scene is alive this September!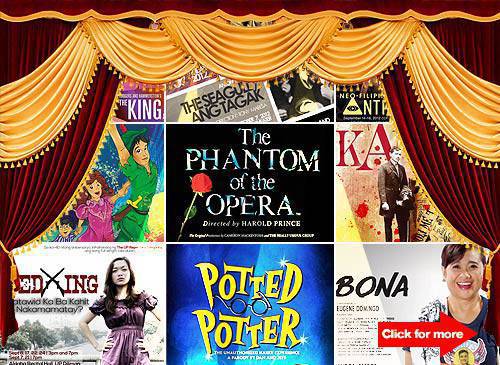 (SPOT.PH) If you missed out on last month's hit plays, don't fret. You may catch the law few shows of Potted Potter and Alamat: Si Sibol at Si Gunaw, and still snag tickets to the critically acclaimed Bona and Phantom of the Opera. While you're at it, check out some original productions by our own local theater groups.
ADVERTISEMENT - CONTINUE READING BELOW
Drafts: Works in Process
Theater group: Shaharazade
When: Sept. 1 at 7pm
Where: Exhibit hall, 3/F Gonzaga Hall, Ateneo De Manila University, Quezon City
Synopsis: Shaharazade, a young theater group comprised of alumni from Tanghalang Ateneo, Blue Repertory, Teatro Baguntao, Dulaang Sibol, Harlequin Theatre Guild, and Dulaang UP, is staging a festival of new plays called, Drafts: Works in Process. The September 1 showdate features Hanging Tree by Jay Crisostomo IV, Katuwiran ng Dukha by Chris Aronson, Ang Kunwaring Hindi Totoong Lamay ni Kadyo by Romeo Venturero, and Katre by Christian Tordecillas.
Ticket prices: P200 for students. P250 for non-students.
Purchase tickets via Kim at 0916-9013454 and (02) 475-2547

Alamat: Si Sibol at Si Gunaw
Theater group: Ballet Philippines
When: Sept. 1-2
Where: Aliw Theater, CCP Complex, Star City Compound, Pasay City
Cast: Lisa Macuja-Elizalde as Goddess Luningning, Missy Macuja-Elizalde as Sibol, and Francis Cascano as Gunaw.
Synopsis: Based on the children's book written by Palanca hall of famer Ed Maranan, this production features a timely environmental message in a mythical setting. Lisa Macuja-Elizalde is onboard as both the artistic director and lead dancer, while Osias Barroso is the artistic associate.
Ticket prices: P600. 50% discount for students.
Purchase tickets via Ticketworld

Kanser
Theater group: Gantimpala
When and where: Sept. 1-2 (9am, 12nn & 3pm) at AFP Theater, Camp Aguinaldo; Sept. 7-9, (9am, 12nn & 3pm) at Star Theater, Star City Compound, Pasay City; Sept. 14-16, (11am & 2pm) at Cinema 3, SM Southmall
Cast: Jay Gonzaga as Crisostomo Ibarra, Cris Pastor as Maria Clara, Troy de Guzman as Elias, Marj Lorico as Sisa, Dante Balois as Pilosopo Tasyo, and Joe Gruta as Kapitan Tiago, Ku Aquino as Padre Damaso, Mosang as Doña Victorina, and Patrick Patawaran is Padre Salvi.
Synopsis: The longest-running Philippine theater classic is back with a stellar cast. Kanser is based on Jose Rizal's classic, Noli Me Tangere, which tackles the cruelty suffered by Filipinos under the Spanish friars during the late 1800s. The novel is woven around the love story of Crisostomo Ibarra and Maria Clara.
Ticket prices: P200
Purchase tickets via Gantimpala at (02) 998-5622

Potted Potter: The Unauthorized Harry Experience
When: Sept. 1 (2:30pm, 5pm & 7:30pm), and Sept. 2 (5pm & 7:30pm)
Where: Carlos P. Romulo Auditorium, RCBC Plaza, Makati
Cast: Daniel Clarkson and Jeff Turner
Synopsis: Not to be confused with A Very Potter Musical, the YouTube hit that forayed Darren Criss into Glee stardom, Potted Potter is another Harry Potter parody that will leave both wizards and muggles in stitches. Written and performed by two-time Olivier Award-nominated actors Daniel Clarkson (not Radcliffe) and Jefferson Turner, Potted Potter is "perfect for ages six to Dumbledore (who is very old indeed)."
Ticket prices: P2,950, P1,900, and P950
Purchase tickets via Ticketworld

The Wizard of Oz
Theater group: Repertory Philippines
When: September 1 - December 16
Where: Various schools and corporate locations, including OnStage Theater, 2/F Greenbelt 1. Visit Repertory.ph and Ticketworld for the full list of dates and venues.
Cast: Cara Barredo as Dorothy Gale, James Stacey as Scarecrow, Hans Eckstein as Tin Man, Oliver Usison as Lion, Pinky Marquez as the Wicked Witch of the West, Rem Zamora as Uncle Henry and Secretary to Oz, and Liesl Batucan as Glinda.
Synopsis: L. Frank Baum's masterpiece comes to life with Repertory's interpretation of the magic of Oz directed by Baby Barredo and Menchu Lauchengo-Yulo. When a tornado whisks Dorothy away from Kansas to the land of Oz, she goes on a quest to find the mighty wizard who has the power to send her back home. In her journey she encounters unique characters such as the Tin Woodsman, Cowardly Lion, and the wicked Witch of the West. Not to be confused with the hit MGM film, this local version of Wizard of Oz does not include songs from the original 1939 fantasy film.
Ticket prices: P600, P500, and P350 for OnStage showdates
Purchase tickets via Ticketworld and Repertory

The Phantom of the Opera
Theater group: Lunchbox Theatrical Productions
When: September 1-30 (Tuesdays to Fridays at 8pm and Saturdays to Sundays at 3pm & 8pm)
Where: CCP Main Theater, Manila
Cast: Jonathan Roxmouth as Phantom, Claire Lyon as Christine, Anthony Downing as Raoul, Thabismo Maseme and Dondi Ong as Ubaldo Piangi, Andrea Creighton as Carlotta, James Borthwick as Monsieur Firmin, Jason Ralph as Monsieur Andre, Rebecca Spencer as Madame Giry, and Cat Lane as Meg
Synopsis: Andrew Lloyd Webber's masterpiece finally comes to Manila. Watch Christine, Raoul, the disfigured musical genius known as The Phantom, and the powerhouse international cast perform Broadway classics such as "Music of the Night" and "All I Ask of You" live for the Manila audience.
Ticket prices: P7,000, P5,800. P4,500, P3,500, P2,250, and P1,750. Student and group discounts available.
Purchase tickets via Ticketworld

Bona
Theater group: PETA
When: Sept. 2, 7-9, 14-16 & 21-23 (Fridays at 8pm, Saturdays & Sundays at 3pm & 8pm)
Where: PETA Phinma Theater, No.5 Eymard Drive, New Manila, Quezon City
Cast: Eugene Domingo as Bona, Edgar Allan Guzman as Gino Sanchez, Phil Noble and Joey Paras as Baldy, Jeff Henson-Dee and Raffy Tejada as Ronald, She Maala and Olive Nieto as Binky, Dudz Teraña as Nini, Junevir Tabor as Chiqui, Juliene Mendoza as Bert, BJ Forbes as Bingo, Gabs Santos as Raf, and Anna Luna as Katrina
Synopsis: Lino Brocka's critically acclaimed film, which originally starred Nora Aunor and Philip Salvador in 1980, is making its theater debut set in contemporary Manila. Comedienne Eugene Domingo plays the title role, a spinster call center agent who becomes a fan of Gino Sanchez, a contestant in the talent search, Star of Tomorrow. Her disturbing obsession with Gino pulls her into a quicksand of worship and pity.
Ticket prices: P1,300, P1,000, P800 & P600
Purchase tickets via Ticketworld and PETA
ADVERTISEMENT - CONTINUE READING BELOW

Ped Xing: Tatawid Ka Ba Kahit Nakamamatay?
Theater group: UP Repertory Company
When: Sept. 8, 17, 22 & 24 (3pm & 7pm) and 7 & 21 (7pm)
Where: Aldaba Recital Hall, UP Diliman, Quezon City
Synopsis: Five ordinary people plot a scheme to assassinate their town mayor, but their plans are foiled when a friend betrays the group. This action/comedy play uses UP Rep's signature style of performing, the Tula-Dula.
Ticket prices: P180 for UP students. P250 for non-UP students.
Purchase tickets via Serville at 0917-600-0161

Neo-Filipino: Anting
Theater group: Ballet Philippines
When: Sept. 14 (3pm & 8pm), 15, (2pm & 6pm), and 16 (3pm & 7pm)
Where: CCP Little Theater, Pasay City
Synopsis: Tony Perez's libretto "explores the world of talismans and amulets of Filipino magical traditions" in this four-part ballet-Part 1: Nang Wala Pang Mundo, Part 2: Sinotris Gentillorum, Part 3: Ang Krus ng Alitagtag, and Part 4: Haring Bakal
Ticket prices: P600. Limited seats left.
Purchase tickets via CCP Box Office, Ticketworld, and Ballet Philippines

Walang Kukurap
Theater group: Tanghalang Pilipino
When: Sept. 14 - Oct. 7 (Fridays at 8pm, Saturdays at 3pm & 8pm, and Sundays at 3pm)
Where: Tanghalang Huseng Batute, CCP, Pasay City
Cast: Jonathan Tadioan, Marco Viana, Regina de Vera, Nicolo Magno, Remus Villanueva, Ralph Matteo, Doray Dayao, April Joy Inigo, Jiovanni Cadag, Suzette Ranillo, Sherry Lara, Mymy Davao, Peewee O'Hara, Matt Ranillo III, Lou Veloso, Crispin Pineda, Ding Navasero, Nonoy Froilan, Paulo Cabanero, Nar Cabico, Delphine Buencamino, and featuring GLOC 9 on special dates.
Synopsis: After the success of the sarswela Walang Sugat, TP is staging Walang Kukurap to address "the continued atrophy of the Filipino identity" through this live suspense thriller based on first-hand accounts of our government's graft and corruption.
Ticket prices: P600. Student and senior citizen discounts apply.
Purchase tickets via CCP Box Office and Tanghalang Pilipino

The King and I
Theater groups: RWM, Manila Philharmonic Orchestra, and Philippine Ballet Theater
When: September 15 - 30 (Fridays at 8pm, Saturdays at 2pm & 2pm, and Sundays at 2pm)
Where: Newport Performing Arts Center, Resorts World Manila, Pasay City
Cast: Leo Tavarro Valdez as the King and Monique Wilson as Anna
Synopsis: Originally staged in Broadway in 1951, The King and I is the fifth masterpiece of renowned theater writing duo Rodgers and Hammerstein. The musical tells the story of a widowed English schoolteacher, Anna Leonowens, who travels to Siam to serve as a tutor of the King's children. One of Anna's tasks is to introduce modernity to the kingdom, but the relationship between her and the King becomes conflicted, especially when neither is able to express their growing love for each other.
Ticket prices: P2,400, P2,000, P1,600 and P1,000
Purchase tickets via Resorts World Manila Box Office or Ticketworld

The Seagull
Theater group: Dulaang UP
When: Sept. 19 - Oct. 7
Where: Wilfrido Ma. Guerrero Theater, Palma Hall, UP Diliman, Quezon City
Synopsis: Considered to be the greatest work of Anton Chekhov, The Seagull (Ang Tagak) is a four-act comedy that tackles the web of art, life, and love.
Cast: Ana Abad Santos, Frances Makil-Ignacio, Ces Quesada, Leo Rialp, Menggie Cobarrubias, Jeremy Domingo, Alfonso Deza, Stella Cañete Balucas and promising actors Carlo Tarobal, Zafrullah Masahud, Karen Gaerlan, and Nadine Samonte
Ticket prices: To be announced
Purchase tickets via Dulaang UP at (02) 926-1349, (02) 981-8500 local 2449 or (02) 433-7840

Nine
Theater group: Atlantis Productions
When: September 21 - October 27 (Fridays at 8pm, Saturdays at 2pm & 8pm, and Sundays at 3pm)
Where: Carlos P. Romulo Auditorium, RCBC Plaza, Makati
Cast: Jett Pangan, Cherie Gil, Eula Valdez, Menchu Lauchengco-Yulo, Sitti Navarro, Ima Castro, Jay Glorioso, Carla Guevara-Laforteza, and Yanah Laurel
Synopsis: This musical is based on Federico Fellini's semi-autobiographical film 8 ½, set in '60s Venice and centers on film director Guido Contini's midlife crisis. His impending 40th birthday, web of romantic difficulties, and creative block prevents him from savoring his greatest career success.
Ticket prices: P1,700, P1,600, P1,400, P900, and P700
Purchase tickets via Ticketworld and Atlantis Productions

Peter Pan: A Musical Adventure in Neverland
Theater group: Kids Acts Philippines
When: Sept. 28 (10am, 1pm, 4pm & 7pm), Sept. 29 (10am, 1pm, 4pm & 7pm), Sept. 30 (10am, 1pm & 4pm), Oct. 1 (10am, 1pm, 4pm & 7pm), Oct. 2 (10am, 1pm, 4pm & 7pm), and Oct. 3 (10am, 1pm, 4pm & 7pm)
Where: Star Theater, Star City, CCP Complex, Pasay City
Synopsis: Adapted from the book of James Matthew Barrie, Peter Pan explores the colorful world of the boy who doesn't want to grow up. This family musical will feature a modern art flying system to portray the magical adventures of Peter Pan in Neverland.
Ticket prices: P400
Purchase tickets via Ticketworld



Photos from Atlantis Productions, Concertus Manila, facebook (Ballet Manila, Ballet Philippines, Delight/Delirium, Kids Acts Philippines, Potted Potter Manila, Shaharazade, The King and I Manila, UP Repertory), Gantimpala, panitikan.com.ph, PETA, repertory.ph, Tanghalang Pilipino, and up.edu.ph


ADVERTISEMENT - CONTINUE READING BELOW
Recommended Videos
Load More Stories