REVIEW: The King and I
They say third time's the charm, and with Resorts World Manila's third offering, charm is what we're getting.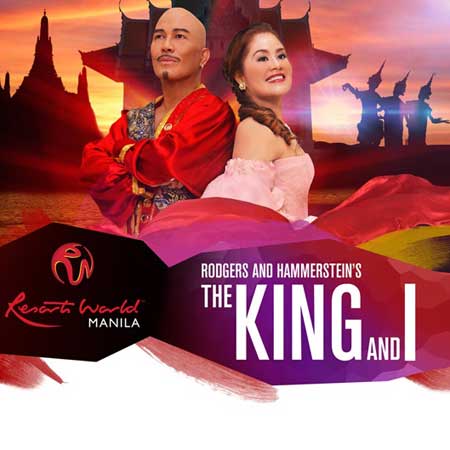 (SPOT.ph) At the premiere of The King and I on Friday September 14, it was clear Resorts World Manila brought out the big guns for its third theatre offering. Witness: the play is under the direction of award-winning director Freddie Santos; West-End actors Leo Valdez (King) and Monique Wilson (Anna) headline the cast; top Filipino designer Rajo Laurel was brought in to design costumes for the King and Anna; the Manila Philharmonic Orchesta takes on the musical scoring; and hey, even the production design wasn't half bad.


It's very easy to love The King and I. Rodgers and Hammerstein are fantastic songwriters and for this play, they wrote some of their simplest-to-the-point-of-familiar melodies. This is a good thing, because even if you didn't know them, it'll only take one listen before you feel as though you've long known them, if not long been your favorites. Couple that with such high-energy performance from the cast-especially from the little kids-and you have a version of The King and I that's even more enjoyable than expected.


Speaking of kids, the children in the cast are all very adorable. I was especially thankful that RWM put two huge screens, one on each side of the stage, because I was able to see how much fun they were having, singing and dancing and acting on stage and that made them doubly adorable!


That said, this is best seen together with your families and kiddos on a wholesome Sunday afternoon. Imagine, them singing along and getting tickled seeing a cute elephant wiggle its nose as it crosses the stage. Imagine the kiliti. Imagine the matinee fun.
ADVERTISEMENT - CONTINUE READING BELOW
Either way, you are most lucky if you catch either Leo Valdez or Monique Wilson. Don't get us wrong, you're not getting any less if you get the alternates. They are already very good. But what a wonderful stroke of luck to catch either Leo or Monique in action. Leo Valdez is so good and his voice is so powerful and we can't think of anyone else who could carry those golden sandals with such panache. And Monique, she is so good.


Somewhere toward the end of the first half, I began to feel the pull of that Friday; I was somewhere between pretty tired and bored. My mother, thinking nothing very exciting was going to happen just yet, decided to go to the loo. But then Anna's, which is to say Monique's soliloquy came up. At this point of the story, Anna was told that the King wasn't going to honor his end of the bargain, he wasn't going to give her what he promised. Anna felt so angry and cheated and obviously annoyed. Monique was all of those and all of those things were oozing out of her eyes. And she was singing. And wow, how she sang. You'd really be most lucky if you catch any one of the two.


Kudos to Rajo Laurel for the beautiful costumes of Anna and the King. Again, I was so grateful for the screens on the sides of the stage and the close-ups they provide; I was able see and appreciate the details of the pink dress that Anna wore at the gala dinner, for instance. In any case, I didn't really need the screens to see in full regalia those golden sandals the King wore. Where did he get those? How they stole the show in some scenes. It's through little details such as those that Siam aesthetics were translated to stage. There was enough flamboyance and gold and wooden carvings and Thai poses to remind you this was set in Siam, when Anna Leonownes took on the job as governess of Siam's King Mongkut's children. The King and I is based on the novel by Margaret Landon about that chapter of Anna's life.


CONTINUE READING BELOW
Recommended Videos
They say third time's the charm, and with Resorts World Manila's third offering, charm is what we're getting. The King and I runs until December. Catch it when you can.


Share this story with your friends!
---
Help us make Spot.ph better!
Take the short survey
Load More Stories