(SPOT.ph) For the next two weekends at least, many men will believe Jett Pangan has the most enviable job in town. He is the only man in sight, with a variety of women fawning over him, caressing him, begging him to make love to them.
All that and he gets paid too. A tough job, but someone's got to do it.
Pangan headlines Nine, Atlantis Productions' latest hit, directed by the company's artistic director Bobby Garcia, now playing at the Carlos P. Romulo Auditorium at the RCBC Plaza in Makati. Here, Garcia works with a dream team of actors and production crew on the musical by Arthur Kopit (book) and Maury Yeston (music and lyrics). Pangan plays down and out, middle-aged Italian film producer Guido Contini, who hopes to revive and relive his glory days by writing and directing another big movie.
The show opens with Guido and a dozen women onstage-including Guido's longsuffering wife Luisa (Menchu Lauchengco), his seductive temptress-mistress Carla (Carla Guevara-Laforteza), his actress muse Claudia (Eula Valdes), and his producer Liliane (Cherie Gil)-all clad in the elegant black, white, and shades of gray costumes by New York-based Robin Tomas. The actors glide up and down a massive set created by Tony Award-winner David Gallo, who stood quietly at the back of the theater on opening night, shyly acknowledging praise for his work.
ADVERTISEMENT - CONTINUE READING BELOW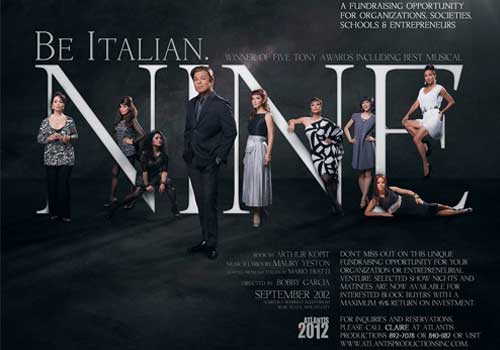 The set, made up of at least five levels-and maybe more, depending on how you count them-fills the stage, and even goes off it, down to the level of the audience. Blocks resembling marble head up and down, here and there, to make up the Venetian spa that is the main setting of the show and other locations in Guido's mind. Camouflaged trunks are spread throughout, filled with myriad trinkets including feather boas and tambourines. Jay Aranda's clever lighting design with various colors and spotlights changes the mood and atmosphere as needed.
Guido confesses to Luisa that he has signed up to make another film. She begs him not to, but he has already committed to it, and it is too late. Luisa laments her plight as a forgotten wife in a moving solo that captivates the audience. "Singing with Guido all night on the phone, long ago, someone else ago. How he needs me so, and he'll be the last to know it." Lauchengco, who is consistently convincing in whatever role she plays, is again spot-on with her singing and acting in this performance.
Pangan, as Guido, is a slightly harder sell.  His Italian accent is awkward, and it takes the viewer a bit of imagination to picture him as an Italian heartthrob. Still, Pangan's charisma and singing voice work their magic, and within minutes, he is transformed into the Don Juan character he plays, and holds our attention the rest of the show. Sparks fly whenever he and Guevara-Laforteza, as the mistress Carla, share a scene, their chemistry is palpable. Guevara-Lafortez and Ima Castro, as Sarraghina, have the most provocative moves of the evening, including lots of leg spreading, while belting out their own showstopping numbers. Valdes as Claudia is ethereally lovely.
ADVERTISEMENT - CONTINUE READING BELOW
But it is Cherie Gil, the gorgeous, glorious diva who plays Liliane Le Fleur, Guido's producer, who brings the house down. Gil exudes an aura of confidence and sensuality honed by years of experience that is truly mesmerizing. We hope to see her in many more musical productions to come.
Warren Saga steals many hearts as the young Guido, although it was a bit alarming to wonder whether being part of such an adult production would have a negative effect on a young boy's psyche (note to parents: this show is not for children).
The rest of the cast is stunning, sultry, sexy, with beautiful voices and the moves to match. Director Bobby Garcia has raised the bar yet again.
"This show is the proudest moment I have had in my career," Garcia posted on Facebook on opening night. And we can definitely see why.


Through October 7 at the Carlos P. Romulo Auditorium, RCBC Plaza, Ayala Avenue, Makati. atlantisproductionsinc.com



ADVERTISEMENT - CONTINUE READING BELOW
Share this story with your friends!
---
Help us make Spot.ph better!
Take the short survey
More Videos You Can Watch
Load More Stories