(SPOT.ph) Everyone agrees: It is an exciting time for Philippine art. With the rest of the world already waking up to the vibrant and dynamic scene from where our ingenious and creative artists come, it's about time we discover our very own. Enter Art Fair Philippines.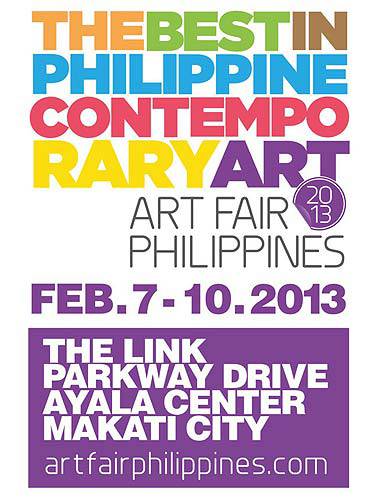 Art Fair Philippines (AFP) is a three-day event that will bring together 24 galleries featuring the best of local contemporary art at the 6th floor of The Link carpark in Makati. "We're not just making space available to just about anybody," says Lisa Periquet, one of the organizers of AFP. "We aim to feature works that are the best in quality, wide in scope, and have good concept behind it."
ADVERTISEMENT - CONTINUE READING BELOW
If the press launch of AFP at the Ayala Museum last week was any indication, the current local art scene is quickly coming alive. There is undeniable energy from gallerists, industry insiders, and art enthusiasts, and it is contagious. Here are 10 things that's keeping everyone happy and happily buzzed.
1.    Filipino art is on the map! You've heard the name Ronald Ventura, but how about Norberto "Peewee" Roldan? He, along with Poklong Anading, were chosen by the Guggenheim to participate in its prestigious "No Country" exhibit. These are hardly household names because, as Periquet, says "their work goes straight to the auction. And they do so well there!" Art Fair Philippines seeks to introduce these artists to their own country by featuring a special installation by Ventura and Roldan.
2.   Filipino art is legit. According to Dawn Atienza of Tin-Aw Gallery, our painting tradition "has been there longer than other countries in the region so may karapatan talaga tayo! It's just a matter of timing." With 24 galleries showcasing the best of the best, perhaps Art Fair Philippines signals now is the time.
3.    Gabriel Barredo's comeback. The famous Filipino sculptor hasn't had a show in six long years. Well, wait no further: his exhibit, entitled Asphalt, will take center stage at the Art Fair. Hallelujah.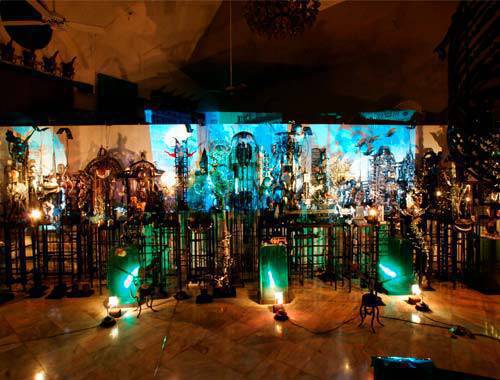 A preview of Gabriel Barredo's work


4.    Filipino art is in demand! According to Atienza, the demand for Filipino art is up. We are very strong in Southeast Asia primarily but the rest of the world is catching up, as well. "The demands in Canada and the US are also increasing." "We know the organizers invited foreign collectors, curators, and museum people to the event so that should be exciting," adds Sylvia Golamco-Gascon of Finale Gallery.
ADVERTISEMENT - CONTINUE READING BELOW
5.    Filipino art is unusual, unexpected, different, and surprising. That Art Fair Philippines will be held not at a convention center or some other similar and expected venue, but at a parking space should clue you in about where we are right now, art-wise. "It's an alternative venue, a little different," admits organizer Trickie Lopa, "but we felt, it's an important part of the concept. Contemporary art, it's different, 'di ba? It's non-traditional. It's alternative so the venue also has to be different." Atienza adds, "It's laudible that the fair will be in a parking lot because it's something unusual and for art, we like that."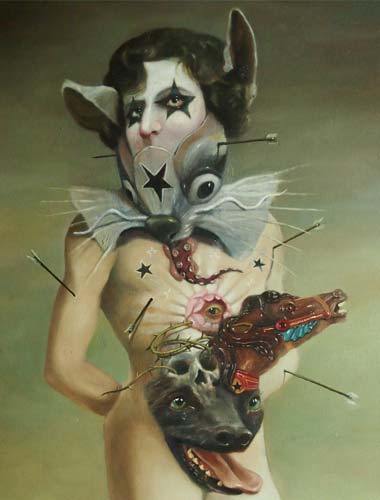 From Paseo Gallery


ADVERTISEMENT - CONTINUE READING BELOW
6.    But it is accessible! The venue, especially, sends out a pretty strong message. "It mirrors our art scene," Lopa says. "Very accessible, a little 'make-do,' quite out-of-the-box."
7.    And ingenious. We cannot wait to see Peewee Roldan's sculpture, made with...San Miguel Beer crates. This, we are told, will serve as reception desk. Come on. If this isn't ingenious enough, we don't know what is.
8.    Filipino art is everywhere, even on Lady Gaga. Remember the bustier that the pop singer wore on the cover photo of her "Marry the Night" EP? That is by CCP 13 Artists Awardee Leeroy New, together with Kermit Tesoro. Mr. New's wearable art will be on exhibit during the Art Fair.
9.    Filipino art is for everyone. Art Fair Philippines isn't zeroing on a particular target market. In line with the Make it Makati campaign, it attempts to attract everyone. "It's a good place to go to learn about our artists, what's going on in the art world," says Lopa. Apart from the parking space where most of the action is, art pieces will also be on display in several public spaces across the city, for everyone to see and enjoy.
ADVERTISEMENT - CONTINUE READING BELOW
10.    The sense of community. We get why many people are intimidated by art and if we're being honest, we sometimes are, too. The scene seems to be close-knit and cutthroat. But Golamco-Gascon and Atienza disagree: "We're a community! We're friendly and we're all friends!" The two, in fact, sometimes share artists. At the Art Fair, Tin-Aw will be showing the work of Mark Justiniani, which has previously been shown at Finale.
For more information on Art Fair Philippines 2013, log on to artfairphilippines.com.
Share this story with your friends!
---
Help us make Spot.ph better!
Take the short survey
More Videos You Can Watch
Load More Stories