Betsy Westendorp: Portrait of an Artist
A glimpse at Portrait of an Artist, an exhibit of the Spanish artist's vision of the heavens
(SPOT.ph) Spanish artist Betsy Westendorp has been making art for the last 40 years, creating exquisite portraits of her family, her friends, members of European royal families, and other prominent figures like former President Marcos. In her latest exhibit though, it is her image that is being pieced together, and not in the traditional sense.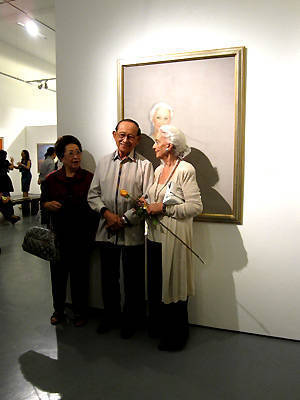 Westendorp with Former President Fidel Ramos and his wife, Amelita Ramos
There is a self-portrait that she finished late last year that is for viewing but it is her interpretations of the sky that reveals her to us. Her love affair with the skies began with a sunset along Roxas Boulevard that she saw with her husband and she has been in awe of it ever since. The walls of Manila Contemporary are lined with expressive and rather intimate paintings of cloudscapes, featuring the emotions evoked by the skies felt by Westendorp. It is a collection of old and new pieces, ranging from sunny days to turbulent weather, rendering a dynamic portrait of her.
ADVERTISEMENT - CONTINUE READING BELOW
Architect Ramon Antonio created a small space within Manila Contemporary that mimics how Westendorp's art is appreciated within a domestic setting. Even those who are unfamiliar with her work will find something to appreciate in the depictions of anxiety and hope on the canvas.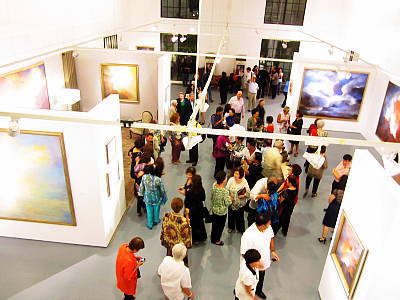 CONTINUE READING BELOW
Recommended Videos
During the opening, the crowd eagerly gathered as Westendorp arrived and she was equally eager to see all of them. She is known for being enthusiastic about connecting with people during exhibits and she gladly shook hands and exchanged words with the attendees. Despite being in her mid-eighties, she was vibrant throughout the night and her passion to share is vivid in her demeanor and of course, captured in her art. She continues to paint at her home every day, ceaselessly inspired to create.
Westendorp took a short break from greeting the attendees to sit down and answer a few questions, giving more insight on her work and her love for Manila's sunsets.
ADVERTISEMENT - CONTINUE READING BELOW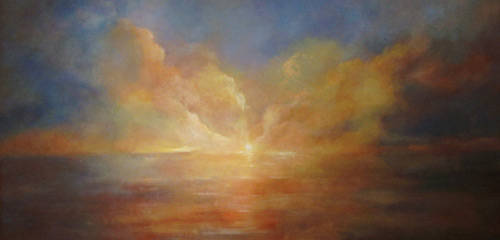 Panoramic Blaze, 2011 (oil on canvas)
Is this your first exhibit that mainly features your skyscapes?
Yes, it is special because it is the first. Four years ago, I had an engagement in Gateway and I was very happy with that but I had portraits, flowers, and landscape. But this one, the curator and the owner of the gallery said that we will do only clouds.
How is painting portraits and painting the sky different for you?
Oh, it's completely different! With a portrait, you have to have discipline and get the likeness. That's very important because if the portrait doesn't look like the person, it's a failure. So I have to have discipline. I do it by detail. I do it little by little.
There's also a drawback because you have to please the family of the person. They will have an opinion. Maybe they'll agree, and you'll be happy. Maybe one comes and says she looks younger, she looks taller. That's a drawback.
ADVERTISEMENT - CONTINUE READING BELOW
With the clouds, I am free to do whatever I please. I can paint the clouds whatever color I want, whatever shape I want. It is something that is very emotional, I cannot restrain myself. I just let go. That's the difference.
Do you have a particular place in Metro Manila that you love most?
Roxas Boulevard at sunset. That is a beautiful, beautiful light. Before the reclamation and when there is no reclamation. So I hope they don't keep on with the reclamation!
Are all of the paintings on exhibit of Manila Sunsets?
All my inspiration comes from that.
What is it about the Manila sunset that you like?
It is so incredible. It is so fast. In other places, like in Europe for example, the twilight is so long. Here, in a matter of ten minutes, the color changes and the shape of the clouds is different. It is really impressive.
How do you capture that fleeting moment?
I take a picture if I have a camera with me. I take notes if I have a pen and paper. I keep it in my mind. But then in the computer, when I look at the photo, I never like it. It's not what I expect, like the color of the sun is different. I rely on my emotions most.
Betsy Westendorp: Portrait of an Artist runs from January 17 toFebruary 10 at Manila Contemporary
Share this story with your friends!
---
Help us make Spot.ph better!
Take the short survey
Load More Stories