A Night of Madness: Boeing Boeing by Repertory Philippines
Repertory Philippines opens their 76th theater season with sexy stewardesses and lots of laughter
(SPOT.ph) As the fatalistic phrase goes, boys will be boys and men will be boys too. Boeing Boeing takes off (pun intended) from that and an outrageous tale of polyamory unravels on the stage to kick-off the 76th theater season of Repertory Philippines.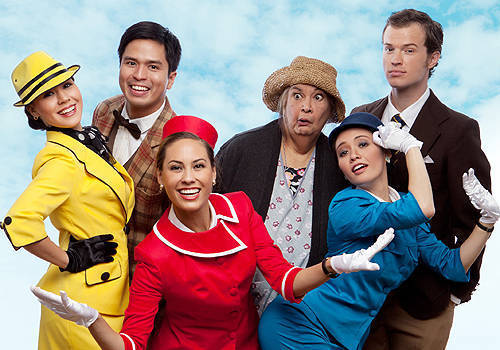 A comic tale of Boeing proportions
First staged in France in the 1960s, Boeing Boeing is the story of Bernard, an architect in Paris who is engaged to three air hostesses at the same time under the delusion that this is what makes life interesting. When his boyhood friend Robert comes to visit him, he brags about how precisely and efficiently he has designed his life, which he feels operates like clockwork-until time (pun intended) catches up with him as technology advances and planes start to go faster. There is a certain thrill to it that makes you want to brace yourself for a crash (pun still intended) as a series of near-collisions happens between Bernard and his three loves, Gretchen, Gabriella, and Gloria.
ADVERTISEMENT - CONTINUE READING BELOW
The setting is foreign but the sentiments are as global as Bernard's harem. There has been this inexplicable surge of infidelity-themed TV shows and movies recently, and tears have gushed on and on over the gloom and doom of ill-fated affairs. This play turns the attractiveness of infidelity on its head and shows how utterly ridiculous dating three women would be.
Yes, the morals of the people in Boeing Boeing are questionable and the resolution leaves a tangy Deus ex Machina aftertaste but disagreeing with the content will do nothing to stop you from laughing. Repertory Philippines does the material unbridled justice.
CONTINUE READING BELOW
Recommended Videos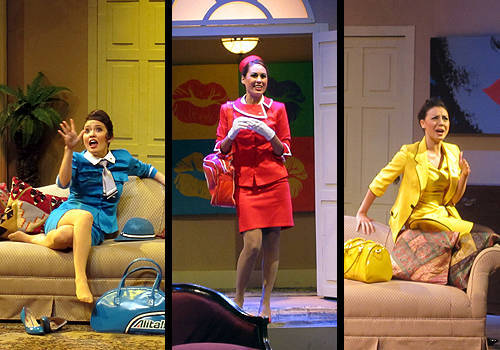 Giannina Ocampo as the Italian Gabriella, Jennifer Bianco as the American Gloria, and Carla Dunareanu as the German Gretchen
The three stewardesses are instant hits, what with their fabulous costumes and personalities. Carla Dunareanu gives an outstanding performance as Gretchen, the strong German girl to David Bianco's Bernard. Her bright yellow Lufthansa airline outfit only serves to accentuate the excellent command she has of her body as she plays out the full theatrics of her character.
ADVERTISEMENT - CONTINUE READING BELOW
Topper Fabregas makes for a candid and hilarious Robert, dazed and confused as he gets pulled into the orbit of Bernard's world. And watch for Baby Barredo, coming back to the stage and stealing the show with witty one-liners as the quirky maid, Bertha.
The set itself is a character, simple and mostly made of doors. It underscores comings and goings and the deceit behind them. It's subtle and spacious, taking none of the focus away from the already-cluttered life of Bernard.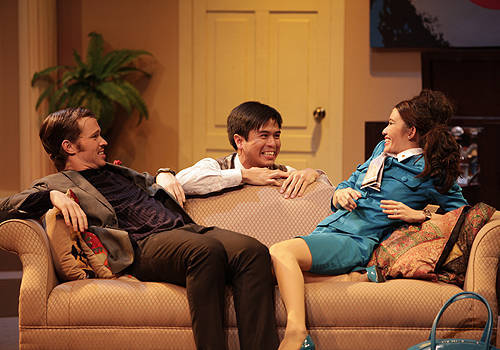 The expressiveness of the cast effectively elicits laughter from the audience
The way the characters act and react absurdly to the direness of the situation is downright silly. Bianco and Fabregas capture that flustered feeling exceptionally well and the somewhat lack of dimension of the women works to show that this kind of madness is best left as fiction. Keep in mind that this is a farce, which by definition derives humor from highly improbable situations. Definitely not meant to reflect real life but definitely meant to entertain.
ADVERTISEMENT - CONTINUE READING BELOW
Boeing Boeing is anchored steadily on a solid script full of snappy banter with varying levels of elegance, and on the commitment of the cast to fleshing out the wild antics that goes on in it. Their energy is infectious and anyone who enjoys a good laugh will find it here.
Boeing Boeing was originally written by Marc Comeletti, translated by Beverley Cross and Francis Evans. Reportory Philippines is performing it on these dates at the Onstage Theatre in Greenbelt 1: January 25, 26, 27 and February 1, 2, 3, 8, 9, 10, 15, 16, and 17. For inquiries, log on to the Repertory Philippines website.
Share this story with your friends!
---
Help us make Spot.ph better!
Take the short survey
Load More Stories