Three Questions for Celebrated Contemporary Artist, Norberto "Peewee" Roldan
SPOT.ph gets a sneak preview of the artist's highly anticipated works for Art Fair Philippines 2013 and the Guggenheim in New York.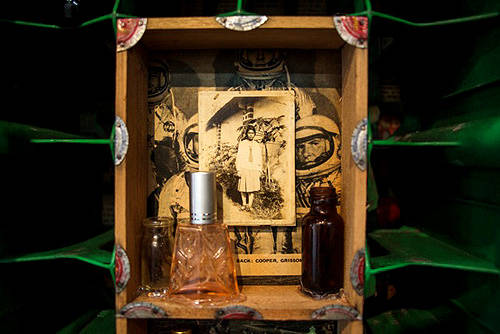 Norberto "Peewee" Roldan's work using San Miguel beer crates, detail
(SPOT.ph) At first they almost seem like clutter: knickknacks stacked in a group of compartments, torn pages from a book or worn swatches of wallpaper in the background. Sometimes there's even an old toy standing among the mismatched pieces of old perfume bottles and religious figurines. But up close, each group of objects tells a story.
ADVERTISEMENT - CONTINUE READING BELOW
It's difficult to describe Norberto (Peewee) Roldan's art in one paragraph-you never quite know if your interpretation of it would make sense to anyone else. But maybe that's the point. Curator Lian Ladia once described Roldan's exhibition at Art Stage Singapore as "anthropological studies of a theatrical set." Roldan's own title for that particular exhibition is perhaps the most concise, and at the same time enigmatic, description of his work: The beauty of history is that it does not reside in one place.
Beginning February 22, Roldan will be part of an exhibit at the Guggenheim in New York entitled No Country: Contemporary Art for South and Southeast Asia. But his participation in Art Fair Philippines, opening in Makati on February 7, is equally exciting. Roldan shared a few details on these two upcoming projects with SPOT.ph:
SPOT.ph: You've created a piece for the reception area of Art Fair Philippines that uses San Miguel beer crates. Can you give us an idea what to look forward to?
ADVERTISEMENT - CONTINUE READING BELOW
Roldan: I was asked to do an installation for the reception area. And what I did was a wall installation (14 feet wide) and a reception counter using used San Miguel beer crates. The crates on the wall contained a variety of elements called "found objects" in art historical parlance but what anthropologists would describe as biographical objects. These objects vary from old photographs, empty perfume bottles, empty lipstick holders, old calendars, figurines, souvenir items, stampitas, amulets, apothecaries, magazine clippings, etc. My interest in biographical objects stems from an observation that histories of objects and the life histories of persons who owned them were one and the same and that people and the things they value are intimately intertwined. Objects hold secrets to personal narratives and this is the gist of this work. The brand San Miguel, the product San Miguel beer, and the object that is the beer crate, all represent an "object" valued for over a century not only by individuals but by a whole society that is proud to be associated with it. One can barely think of any significant celebration in the Philippines that did not serve a bottle of beer. The crate, or the brand, contributes to this whole amalgam of personal and collective narratives the installation tries convey.
ADVERTISEMENT - CONTINUE READING BELOW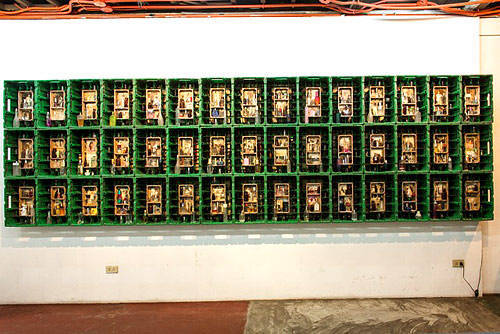 What's your take on the current Filipino art scene? What do you see as its pros and cons?
It seems that art is a difficult subject to deal with in this country. Government has never regarded art as an important component for nation building and economic progress despite the fact that many countries have already shown statistics [proving that] art, contemporary art in particular, contributed to their economic growth. One does not have to look far. Singapore is an inescapable example how developing the infrastructure and promoting contemporary art has contributed to its economic development and global image. What an irony that Filipino contemporary artists have been key players in Singapore's art scene.
ADVERTISEMENT - CONTINUE READING BELOW
Perhaps, our government's disinterest is justifiable. If government cannot even afford to put in place an adequate health care system, how can it build and develop the art and culture infrastructure while some public hospitals and health centers continue to deteriorate for lack of funds? Not that we don't have the funds, but that is another story...
But the Philippine art scene, despite the lack of the necessary infrastructure and government support, has placed the Philippines in an enviable place, thanks to the hard work of our local artists, some of the major private galleries and a few private individuals who have banded together to [make] Art Fair Philippines [happen]. I'm honored to be part of this event and proud that it's happening in a car park which reflects how Filipino artists and ingenious organizers cope with limited and raw resources and yet come out with world class results.
ADVERTISEMENT - CONTINUE READING BELOW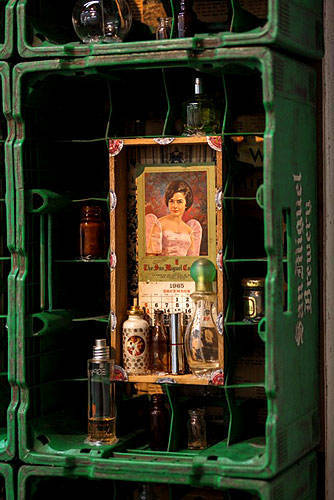 You're set to be part of an exhibit on Southeast Asian art at the Guggenheim in February. Can you give us a preview of what you'll be exhibiting there?
It is always a privilege and honor to represent one's country. On the other hand, it carries with it a corresponding responsibility and the anxiety of not being able to measure up to certain expectations as selections are always contentious. I consider being selected in prestigious surveys such as "No Country: Contemporary Art for South/Southeast Asia" a milestone in my practice. I have always thought that hard work and pure luck is a necessary and potent combination in an arena tightly contested by peers. I was selected on the basis of a newly completed work (intended for another exhibition) that was seen by the curator during her research which she thought, and later confirmed by the curatorial panel of the Guggenheim Museum, fit rightly within the survey's curatorial narrative. My work, F-16, is a diptych painting measuring 6 x 12 feet composed of an image (of an F-16 flying over the mountain range of Afghanistan) and an excerpt from President McKinley's prayer relating to US Congress' policy on benevolent assimilation during the forgotten Philippine-American War in 1899-1902.
ADVERTISEMENT - CONTINUE READING BELOW
Art Fair Philippines 2013 will be held at The Link, Parkway Drive, Ayala Center, Makati from February 7 to 10. Check out www.artfairphilippines.com for more information.
Photos courtesy of Art Fair Philippines 2013
Recommended Videos
Load More Stories