Heima Design Sessions: Art and Food for a Natural Happy High
Heima celebrates its anniversary with its Heima Design Discussions!
(SPOT.ph) From handcrafted ready-mades to high-gloss website production, from gun company logos to heart-on-its-sleeve indie films, from an indie-ethos literary 'zine to Status Magazine, no aspect of the current creative life was left untouched by the Heima Design Discussions held on April 20. Creatives talked about their creative process as they showcased their own projects in the theme-appropriate Co.Lab space above the Brixton, Kapitolyo branch of Heima. The young-ish audience stayed glued to their seats and soaked it all up like well-dressed sponges. A streetside barbecue party-complete with a live set-ended the 4/20 night. Remember, kids: Don't do drugs, do design.
Here are some scenes from the Design Discussions!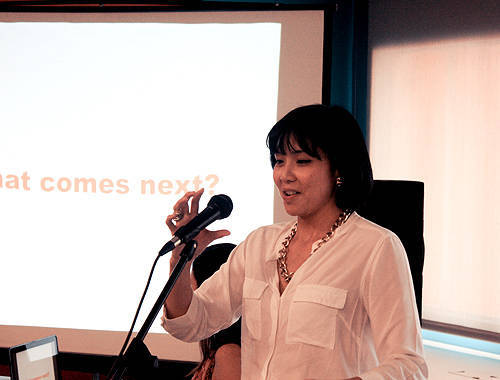 ADVERTISEMENT - CONTINUE READING BELOW
Daniella Yaptinchay, right before the Star Wars Episode VII poster reveal
"90% of the Philippine GDP comes from small-to-medium enterprises" is just one of the factoids we picked up in the opening talk by online magazine Homegrown.ph. They discussed the rise of Generation C-a new breed of creatives and startups and entrepreneurs who focus on content, creation, curation, connection, and change.
The talk by Daniella Yaptinchay and Rachel Davis also allowed them to show off their geeky side: they managed to plug a fan-made poster for the new Star Wars movie into their presentation...twice.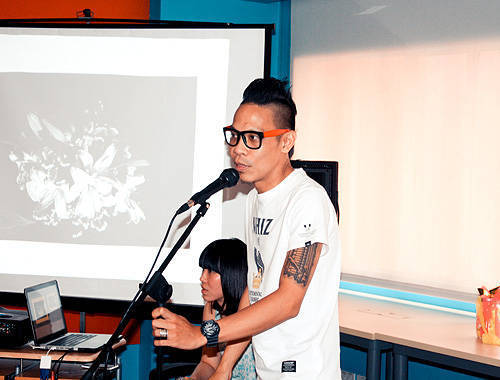 CONTINUE READING BELOW
Recommended Videos
ADVERTISEMENT - CONTINUE READING BELOW
Jois and Rex, the digital "baristas" of Inksurge
Jois and Rex of Inksurge show off their impressive resume of website design, from a redesign of designer Bea Valdes' website, to the making of the album cover of Sandwich's Fat Salt & Flame, to the creation of an origami brochure for the Japan Foundation. Rex's self-deprecation drew a few laughs-"Mukhang creepy," he says of one of his photos for the Bea Valdes website-and got some knowing nods. "Doing it wrong is good," he says, "because when you fail, you learn."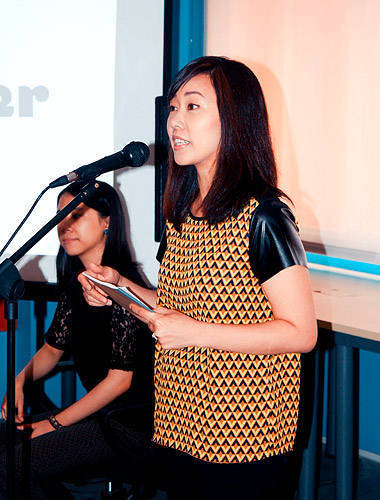 ADVERTISEMENT - CONTINUE READING BELOW
Kissa Castañeda-McDermott is ready to Wander
"It's about savoring the best of what the city can offer through the eyes of the locals," says Kissa Castañeda-McDermott of a new travel guide project called Wander. A bunch of big-name creatives are backing this-Kissa herself and Dang Sering on words, Dan Matutina on the winsome maps, Inksurge on design and layouts, and Charles Buenconsejo doing photos-all to offer a completely free portable guidebook about what to see in Manila.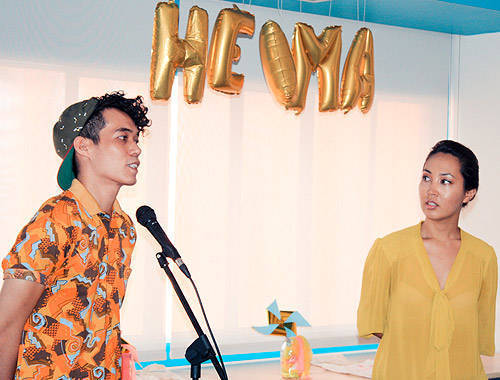 ADVERTISEMENT - CONTINUE READING BELOW
Patrick Jamora and Rosario Herrera dish on the evolution of Status magazine
Sponsors Status Magazine dropped by with a design talk of their own. One of the meatier presentations, Art Director Patrick Jamora, offered up a few nuggets of wisdom for would-be designers, and shared the real-life magazine production stories behind these sayings. A few choice tidbits: "There are no bad ideas." "Less is more." "Let go and let odd." "Work is play, and play is work." "Learn more, be more." "There is no shame in Candy Crush." Preach it, brother!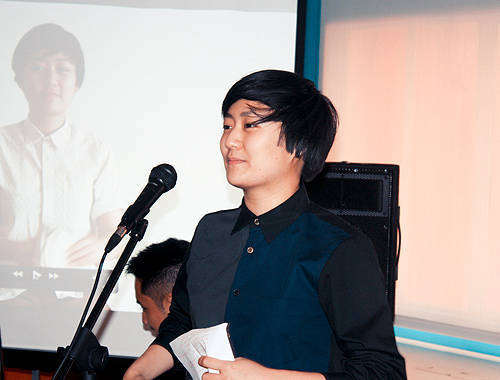 ADVERTISEMENT - CONTINUE READING BELOW
Spot the difference: Mara Coson behind the mic, Mara Coson on the projector screen
Leloy Claudio and a very nervous Mara Coson presented the The Manila Review, which they described as a review magazine with a 'zine ethos. "We want to promote a stronger culture of literacy and art," says Mara-a high-minded goal, eminently achievable with their who's-who list of contributors: novelist Miguel Syjuco, journalist Sheila Coronel, historian Resil Mojares, plus some caustically funny bits from the grand old dean of Philippine letters, F. Sionil Jose. Still, Mara knows they're fighting an uphill battle. But, as she says, "People who fight for lost causes may someday triumph."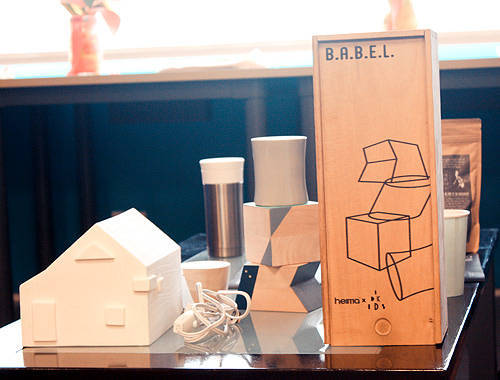 ADVERTISEMENT - CONTINUE READING BELOW
Samples from the "IdKids x Heima" collection of tabletop curios
The husband-and-wife design pair of IdKids expounded on their philosophy of creativity, which, thanks to Owel Alvero's stream-of-consciousness improv, went into some pleasant detours on the trials of the creative process. Both he and his better half Nice Buenaventura even strayed into "awww-shucks" territory near the end. "Do you ever disagree with each other when you're working together?" asked an audience member. "How do you compromise?" Without even pausing to think, Owel immediately said: "I love her."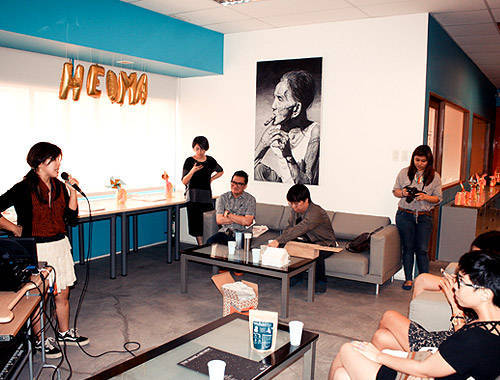 ADVERTISEMENT - CONTINUE READING BELOW
Marie Jamora expounds on Ang Nawawala
Audience members-most of whom had already seen the movie-were treated to a live, no-holds-barred director's commentary from Marie Jamora, who talked about her 2012 film, Ang Nawawala. We had previously praised the film for its solid, consistent design, and it was an illuminating look at the inspirations and methodology that went into painstakingly creating the hipster-hued world of Gibson Bonifacio. Seriously, Marie could have recorded the whole talk and used it as the commentary track for the DVD version of the movie...which is coming out next year, by the way.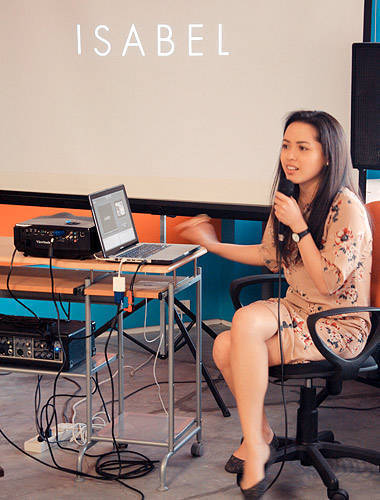 ADVERTISEMENT - CONTINUE READING BELOW
Isabel Gatuslao once trained as a boxer in Mongolia
Outspoken Isabel Gatuslao talked about creating logos and identities for her clients...and as a typography nut, gushed about fonts. "Requiem has the sexiest Q ever," she said. Later on, she would defend the virtues of Times New Roman (especially if it comes in an oversized 700-point) and Gotham (the font, not the city). Her advice for deciding on logo colors? "Just like real men can wear pink, real brands can wear gold."
Seeing that this talk fell on such an auspicious date, Heima organized a 420 gathering that didn't require an illegal substance for you to feel good. Their Brixton branch was once again home to anyone who wanted to chill out and enjoy the afternoon summer weather in the city.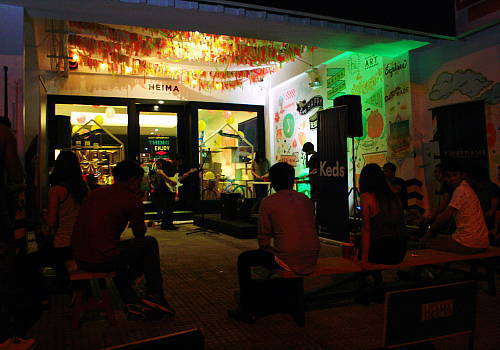 ADVERTISEMENT - CONTINUE READING BELOW
Chill music for a hot day: IdKids with Pat Sarabia playing a set after Zomtendo
We couldn't help but be attracted to the scent of corn roasting on the grill as Heima threw this lovely barbecue. The shop itself is nostalgic enough, but coupled with childhood food favorites like these, we were afraid we'd regress right back into the womb.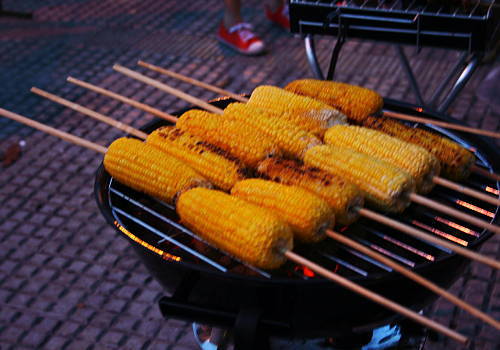 ADVERTISEMENT - CONTINUE READING BELOW
You don't need the munchies to appreciate this classic
Aside from the grilled items, Heima partnered with Keds to give a 10% discount on purchases that have feel-good vibes.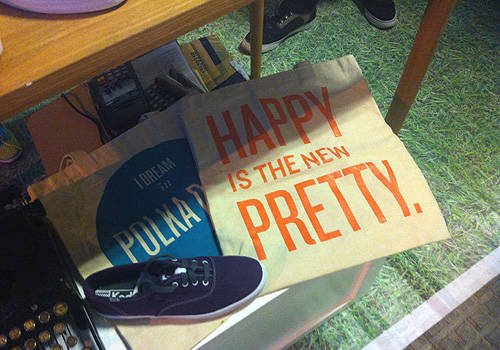 And you have to admit, owning a pair of Keds makes you feel kinda happy
Inside, treats from Vanilla Cupcake Bakery felt at home on Heima's shelves.
ADVERTISEMENT - CONTINUE READING BELOW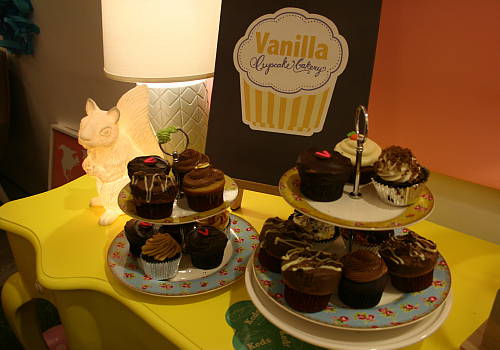 The best part was that they were giving away free cotton candy and our hearts just turned to fluff as we reminisced about the good old days of carefree childhood bliss.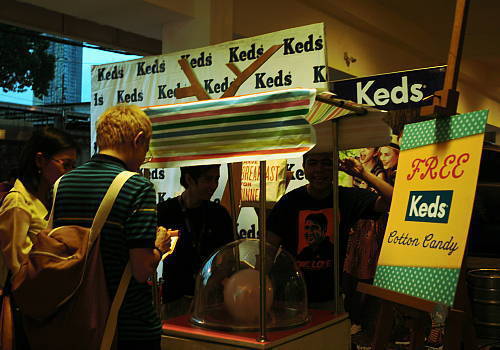 ADVERTISEMENT - CONTINUE READING BELOW
People behind the Cotton Candy booth removing the candid from this shot
Still, if you walk past the cotton candy booth and make a left, they have you covered in case the memories aren't all peachy. The Heima folk know how to throw a party.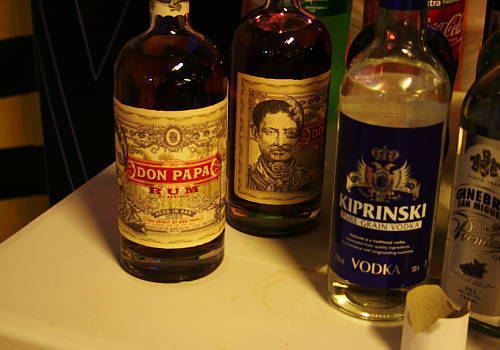 Don Papa, for your consideration
ADVERTISEMENT - CONTINUE READING BELOW
Share this story with your friends!
---
Help us make Spot.ph better!
Take the short survey
Load More Stories