(SPOT.ph) "Drawing on books? No!" and  "How dare he!" were the first reactions to the announcement of Discarded Romance, an exhibit of book sculptures by Mikey Stilkey in Fully Booked at Bonifacio High Street. When asked if this was anything new, Stilkey told us that he has never really encountered any harsh reactions towards his art.
"There was one old lady," the soft-spoken LA-based artist recalls, "She told me it was wrong. I told her that I found some of these books in the dumpster and I offered to give them to her. She said she didn't know what to do with it."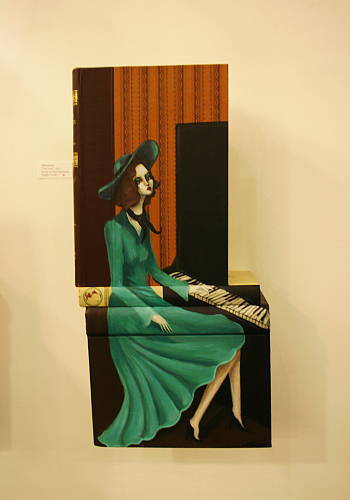 ADVERTISEMENT - CONTINUE READING BELOW
Acrylic on Book? You can't say it's not interesting.
There's some artsy mumbo-jumbo that has been written about Mike Stilkey's canvas of choice but behind the description, he's a regular guy doing something he feels comfortable with. His art is definitely arresting and he admits that he is enthused at that sort of reaction but he candidly reveals that one of the reasons why he started drawing on used items like books is his fear of spoiling a piece of pristine white paper. It started with something that simple.
"And then of course, there's something about old and found objects," he elaborated, "There's a history there and sometimes I think of a soul behind the book. I can imagine where it's been or that these sort of people read it."
From that reading of the soul, Stilkey arranges colors and shapes to piece together whimsical images of animals being people and people in brooding moods. Having taken care of goats and chickens, Stilkey is a vegetarian and he admits to being very fond of animals, specifically cats, of which he has four.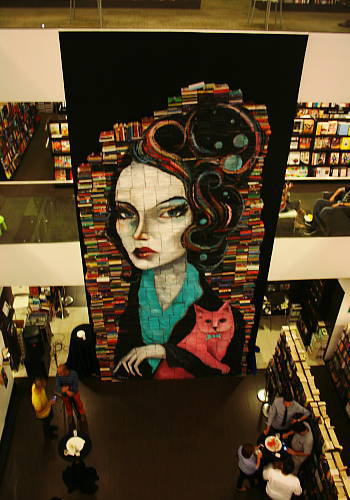 Nothing says whimsical more than a pink cat
You would think that creating something this huge would be tasking but while painting over titles, he doesn't even notice that hours have passed. It's tiring, of course, but he shared with us that it is also therapeutic. On a casual stroll down the street, he said that he would probably find something like a piece of wood or a discarded mayonnaise jar that would "speak to him" and he'll start working on that. Quite an interesting way to live.
ADVERTISEMENT - CONTINUE READING BELOW
We took a closer look at the huge book installation in Fullybooked and spotted a few titles.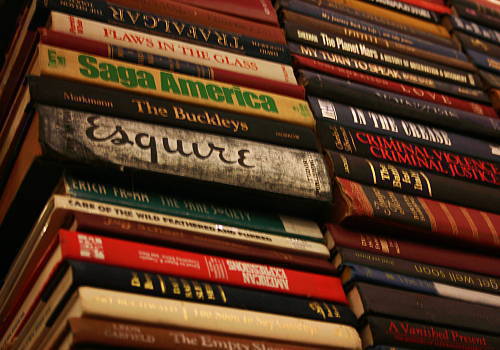 Esquire as art! Right below it, Erich Fromm's The Sane Society.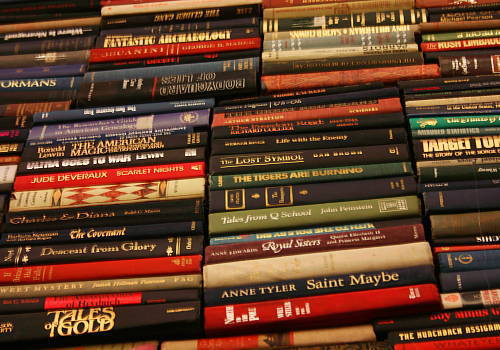 ADVERTISEMENT - CONTINUE READING BELOW
We also found The Lost Symbol by the infamous best-selling novelist, Dan Brown.
It is certainly a curious sight but more than that, the art breathes new life into books. "Librarians love me!" he told us quite proudly, "They would much rather see the books be used like this than just completely discarded."
Of course, there are books that Stilkey would never paint over. He would never paint over any Charles Bukowski book or any beat writers like Jack Kerouac or books by the philosopher Alan Watts. Otherwise, an interesting title leads him to create an image to match it.
He's not trapped by this "schtick" though. Lifted from the books, the art actually stands on its own.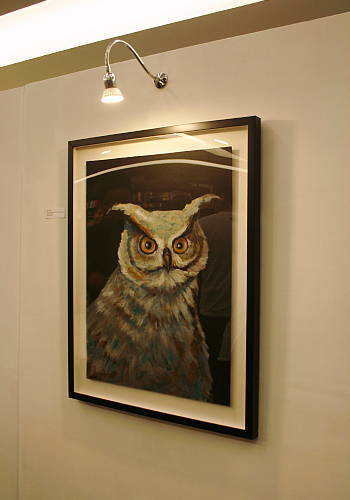 ADVERTISEMENT - CONTINUE READING BELOW
Creepy as they are, owls are still a thing.
He is very grateful that his art gave him the opportunity to meet the nicest people (e.g. us!) so when asked if he wants to venture into a different medium, "It's taken me to a trip around the world but I feel like I still have a lot of places to go with it. After that, who knows? Maybe mayonnaise jars."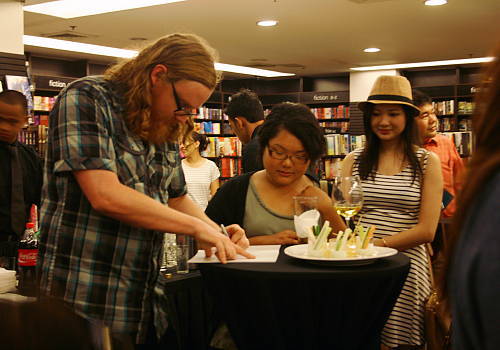 ADVERTISEMENT - CONTINUE READING BELOW
Stilkey signing doodles for newly found fans
Mikey Stilkey's grand book sculpture is now a permanent fixture at Fully Booked BGC.
Share this story with your friends!
---
Help us make Spot.ph better!
Take the short survey
More Videos You Can Watch
Load More Stories