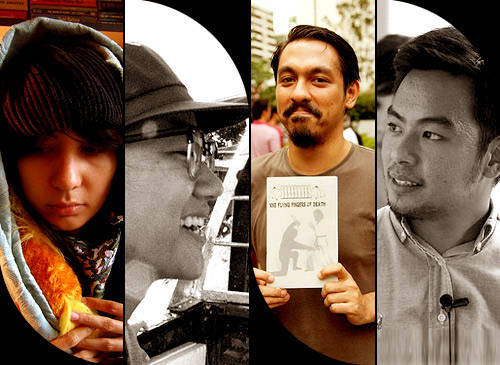 (SPOT.ph) Up-and-coming implies fresh and new, undiscovered talents breaking into the scene and making waves. The artists that are on this list aren't necessarily unknown; most have worked steadily these last few years. They've been pounding the pavement, making their mark in the worlds of art and design. The reason they're on this list is because their creations are exciting, challenging, and unexpected. These are 10 Filipino artists you should be paying close attention to because they are the shape of things to come.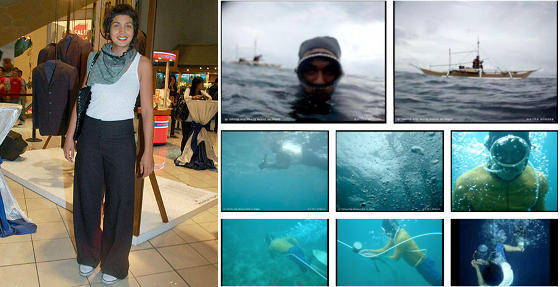 ADVERTISEMENT - CONTINUE READING BELOW
Photo of Martha Atienza by Bless Afable, courtesy of Town and Country Philippines and screenshots from the Gilubong ang Akon Pusod sa Dagat (My Navel is Buried in the Sea) video installation from the project's Tumblr account
MARTHA ATIENZA
A 2012 Ateneo Arts Award winner for her video installation Gilubong ang Akon Pusod sa Dagat (My Navel is Buried in the Sea), Atienza was born in Manila to a Dutch mother and a Filipino father. As a filmmaker and visual artist, she is interested in examining experimental narratives that explore the division between the realm of the mundane and the fantastic in daily life. At the moment, Atienza is focusing on contemporary art's effect on social change.

Photo of Olivia D'Aboville from her Facebook page and screenshot of her work from her website
OLIVIA D'ABOVILLE
Philippine-born French-Filipina sculptor D'Aboville graduated from Duperré, a prestigious Textile Design school in Paris, where she specialized in tapestry and textile construction. She is interested in natural structures and the biodiversity of our oceans. D'Aboville's work utilizes common, everyday objects, weaving complex shapes that reference recognizable, biological forms; the results of which are fascinating and breathtaking. Her most recent show in Makati, Sacred Geometry, explores the infinite iterations found in natural patterns and shapes.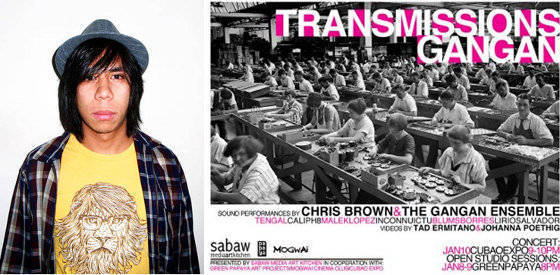 ADVERTISEMENT - CONTINUE READING BELOW
Photo from Tengal Drilon's Facebook page and screenshot poster for a Sabaw Media Art Kitchen event

TENGAL DRILON
Filipino sound artist, composer, musician, curator, and filmmaker, Drilon's work is presented with the aim of experience and interaction. By implementing a variety of strategies, Drilon's work tackles the interplay of sound and image, a juxtaposition that leads to surprising analogies. He is the founder and director of Sabaw Media Art Kitchen, a non-profit organization comprised of artists and experimental musicians focused primarily on connection and exchange between new media artists in Southeast Asia. Through functions, workshops, conversations, and forums, Sabaw creates a platform for digital culture and the intersection of art and technology.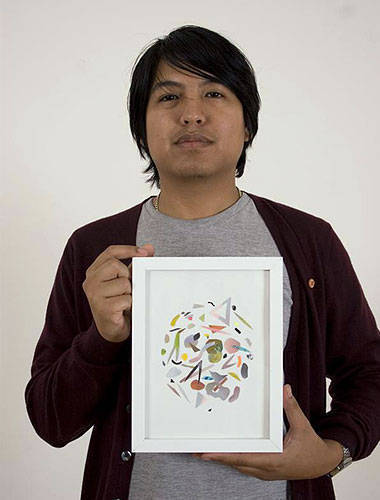 ADVERTISEMENT - CONTINUE READING BELOW
Photo courtesy of Kristian Henson

KRISTIAN HENSON
Though often overlooked, good graphic design is unquestionably art. With a distinct aesthetic and taste beyond many in his field, Filipino-American Kristian Henson is a contemporary graphic designer whose work rivals any visual artist working today. Combined with his education from the Art Center College of Design and the Yale School of Art, there is no question he has the skill and craftsmanship to quiet any naysayers. Henson has been a recipient of the prestigious Art Directors Club Young Guns Award and has worked with the likes of Swindle Magazine and American artist Shepard Fairey. Locally and most recently, Henson designed the layout for the printed edition of The Manila Review's second issue.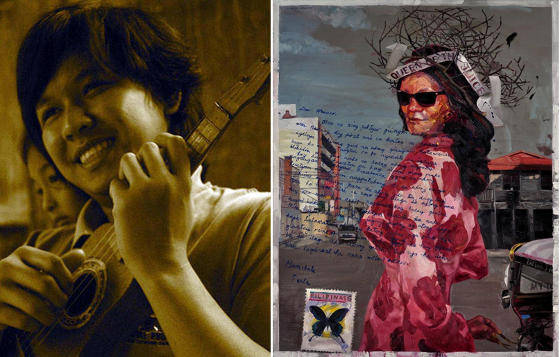 ADVERTISEMENT - CONTINUE READING BELOW
Winner Jumalon and one of the pieces from his "One in Mind" exhibit. (Screenshot of photos from Winner Jumalon's Facebook Page)
WINNER JUMALON
A recipient of a Cultural Center of the Philippines 13 Artists Award, Jumalon is no stranger to lists such as this. Having just shown at Art Basel HK, Jumalon's recent paintings attempt to tap into the collected experiences of family and friends, as well as himself. His destabilizing portraiture investigates moments of suspense and drama, magnifying the unspoken tensions between subject and viewer.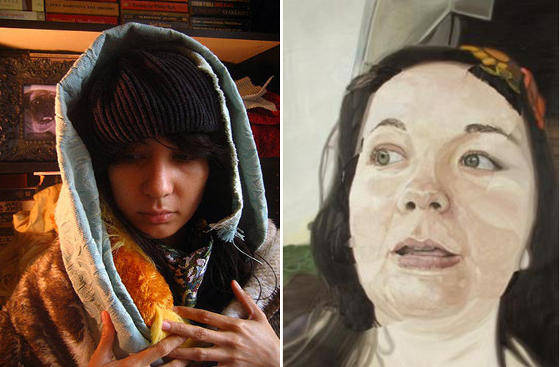 ADVERTISEMENT - CONTINUE READING BELOW
Photo of Hanna Pettyjohn from her Facebook profile and screenshot of Unbundled (VP) from her The Glass Between Us exhibit, as posted on SilverlensGalleries.com

HANNA PETTYJOHN
Known primarily for portraiture, Pettyjohn's textured paintings are evocative and melancholy, transitioning between longing for the past and the immediacy of the present. In highly personal paintings, she questions the positioning of her family histories, the relationship and interstice of American and Filipino. These works were based largely on her experience living in Dallas-Fort Worth, Texas-her perception of the States and family informing these large-scale paintings. In Pettyjohn's most recent series of paintings from her show The Glass Between Us, we are confronted formally with shapes and objects that are seemingly disassociated from their original meaning, exposing a system of ambiguity and uncertainty.

ADVERTISEMENT - CONTINUE READING BELOW
Photo from Goldie Poblador's website and photo of one of her works featured in her The Ghost in the Machine exhibit, as posted on AteneoArtGallery.org
CHRISTINA "GOLDIE" POBLADOR
As a painter, glass sculptor, and installation artist, Poblador is interested in understanding how processes, both natural and man made, affect our environment-effectively portraying the sublime, the beautiful and horrible. Poblador is currently part of a traveling exhibition called Riverscapes: Influx sponsored by the Goethe Institut. Along with several other Southeast Asian artists, she was invited to create works that examined the cultural effects of ecological change throughout river-bordering communities. Having received her Bachelor of Fine Arts in painting from the University of the Philippines, Diliman, she will be pursuing graduate studies at the Rhode Island School of Design in the U.S. this coming fall.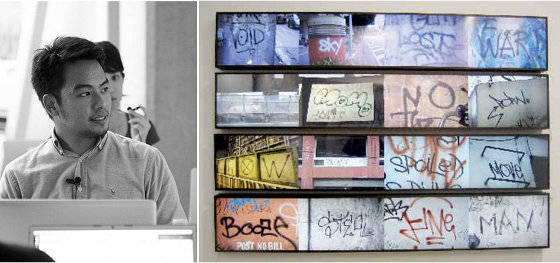 ADVERTISEMENT - CONTINUE READING BELOW
Photo of Mark Salvatus from his Facebook page and screenshot photo of his Haiku installation (part of his Salvage Project exhibit), as posted on MarkSalvatus.blogspot.com

MARK SALVATUS
Salvatus is a Manila-based multidisciplinary artist. His work functions within the realm of site specificity-it elaborates on a landscape's reality, actual, and imagined. In doing so, his art attempts to restructure the binaries of urban existence, between person and space, self and community. He is also the director of the 98B COLLABoratory, which seeks to foster connections between artists, architects, curators, writers, musicians, filmmakers, educators, researchers, performers, and students with the larger public. The laboratory's current mandate is to network and invite local artists to revitalize the spaces representative of Metro Manila's history and legacy.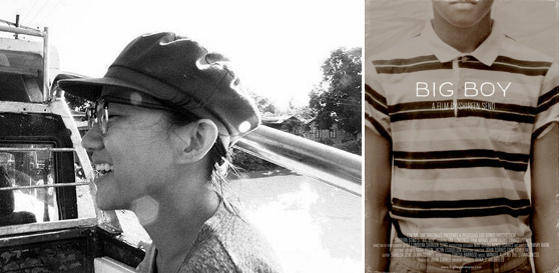 ADVERTISEMENT - CONTINUE READING BELOW
Photo from Shireen Seno's Facebook profile and screenshot of Big Boy's movie poster
SHIREEN SENO
Photographer and filmmaker Shireen Seno was born in Toyko and raised primarily in Japan and the United States. With a Bachelor's degree in Architectural and Cinema Studies, Seno has worked for renowned Filipino filmmakers John Torres and Lav Diaz. Boldly shot in Super-8, her 2012 feature film Big Boy is a coming-of-age story about a boy and his family in 1950s Mindoro after the American liberation of the Philippines. A portrayal of a Filipino family against the tide of history and colonialism, Seno's film, like much of her photography, exists between the space of nostalgia and dreams.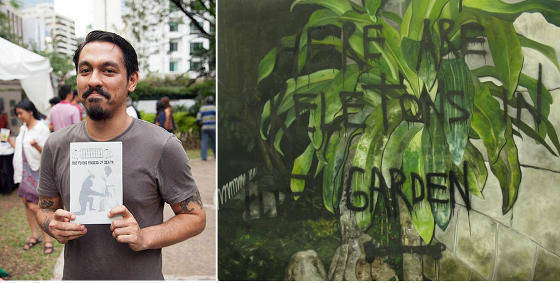 ADVERTISEMENT - CONTINUE READING BELOW
Photo from Costantino Zicarelli's Facebook profile and screenshot of one of his works, as posted on ManilaContemporary.com
COSTANTINO ZICARELLI
Born in Kuwait, Filipino-Italian artist Zicarelli is a self-described failed graffiti artist and musician. Having graduated with a degree in advertising from the University of Santo Tomas' College of Fine Arts and Design, he says that he tries to incorporate his failed attempts into more interesting visual forms. Zicarelli's most recent drawings in graphite, a medium of subtle complexity, are arresting scenes that juxtapose his reality with contemporary subcultures and deviant, macabre imagery. Known mostly for primarily monochromatic works, whether drawing, painting, or installation, Zicarelli's art develops often-illogical associations that question, confront, and explore.
Share this story with your friends!
---
Help us make Spot.ph better!
Take the short survey
More Videos You Can Watch
Load More Stories