Art as Fashion: The ArtWearAble Series at Yuchengco Museum
Pieces especially crafted for the beauty of the human body at Yuchengco Museum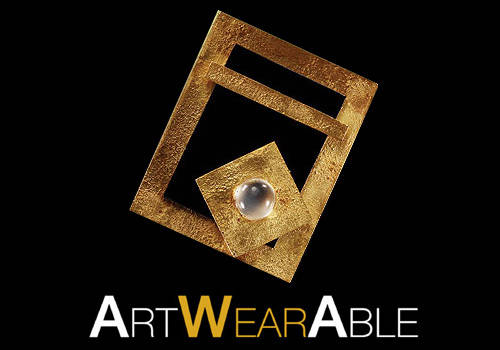 (SPOT.ph) They say that in art, the human form is one of the hardest to capture. We don't mean to say that other animals aren't as majestic, but the human body is truly a thing of beauty and one that is often taken for granted. It's a canvas we can use every day and we sometimes fail to realize that everything we do affects its shape, from what we eat to what we wear. The roster of participants in the ArtWearAble exhibit series at Yuchengco Museum used this simple idea to create elegant pieces that, when worn, help make your body feel the adoration it deserves.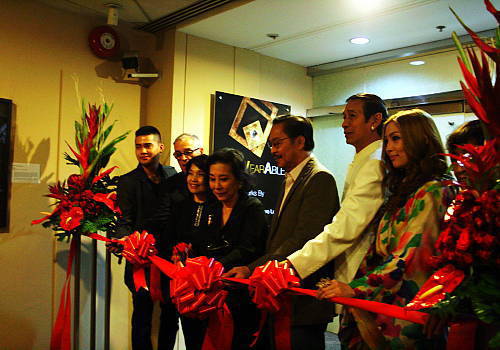 ADVERTISEMENT - CONTINUE READING BELOW
This series benefits from the participation of a dynamic group of artists, with pieces from National Artist for Visual Arts Arturo Luz, Hans Brumann, Eduardo Castrillo, Ramon Orlina, Ann Pamintuan, Impy Pilapil, Michelline Syjuco, and Leeroy New.
The body ornaments on display range from classic pieces like a handcut azure blue crystal pendant by Orlina to Syjuco's steampunk bags. The bags are designed as women's purses but break the mold enough to appeal to all genders.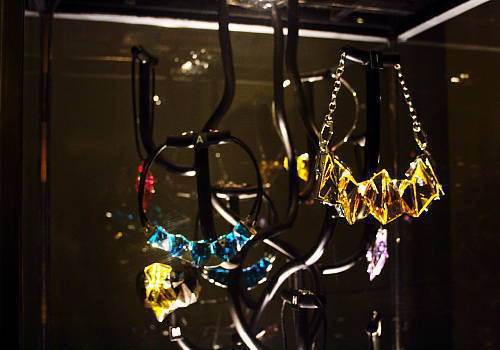 Orlina's handcut crystals sparkle exquistely inside the glass case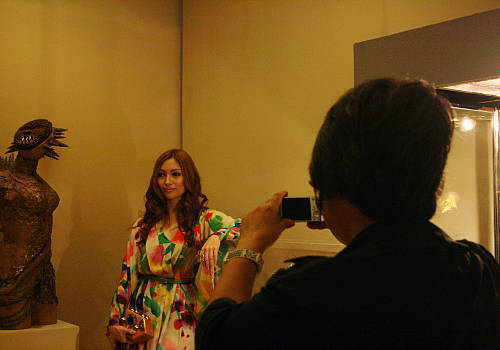 ADVERTISEMENT - CONTINUE READING BELOW
Syjuco herself was treated as a work of art. In her hand is one of her  steampunk creations.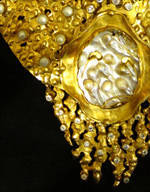 The younger artists, Syjuco and New, caught much attention for using industrial materials as opposed to precious elements. While Syjuco's corner of the exhibit contains pieces made from gold and pearl, she expressed her desire to use the odder shaped ones like the centerpiece of her mother of pearl necklace (image, left, courtesy of Yuchengco Museum).
New, on the other hand, created a unique piece that perfectly captured the thought behind this exhibit: art that you can wear. His previous works, Drip and Pasa Doble, are on display (we were too shy to ask if we could try them on) and his new dress-cum-sculpture, Shawl, is also ready for viewing and touching.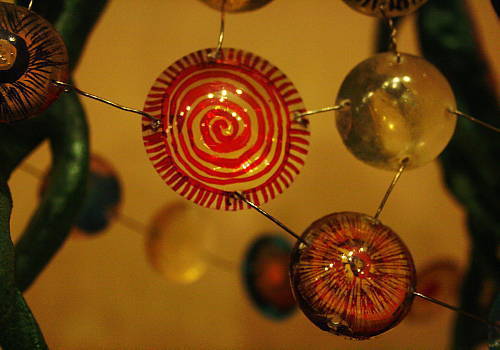 ADVERTISEMENT - CONTINUE READING BELOW
The resin "eyes" from New's piece, Shawl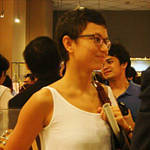 And touch they did. People gathered around Ann Pamintuan's furniture, asking other art patrons for help in documenting the time they sat on art. The artists were clearly enthusiastic about the interaction people had with their work and eagerly entertained questions and small talk about their creations. We caught Leeroy New joking about being the youngest participant, as he often gets the label "contemporary" by default.
Olivia d'Aboville (pictured, right) was just part of the crowd admiring the designs but people enthusiastically flocked to her, with artists and art patrons eagerly asking for a photo.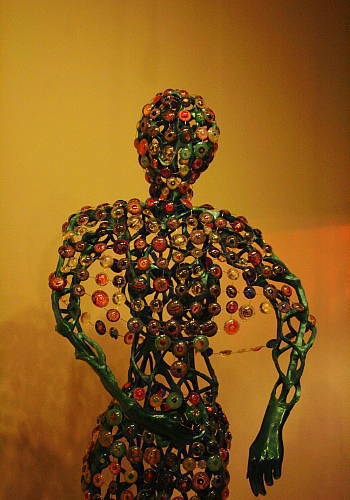 ADVERTISEMENT - CONTINUE READING BELOW
Shawl by Leeroy New. Wear this and become an installation piece instantly.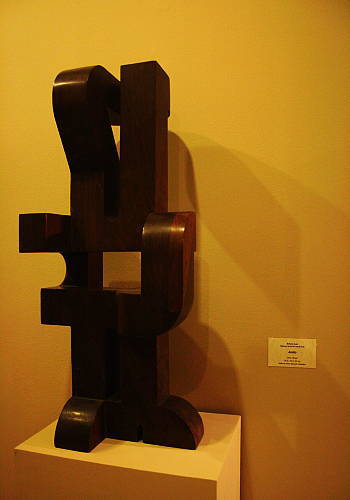 Nothing beats a classic: Anito by Arturo Luz
Although the pieces are in glass cases, art patrons are free to touch the sculptures, which fostered a friendly atmosphere at the opening. Patrons eagerly discussed their feelings, expressing admiration for Ann Pamintuan's gold leaf cuff while sharing their curiosity for the bolder pieces from the, er, "contemporary" artists.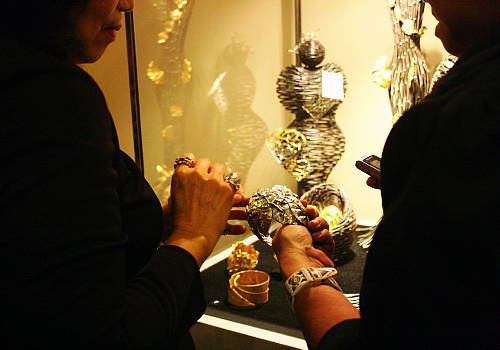 ADVERTISEMENT - CONTINUE READING BELOW
Art patrons discussing wearable art they already have, comparing it with Pamintuan's dainty pieces
As the crowd thinned, heading over to the buffet to grab a glass of wine, the artists gravitated towards each other, chatting about their creative process ("Parang inggit ako! I think I need a team to work with me too!") and plans of collaborating ("We should have dinner with [redacted] and discuss what we can do together.") Better check out their current work now because there's definitely more to come.
ArtWearAble runs from July 16 to September 7, 2013 at the Yuchengco Museum in RCBC Plaza. Admission is P100 for adults, P50 for students (15 and above, with ID), and P25 for children and senior citizens.
Load More Stories