10 Best Parts of August: Osage County by Repertory Philippines
Catch the Pulitzer Prize-winning play at the Greenbelt Onstage Theater, running from February 21 to March 16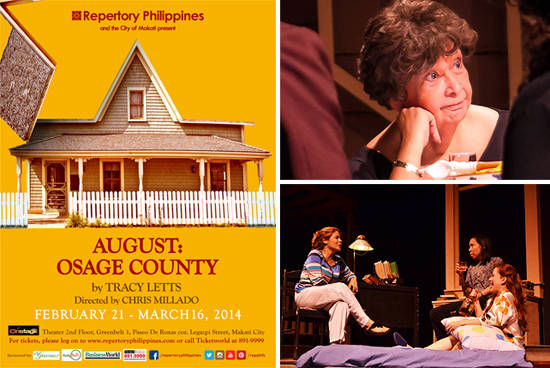 (SPOT.ph) It is nearly four hours long, with three acts (not counting the prologue), one intermission, and no Meryl Streep. But it isn't the painfully long runtime that makes August: Osage County difficult to watch. This humorous tragedy by Tracy Letts is soft like cotton...being stapled to your skin. To say that the Weston family is dysfunctional is a criminal understatement, but also, not quite entirely true. Letts may fall short on "originality" (melodramas about family secrets are on TV every night in every channel) but the play is a triumph for respecting the fundamental elements of theater: a set that makes full use of the stage and a story that demands commitment from a strong ensemble cast.
ADVERTISEMENT - CONTINUE READING BELOW
CONTINUE READING BELOW
Recommended Videos
Repertory Philippines, under the direction of Chris Millado, takes on the challenge presented by this Pulitzer Prize-winning play. Here are 10 of the show's best parts.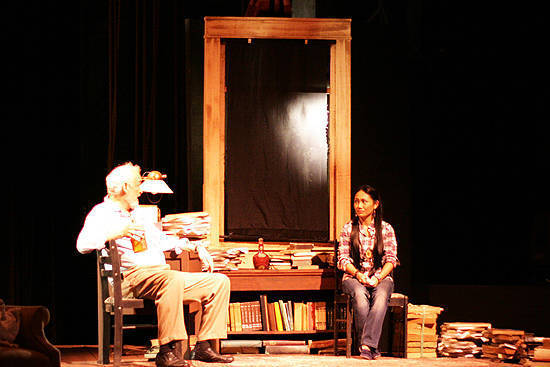 A quiet start
1. The set by Miguel Faustman
Violet Weston's house is just as much a character as the people moving around it. If you're basing your knowledge of this play from the film, prepare for a more claustrophobic experience. As the Westons move around the stage, bumping into each other or talking in corners, the idea that they are in a crucible is enforced.
ADVERTISEMENT - CONTINUE READING BELOW
2. Angeli Bayani's quiet presence as Johnna Monevata
Character note: Johnna is the Native American helper employed by the Weston family
She moves around a lot, barely saying anything, but Angeli Bayani is a presence that can't be ignored. Johnna's not a part of the family, and she doesn't want to be. She's fine being what she is and where she is-up in the attic, away from the drama.
3. Charles Aiken's ridiculous grace at the dinner table
Character note: Charles Aiken is the husband of Mattie Fae (the sister of Weston matriarch, Violet)
Right before everything spiraled down the drain, Charles Aiken (Richard Cunanan) grapples for things to be thankful for during the Weston family's funeral dinner, and the effect is hilarious. He's obviously a kind man with a very big heart, and we adore him for being a beacon of niceness in the middle of all the spite.
4. Mattie Fae Aiken's insistence that she's sexy
ADVERTISEMENT - CONTINUE READING BELOW
Character note: Mattie Fae is Violet Weston's sister
In one of the corners of the house, Violet browses through old photographs. She wistfully remarks that a woman is only pretty when she's young, but Mattie Fae (played by Sheila Francisco) resists this observation. Being their mother's favorite, as Violet reveals, Mattie Fae exhausts all efforts to be bubbly-a striking contrast to the more overt darkness in her sister. Bursts of spite leak from her mouth intermittently, but who can blame her? She has a 37-year-old secret living in her house.
5. Karen Weston's determination to be happy
Character note: Karen Weston is the youngest of the Weston sisters
There is a certain ditzy quality to the way Liesl Batucan played Karen, and we it was a sensible decision. Karen wants to be happy, and, unlike her mother, she doesn't need drugs to escape reality. Karen knows that the world isn't pretty, but she just chooses to close her eyes during the ugly parts. She understands where bliss comes from.
ADVERTISEMENT - CONTINUE READING BELOW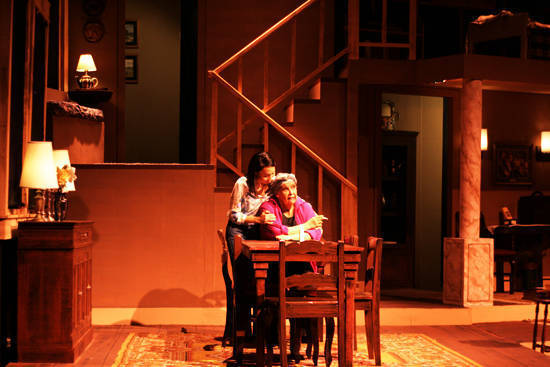 The bad news is your mother is a monster. The good news is it's not exactly her fault.
6. Ivy Weston's priorities in life
Character note: Ivy Weston is the middle child, and the daughter who stayed
We can't really determine who got the shortest stick among the Weston sisters, but Ivy (played by Tami Monsod) takes comfort in the fact that she has something that neither Barbara nor Karen have in their respective relationships: understanding. She wants to hold on to it...and we don't want to stop her. We can turn a blind eye on some unconventional details.
ADVERTISEMENT - CONTINUE READING BELOW
7. Jean Fordham's attack on her father
Character note: Jean is the daughter of Barbara Weston
Jean (played by Thea Gloria) looks like she wants to join a rock band. We don't know if she can sing, but she can definitely be some sort of artist-it's the best way to utilize the insanity that is her extended family. She's naïve, but she's clearly smart and brave. Her snarky remark regarding his father's choice of women is proof of this.
8. A harsh truth from Steve Heidebrecht
Character note: Steve is Karen Weston's fiancé
Steve (played by Hans Eckstein) probably has the most important line in the film. He's white and over thirty. He will never be in any real trouble.
9. Barbara Weston-Fordham's love for her husband and catfish
Character note: Barbara is the eldest of the Weston sisters
In the dark, as she utters words of affection to someone who isn't there anymore, we feel the pain that Barbara Fordham (played by Pinky Amador) is going through. However Amador's last sequence at the dinner table is hands down the best. Why can't everyone just eat their f*cking catfish and leave things alone? This is the scene where Amador exhales all of Barbara's frustrations out. She wants to hold everything together-the family she made with Bill and the one she was born into-but she's coming to terms with the knowledge that she has lost both. Just eat the damn catfish.
ADVERTISEMENT - CONTINUE READING BELOW
10. A cruel joke from Violet Weston
Character note: Violet is the Weston family matriarch
She's unpleasant and antagonistic. Baby Barredo makes the character a little likeable, but make no mistake: Violet Weston is not someone you want in your life. It's like her body automatically rejects affection, but as she shares a childhood story about Cowboy boots and Christmas mornings, it's clear that she's just another victim of a vicious cycle of cruelty...which hopefully stops as the family ultimately disbands.
August: Osage County may not offer a happy ending but it will show you what Repertory Philippines can do. It's a demanding piece and it requires an ensemble cast that can deliver. The show runs from February 21 to March 16 at the Greenbelt Onstage Theater.
For tickets, log on to www.repertoryphilippines.com or call Ticket World at 891-9999. Prices are at P625.20 (Gold), P521 (Silver), and P416.80 (Bronze)
Load More Stories