Louie Cordero's Top 10 Favorite Artists
There's Manuel Ocampo, and there are Roxlee and Romeo Lee, plus other unusual, unexpected choices.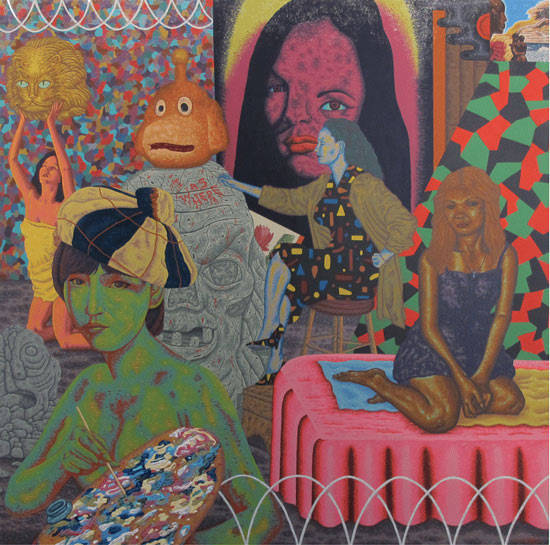 Feminist Cultural Party by Louie Cordero
(SPOT.ph) His works (like the above painting) have drawn shock and critical praise in equal measure. Check out any beautifully grotesque hybrid from his hands and you know right away it's a Louie Cordero piece. The 36-year-old artist must be doing something right. He's drawn more than cult praise here and abroad-check out this CNN story-as well as a steady following for, among other things, his fascinating fecal anti-superhero Nardong Tae.
Cordero continues to be inspired by rich, disparate sources-everything high and low, and above all the Filipino experience: his colonial history and his chaotic independence as a social mutant. Fresh from his participation in Art Fair Philippines 2014, he remains prolific as ever, and we wondered what those sources are that have led to his creative madness.
We asked Cordero to pick out 10 artists who've inspired him. Here are his 10 picks: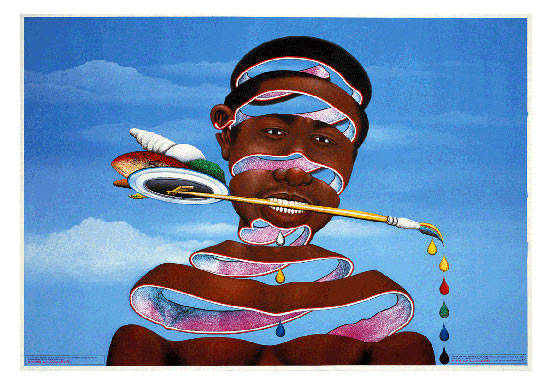 J'aime la couleur (2003) by Cheri Samba. Image from the book J'aime Cheri Samba (Thames & Hudson, 2004)
ADVERTISEMENT - CONTINUE READING BELOW
10. Cheri Samba (1956- )
"This artist from the Democratic Republic of Congo came from the tradition of illustrators and sign painters in the capital of Kinshasa. From him, I learned that you can put everything on your painting-something metaphorical, like a huge fish with many ears, or the marrow of chaos as reordered by the Western powers since the First World War, or you can imitate those who are imitating your painting. In other words, the context of the painting can be rich and complex or very mababaw. His work is vibrant, with a lot of pink, blue, and yellow-and you sense this vivid style among painters from tropical countries. I relate this very much to the portraitists and sign painters on Avenida and Recto."
CONTINUE READING BELOW
Recommended Videos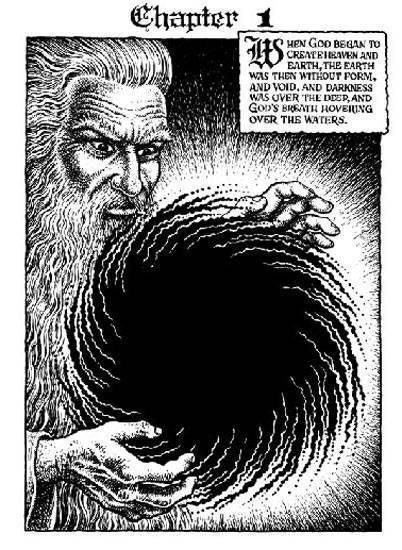 Illustration from Robert Crumb's The Book of Genesis (W.W.Norton, 2009)
9. Robert Crumb (1943- )
"I was in San Francisco early 2000 and I stayed with a friend and fellow painter, Robert Gutierrez. In Haight-Ashbury and Mission District, I learned about the underground counterculture of Zap Comix led by Robert Crumb. So there was an alternative to the mainstream comics of Marvel and DC. For his followers, he broadened their appreciation of many things-sexuality, psychology, race, even music. His band, R. Crumb & His Cheap Suit Serenaders, has diverse influences: 1920-1930s bluegrass, country, jazz, etc. It's great to read his graphic-novel version of The Book of Genesis, which took him four years to finish. Doon mo makikita kung gaano siya kalupit mag-illustrate."
ADVERTISEMENT - CONTINUE READING BELOW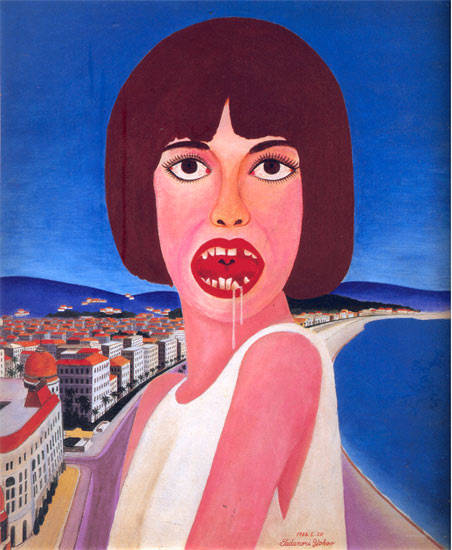 Illustration from Yokoo's All Things in the Universe (Bijutsu Shuppan-Sha, 2002)
8. Tadanori Yokoo (1936- )
"Like any artist, I'm influenced by those whose interests are the same as mine. Tadanori Yokoo is a graphic designer, illustrator, and painter. In the Sixties, he made these posters with very psychedelic neon hues, images piled up on each other, some of them "autobiographical." They're by turns funny and frightening-or maybe they come from a dimension that's ordinary yet sacred. He's fascinated by billboard movie paintings, Indian shrines, Catholic kitsch, and other world oddities."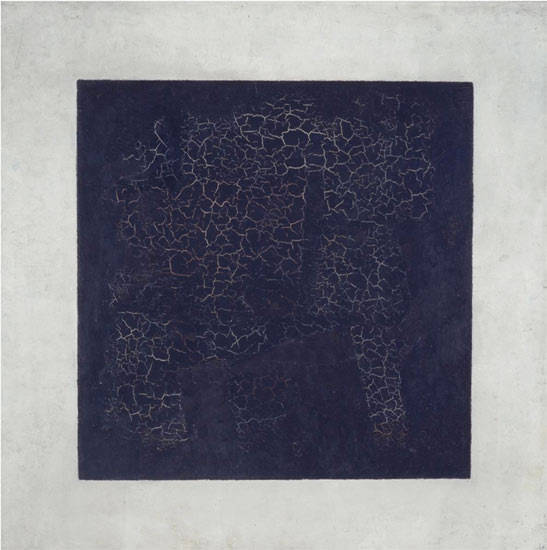 ADVERTISEMENT - CONTINUE READING BELOW
The Black Square by Kazimir Malevich
7. Kazimir Malevich (1879- 1935)
"I don't know why, as I'm getting older, I'm becoming more attracted to this idea of a nostalgic future. One major influence is Malevich. He was a pioneer in the Suprematist art movement of 1915. This is a genre of art movement or abstract art that affirms the fundamental essence of things, taking out their visual depiction and association. This is this-nothing more, nothing less."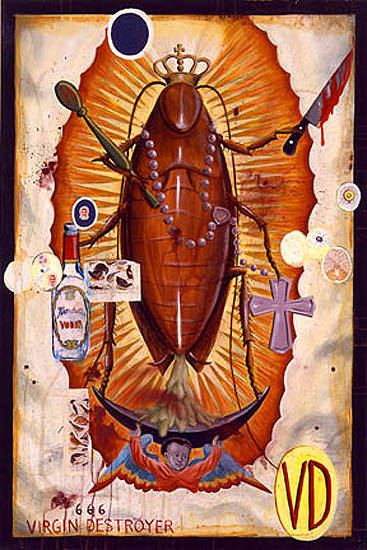 Virgin Destroyer by Manuel Ocampo
6. Manuel Ocampo (1965- )
"It was through Manuel that I started to take seriously having an art career. From him, I learned discipline, thinking beyond convention, examining everything-from the world we live in to the very core of the art world. His Virgin Destroyer is something I can't take off my mind."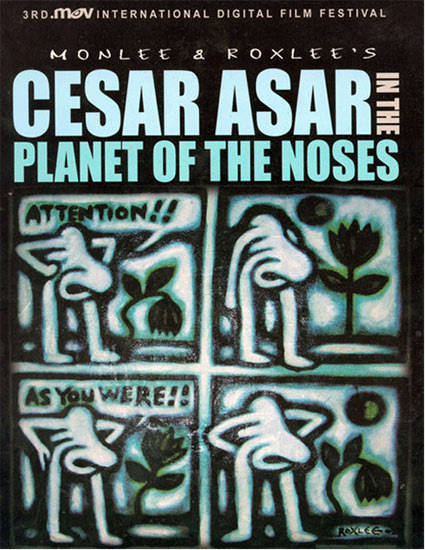 ADVERTISEMENT - CONTINUE READING BELOW
The Cesar Asar book by Monlee and Roxlee (.MOV, 2008)
5. Romeo Lee (1958-) and Roxlee (1952-)
"The Lee brothers have long been associated with our underground and punk culture. They have made their mark in animation, film, and visual arts. Rox became famous (together with Monlee) for his Cesar Asar comics strip, serialized in the Manila Bulletin, and he influenced many animators and filmmakers at the Mowelfund Film Institute in the '80s and '90s. His work is surreal and funny, with no filters-you can put everything. I love his book, Cesar Asar in the Planet of the Noses."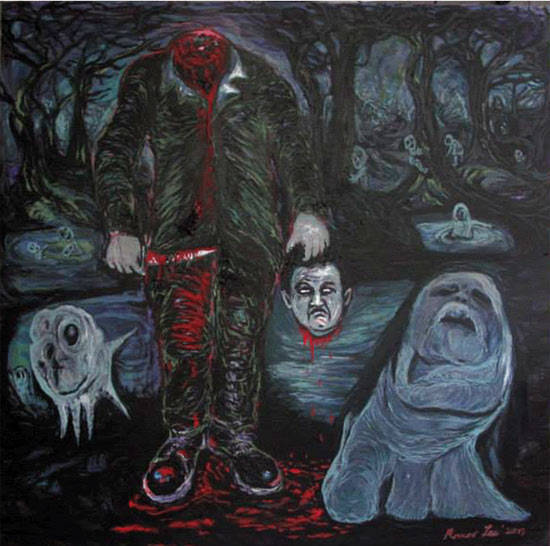 Image courtesy of Romeo Lee, who, in punk fashion, has forgotten the title of his work.
"Romeo is one of those painters whom I respect and really admire. He is averse to trends, to what sells or what looks good in the living room or dining room. He likes painting cats, or old women sweeping. He's like an outsider as an artist but he's really an insider. You'll "get" him right away even if you think you don't. There are creatures by the rice fields or by the creek. A young girl walks by with a huge white puppy. Things like that. Like his brother, he really doesn't care what people might think of his work. Natural lang, punk na punk."
ADVERTISEMENT - CONTINUE READING BELOW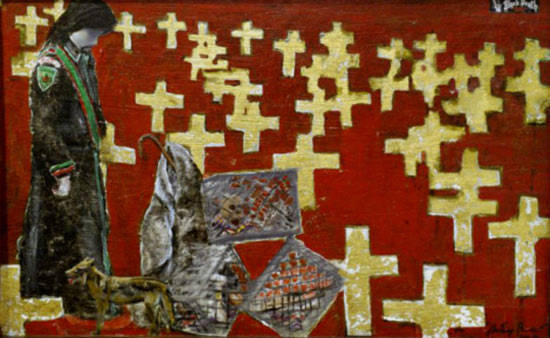 Chance Meeting Between Fr. Tropa and Joseph Boyce, by Santiago Bose. From Espiritu Santi (Water Dragon, 2004)
4. Santiago Bose (1949- 2002)
"The late great Santi Bose is one of my enduring heroes, from way back when I was in college in early 2000.  Malakas yung folk consciousness niya. That's why I developed a liking for motifs associated with jeepneys, anting-anting, rebolusyonaryo, and street artisans. A lot of his work is mixed media, or paintings with collage and what else. They serve as a striking visual critique of our heritage and identity against the lingering shadow of colonialism."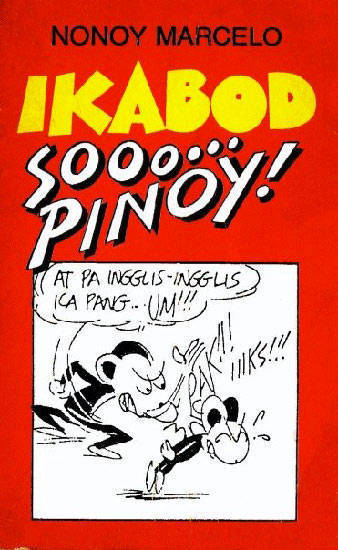 ADVERTISEMENT - CONTINUE READING BELOW
Marcelo's long-iconic character Ikabod Bubwit
3. Nonoy Marcelo (1939-2002)
"I discovered Mang Nonoy's komiks at the palengke of Hulong Duhat Malabon. I was really following Gasi and Atlas publications back then. I'd bring home the komiks because my lola was also fond of reading them. There was a lot of gore, action, drama, fantasy, and bizarre endings. But with Ikabod, it was my first time to read satire-Philippines as Dagalandia.
It was very hilarious, and it made you think, because these things were happening-our past and our present. As a child, I could relate to this more than to sibika at kultura. Nonoy Marcelo is also from Malabon, which is why I could also relate to him."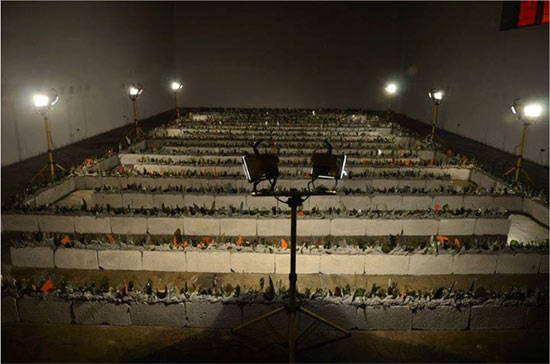 Labyrinth by Roberto Chabet. Photo courtesy of M.m. Yu
2. Roberto Chabet (1937-2013)
"Regarded as the father of conceptual art in the Philippines. He was one of my professors at UP who guided us all, so we could understand and also be perplexed by everything about art and life. I remember he gave me and my classmates a paint sprayer so we could vandalize the campus. I learned a lot from him about creative process, and appreciation-that everything can qualify as art."
ADVERTISEMENT - CONTINUE READING BELOW
1. Yoyoy Villame (1932- 2007)
"If Celeste Legaspi describes him as a genius and Lourd de Veyra had bowed before his presence, then he must qualify as a National Artist. He's my NATIONAL ARTIST. Enough said."
Share this story with your friends!
---
Help us make Spot.ph better!
Take the short survey
Load More Stories