10 Must-See Works of Art Inspired by Manila
Nick Joaquin, Lino Brocka, and other artists: here's a roster of books, films, songs, and paintings nurtured by our metropolis.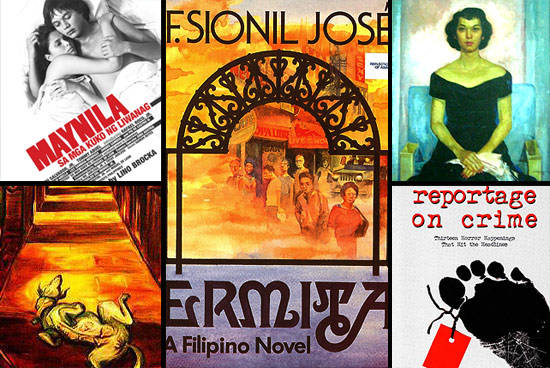 (SPOT.ph) Every old city is a muse of art, and that is true regarding the 442-year-old city of Manila and its greater area (or what is now broadly called Metro Manila). Manila may have lost its glory-which rivals and even exceeds the world-renowned cities in the West-but it remains a fascinating beast, one that has spawned many "children" in the arts reflecting the city's perennial complexity. Here are 10 such children of Manila in the forms of music, literature, the visual arts, and cinema.
10. "Manila" by The Hotdog
Great, pioneering art may be as epic as a fresco or as small-scale as a portrait. Take the Mona Lisa, for example. So it goes with this gem of a song. This anthemic hit of 1976 pretty much defined the Manila Sound of the '70s and helped pave the way for everything else that has since followed in contemporary Filipino music. Before the Manila Sound, much of our pop music was defined by renditions of Western songs. There were Filipino lyrics, but these songs were mostly consumed by the bakya audience. Then came this Taglish number, one in a string of Hotdog hits-which erased the line between the burgis and the bakya, both these sectors taking to the music. And Pinoy pop took a completely different turn from thereon.

ADVERTISEMENT - CONTINUE READING BELOW
9. Landscape Series by Federico Aguilar-Alcuaz
During the '70s, Manila's art scene was divided between opposing schools-the refined formalism encouraged by Imelda Marcos, the most imperious patroness of the arts at this point, and the gritty depiction of Manila's actual realities by the social-realist movement. Federico Aguilar-Alcuaz stood apart from this contradictory scene, with a body of work that evoked the aura of a bygone Manila-the city of his nostalgic memory. In many ways, he was Nick Joaquin's counterpart in the visual arts-both of them rendering variations on the city through their respective talents. The panoramic view of Manila you see in that much-prized painting above, which went through the hammer at Christie's, is part of a landscape series from that decade. Like his other work (notably his many alluring paintings of women), this series shows Alcuaz in top form as a sensualist. You can check out more of his art at federicoaguilaralcuaz.com.
CONTINUE READING BELOW
Recommended Videos
8. "Project" by Juan de la Cruz Band
Alongside the advent of the Manila Sound and what would soon enough be labeled as OPM came the revolution of Pinoy rock-of which this seminal band was among the catalysts. What distinguished Pinoy rock was its sound-echoing the rambunctious urban rhythm of Quezon City where several Pinoy rock bands were based, from Juan de la Cruz to the Eraserheads. Juan de la Cruz (Mike Hanopol, Joey "Pepe" Smith, and Wally Gonzalez) had already done a lot of pioneering work, beginning with the all-Filipino lyrics of "Himig Natin" in the early '70s (a rarity at the time), then to the solid music of their masterpiece album Maskara, which rivals anything in American rock 'n' roll. But "Project," which is only loosely inspired by the "project" residential districts in Quezon City, stands defiant for the boldness of its drug-addled theme. It's a wonder that this song wasn't banned from the radio.
ADVERTISEMENT - CONTINUE READING BELOW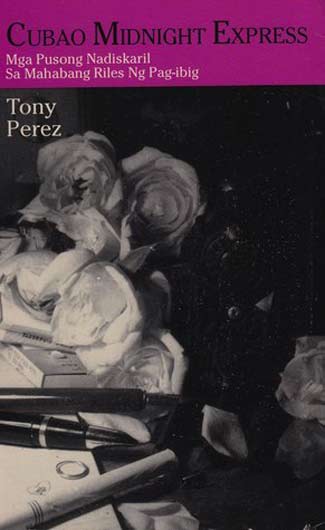 7. Cubao Midnight Express by Tony Perez
Tony Perez's Cubao series charts the geography of the once dangerous yet alluring commercial district-cum-"pickup point for swards"-before it became sanitized by the advent of Gateway Mall and its sector. The Cubao books were like a collection of love letters in the fashion of Nick Joaquin's undying tributes to his beloved Manila, but with the added feature of Perez's exposition of the gay (sub)culture in the district. Beneath the seediness is a tarnished yet stubborn innocence-and love in its purity and startling elegance. Cubao Midnight Express: Mga Pusong Nadiskaril sa Mahabang Riles ng Pag-ibig exemplifies those qualities, from the very title itself.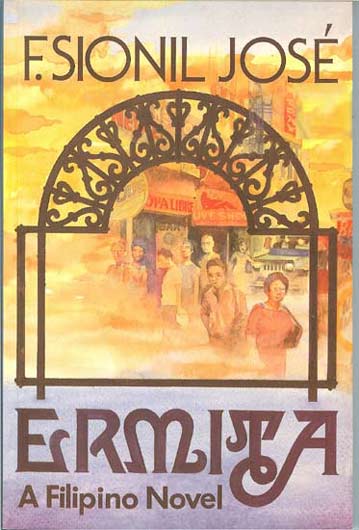 ADVERTISEMENT - CONTINUE READING BELOW
6. Ermita by F. Sionil Jose
F. Sionil Jose becomes the Stendhal of our modern literature with this thorough and complex portrayal of the upper class, as seen by the sharply observant high-class call girl Ermi Rojo-the most luscious character among her fictional women and one that demands to be brought to life onscreen. This book is a globetrotting politics-and-sex adventure with the Manila district of Ermita as its center-by then, a glossy commercial district in the postwar era before its further decay into a seedy shantytown. Chapters 1 to 19 read like a lyrical, fast-paced teleserye, as Ermi plots her systematic revenge against the Rojos who've disowned her. The rest of Ermita turns into another book, like an art film on the printed page, with its meditation on the bitter aftertaste of her victory.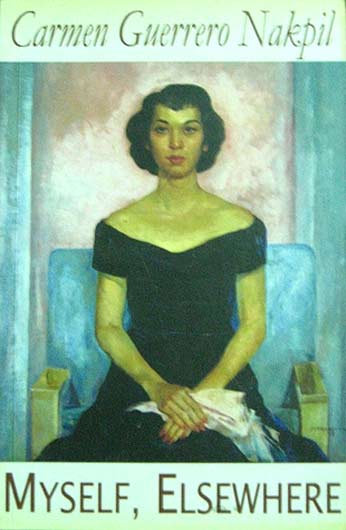 5. Myself, Elsewhere by Carmen Guerrero-Nakpil
Myself, Elsewhere-the first in Carmen Guerrero-Nakpil's three-book memoirs on her life as a journalist and descendant of old Manila society-is a jewel of a book. You have to read this elegant retelling of prewar Manila to understand why. Back then, the city was truly the Pearl of the Orient-with "safe, patrolled streets [and] every last gutter sanitized by the "Sanidad" inspectors in their white smocks, an expanded electric tram system and a municipal bus network, free mass education, a fire department that responded instantly to the faintest alarm, a magnificent police force, a public general hospital and, indeed, an entire civil service system consisting of Filipinos of sterling efficiency and honesty." There was poverty as always, even in Guerrero Nakpil's genteel home district of Ermita, with its presence of Spanish-speaking beggars in the tree-lined streets (this milieu was only a generation apart from the Spanish era). But this is a lost world we now pine for, amid the chaos of today that the officialdom can no longer remedy.
ADVERTISEMENT - CONTINUE READING BELOW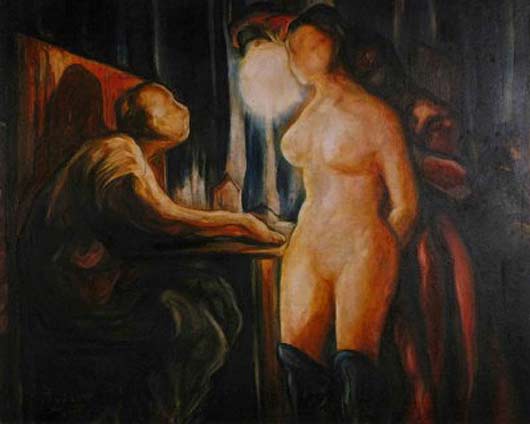 4. Table No. 1 by Danilo Dalena
After establishing himself in the late '60s as an editorial cartoonist, Danny Dalena went on to greater heights during the repressive martial-law regime and its aftermath. His series of paintings-the Toilet Series, Jai-Alai Series, and Alibangbang Series (so-named after a favorite beerhouse of the artist)-were an electrifying set. And they contradicted Imelda Marcos's standard of the "true, good, and beautiful," depicting instead the average Filipino, particularly the Manileño, wallowing in his cheap escapades from the hard life of that time. Table No. 1 from the Alibangbang Series (recently auctioned via ateneoartauction.com) is a highlight of Dalena's prolific period. His paintings affirmed the themes of social realism yet stood quite independently from that movement. But they would find their progeny in the also-fascinating works of Elmer Borlongan, Mark Justiniani, and other leading artists today.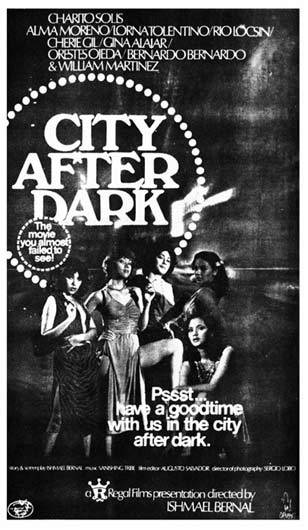 ADVERTISEMENT - CONTINUE READING BELOW
Image from the archives of Video 48
3. Manila by Night by Ishmael Bernal
This relentlessly mahalay film is a striking example of character as setting. And Manila as a delirious underbelly, caught in the swirl of drugs and prostitution, is nothing less than the lead character in what many consider Ishmael Bernal's masterpiece. Released in 1980, amid the twilight of the Marcos dictatorship, the film was deemed too provocative and was said to have caught the ire of Imelda Marcos herself, who demanded that the ending be changed. From today's perspective, Manila by Night may be seen as a cinematic continuation from the narrative of Myself, Elsewhere-the still-unfolding tragicomedy of Manila, on the watch of every administration since.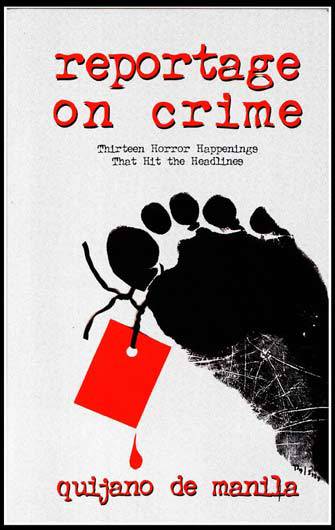 2. Reportage on Crime by Quijano de Manila
Nick Joaquin, the greatest writer in modern Filipino literature (a compliment given by F. Sionil Jose), was as widely celebrated for his fiction and poetry as for his right-in-the-moment journalism under the penname Quijano de Manila. His reportage on politics, history, and pop culture collectively present a vivid portrait of Manila and the rest of postwar Philippines, and this was never more true than in his stories on crime for the defunct Philippines Free Press. Kudos to Anvil Publishing for reissuing this long out-of-print collection, which was widely celebrated in its heyday that it inspired two film classics: Lino Brocka's Jaguar and Mike de Leon's Kisapmata. Not a few regard the latter film, which takes off from Joaquin's "The House on Zapote Street," as a great horror story precisely because it's true. The original account by Joaquin, about a tyrant father who massacres his family, is much more chilling than the movie remake.
ADVERTISEMENT - CONTINUE READING BELOW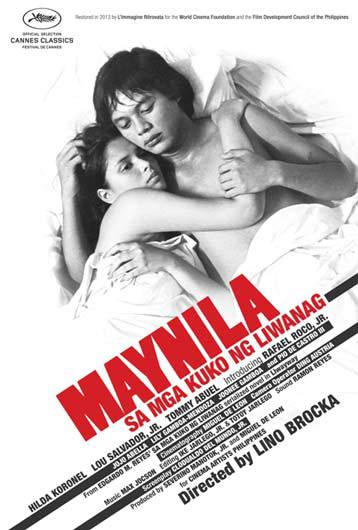 1. Maynila sa mga Kuko ng Liwanag by Lino Brocka
Like Bernal's above-cited masterpiece, this adaptation by Lino Brocka of Edgardo Reyes's novel presented a raw vision of Manila that defied the Marcos regime's sanitation of art. It's a miracle that this film, with its overt social-realist agenda, even managed to be publicly released at the time. Maynila, digitally restored since, turns 40 next year, and it remains an eloquent tragedy about a provincial lad looking for his missing sweetheart in the big city and being swallowed up by its greed and inhumanity. The film continues to be reevaluated despite its vintage, among the latest appreciation being from the New York Times.
---
Help us make Spot.ph better!
Take the short survey
Load More Stories