BEST IN SHOW: PETA's Hashtag Pimples Anonymous Informance
If you can get away with a play about pimples, you can get away with anything.
(SPOT.ph) We've been told about the non-existence of small parts, but it seems like the Philippine Educational Theater Association (PETA) wants us to know that no topic is too miniscule or mundane. Everything can turn into a story...or better yet, a slightly musical show. There was a teeny tiny feeling of apprehension in the air before the program started because we had to ask: can you really put on a show about acne? What song can you sing about zits?
The informance (information + performance) Hashtag Pimples Anonymous is PETA's answer. It's a series of seemingly unrelated scenarios featuring teenagers dealing with issues with one common denominator: acne. Ew.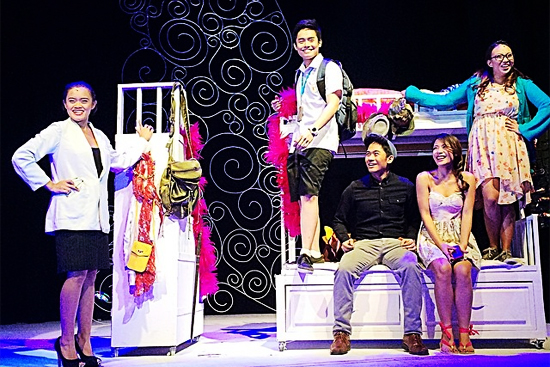 1. Bakit ako? Bakit ngayon? Bakit something, something, something.
You're lucky that you're not hearing this track running inside your head like a hamster on a wheel at midnight. The show opens with teens panicking over an unexpected zit-truth time: you never expect a zit-and it takes you back to the days when you panicked over the smallest, cutest problems. Some people want to relive their wild and carefree days, but we're fine going through puberty exactly once. The actors singing this "O.M.G. I have a pimple. F.M.L." song makes us glad that we're done with the final chapter of our bildungsroman.
ADVERTISEMENT - CONTINUE READING BELOW
2. Divine Grace Aucina as basically everyone
The rest of the cast had their funny bits, but Divine Aucina pretty much stole the brief program. She's the boss, she's the yaya, she's the lola, she's the mom, she's your crush, and she's also a caveperson. With an excellent command of her voice and physique, Aucina killed it with dead-on delivery of every punch line that the script gave her.
3. The anti pick-up lines
Divine Aucina: May makeup ka ba?
Vaughn Piczon: Baket?
Divine Aucina: Maglagay ka.
4. Face matters...or does it?
"Ginalingan ko ang performance ko sa 200 units ng klase na kinuha ko, but all they're going to ask me is how I'm going to handle a blemish on my face?" We've all had those moments...and as adults, we still keep having them. We wanted to cry foul and clarify that not all people are lookists, but it wouldn't be a PETA production if it didn't have a harsh truth staring you right in the face. People are going to judge you. You'll survive. Stay awesome.
CONTINUE READING BELOW
Recommended Videos
5. Balancing acknowledgement and encouragement
When your life revolves around the approval of your peers, it's hard to see past your nose. The informance could have been a disaster, with teenagers portrayed as blobs of hormones walking around. While there is a fair amount of whining about trivial matters, the material is handled with just enough grace to overcome the fact that it's selling something more tangible than an idea. Sure, you can buy the soap that will help you get rid of the acne that's been a major turn off for your crush...but maybe there's someone out there who won't make you feel bad when zit happens.
ADVERTISEMENT - CONTINUE READING BELOW
Hashtag Pimples Anonymous was co-presented by PETA and Safeguard Philippines to launch Derma Sense, a new line of anti-acne soap. Photo from Instagram by Jennie Epperson.
Share this story with your friends!
---
Help us make Spot.ph better!
Take the short survey
Load More Stories