Observations on Art from I am love Marie
Because we take art rather seriously: a hard look at Heart Evangelista's solo exhibit at no less than Ayala Museum.
(SPOT.ph) We like art. So do you, you just don't know it yet. We grew up associating art with the finer things in life because of people who intentionally try to be obscure. Misunderstood is good. Exposure to dilettante endeavors and pretentious projects encourage the thought that "Art" is best left to those who can afford it. It's a terribly sad conclusion, but one that we can't argue with.
When Heart Evangelista began posting photos of her paintings on Instagram, we thought: it's good that she's doing something with her hands. Art can be very therapeutic and people shouldn't be afraid to try it out-if only as a form of stress relief. Sometimes that's all it is...and sometimes, that's all it should be. It probably shouldn't be I am love Marie, a full-blown exhibit.
Harsh? Maybe so, but Heart gave us honesty. We'd like to offer her the same.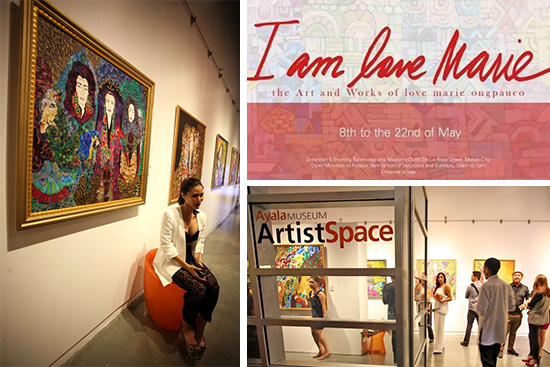 ADVERTISEMENT - CONTINUE READING BELOW
Love Marie likes mermaids
Instead of self-portraits, as the exhibit title might suggest, Heart paints pictures of Alessandra, Camille, and various other women. Are they versions of her or are these huge, maximalist pieces merely studies in portraiture? Oddly enough, the answer is unclear, even to Heart.
As far as studies go, she's definitely making use of every color she can get her hands on. Perhaps she needs to temper that. We're certain that she's trying to paint what's important to her, but the elements on the canvas aren't arranged well enough to relay who Love Marie is and what she wants to say...other than, well, she likes fishes and mermaids. We do not doubt that she intended for these pieces to reveal something more about who she is and not merely show us what she does during her spare time.
CONTINUE READING BELOW
Recommended Videos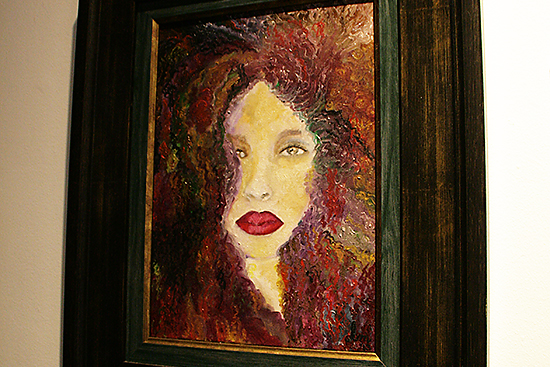 Melancholy by Heart Evangelista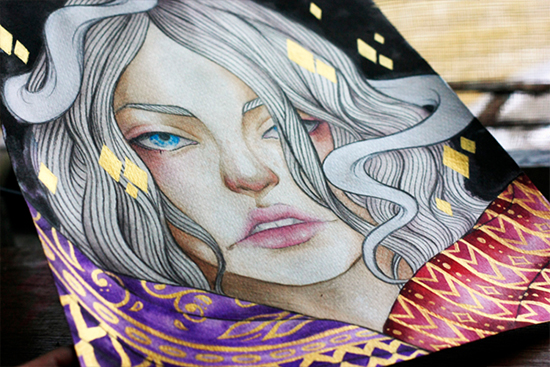 ADVERTISEMENT - CONTINUE READING BELOW
Petit Mort by Mai Evangelista
A tale of two Evangelistas
Have you ever heard of Mai Evangelista? Seeing that Heart is an Ongpauco, the two artists are obviously not related. Mai Evangelista is a young artist who also works with oil and canvas, painting portraits of women. She doesn't have a solo exhibit yet. As we're strictly basing on technique, Mai is the better artist...but you probably don't know her (yet). Both of them probably feel like they work hard, but clearly, some people get all the luck.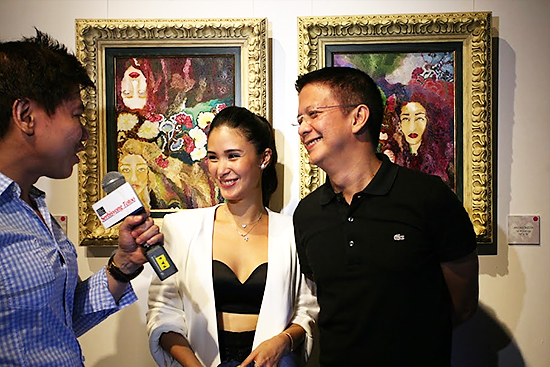 It's good to have someone who believes in you
The nicest way we can put this is that it's nice to have someone who puts their faith in you. It's no big secret that Heart has the luxury of having Senator Francis "Chiz" Escudero by her side and having him support her (in every possible way) is something to be envied. It's always nice to have someone enabling your delusions...or as we like to call them, dreams.
ADVERTISEMENT - CONTINUE READING BELOW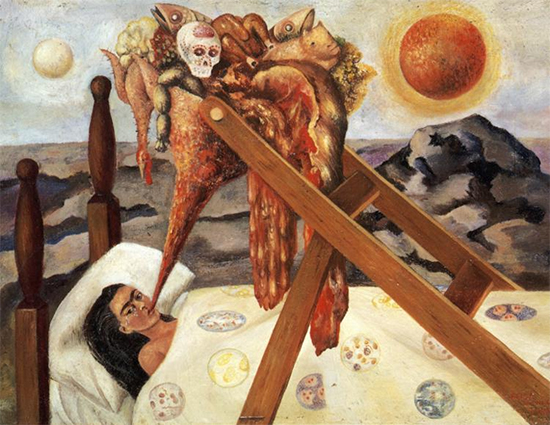 Without Hope by Frida
We can all be artists...but we can't all be the artist that Frida Kahlo was in an instant
There has been comparison between Heart Evangelista and great painters like Frida Kahlo, which we find a little misguided. There's no reason why Heart can't reach great heights in the visual arts but everyone starts as an amateur. Even Frida Kahlo started small. Even she needed guidance.
Frida devoted her life to expressing herself and making her emotions, specifically pain, tangible. The feeling of grief, betrayal, and loss can be discerned from the symbols she used in her numerous works. For example, in Without Hope, Frida captures what it feels like to be immobile-food is forced on her through a funnel that towers over her fragile body. She's waiting for the calavera (sugar skull) to pass through the narrow passage and give her relief. While both Heart and Frida are doing what all artists do (exploring and expressing the self), Frida carefully composed her paintings to invite people to feel how she feels.
ADVERTISEMENT - CONTINUE READING BELOW
Heart has potential, that we don't doubt, but she has a long, long way to go.
Personal art in public places
I am love Marie' s paintings are obviously more than a little selfish. She admits this freely. They're diary entries...that is to say, more like a blog than a column. Her work offers little insight on who she is (as a person the audience can relate to) and it offers even less observation about the world where Heart Evangelista lives.
It is easy to fall back on the idea that art is subject to personal taste but we mean no harm when we say that there's a lot of room for improvement. She'll do better without the hype surrounding her hobby. Right now, all this publicity will only serve as a distraction. Nobody is a bad artist because we all have that urge to create, but Heart needs polishing and refinement. I am love Marie feels more like a draft of who she can become, which defeats the essence of the exhibit.
She's being given the entire floor, but she doesn't know what she wants to say yet. Meanwhile, hundreds of other artists are shouting at nothing and no one.
I am love Marie runs from May 9 to 22 at the Artist Space, Ayala Museum, Makati.
Share this story with your friends!
---
Help us make Spot.ph better!
Take the short survey
Load More Stories