CHECK IT OUT: Alexander Charriol's Human Flow IV exhibit as commentary on the value of human connection
The New York-based Frenchman's most recent works are on view at Altro Mondo until June 16.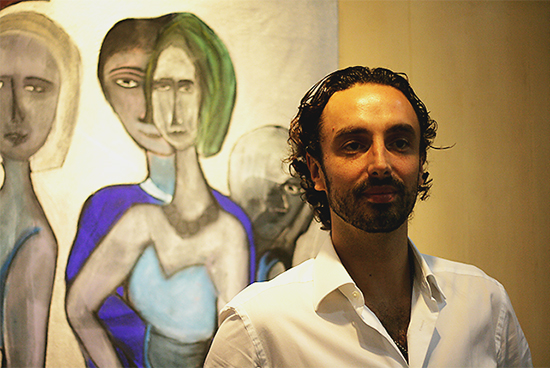 (SPOT.ph) In one word, arresting. On May 23, Alexander Charriol's exhibit opened in Altro Mondo and almost everyone present experienced a little "time stop" at the sight of the artist's work.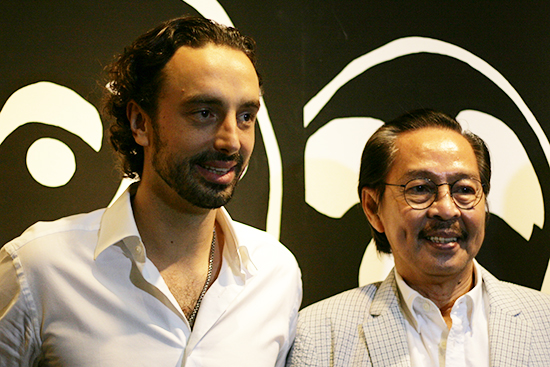 Alexander Charriol and Ramon Orlina
In attendance, among others, were National Artist Arturo Luz, acclaimed sculptor Ramon Orlina, and the fashionable Tim Yap. Charriol eagerly entertained the steady stream of people walking through the doors of Altro Mondo, despite the (very French) existential crisis happening in his pieces. The melancholy and madness on display are very personal, and though they're part of the past now, he digs deep in his memories while he works on canvas. Ironically, it is through these lonesome days that he found the strongest bond with everyone else, and he shares his astute insight on human connection through his art.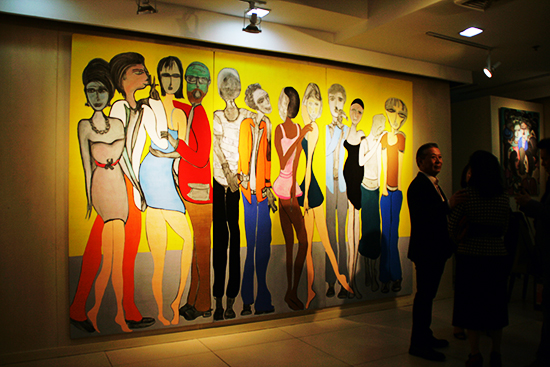 ADVERTISEMENT - CONTINUE READING BELOW
"My Social Circle" by Alexander Charriol, acrylic on board
Now more than ever, Charriol's subject of choice is relevant. In the social media age, it seems like the only "strong" connection we care about making is with WiFi. Research has time and again proven that flimsy interactions such as double taps and virtual thumbs up only add a layer of distance between people. Charriol's studies on touch (that doesn't involve a digital device) and being in the present highlights the value of intimacy and empathy.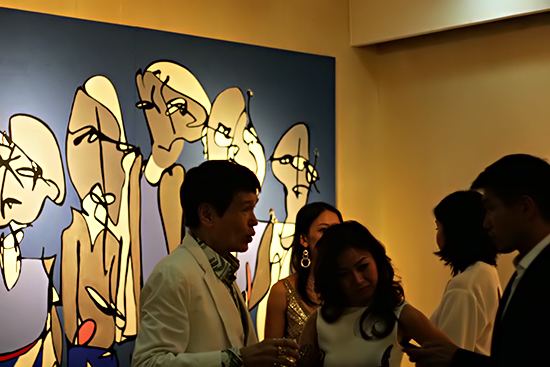 CONTINUE READING BELOW
Recommended Videos
People mingling near "Together at Once"
Photos of his work does them no justice, but that does not make them any less worthy of awe. If anything, the need to see the art for yourself only serves to prove a point-physical attendance, in any social interaction, is a necessity. The documentation and curation that have become so fashionable in platforms like Instagram fake the feeling of knowing, which leads to moments of shock when someone acts differently from his or her online identity.
ADVERTISEMENT - CONTINUE READING BELOW
In Human Flow IV, the feelings that make us flee to the safety of online chatter-anxiety, insecurity, madness-are all exposed and rendered in pastel and acrylic with astonishing clarity.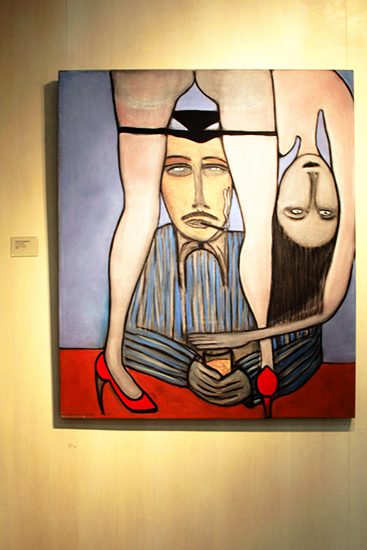 "Stop the madness" by Alexander Charriol, pastel on canvas
The dustiness of his pastel pieces adds a dynamic texture to the brief stories he tells through characters with strange proportions. Charriol willingly explains the context of the images when asked, but he has illustrated these emotions so lucidly that it's almost unnecessary. Pieces like "Stop the Madness" immediately elicit a response. Perhaps it's a recognition of the look of addiction on the man's face or maybe something as simple as amusement from that woman's mind-bending flexibility. Regardless of how you want to look at it, what's certain is that there's something to see.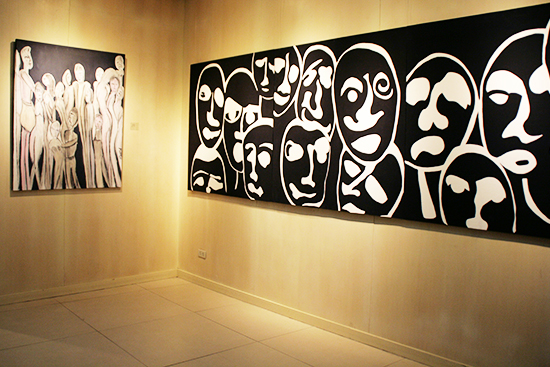 ADVERTISEMENT - CONTINUE READING BELOW
Studies on crowd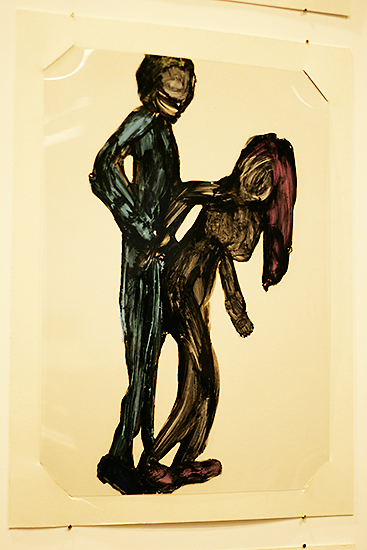 "He Took Me from Behind" by Alexander Charriol, acrylic on transparent film
Perhaps the most interesting experience in viewing the pieces is moving through the gallery and being a part of a crowd. Which piece do you resemble?
Human Flow IV by Alexander Charriol is on view at Altro Mondo Arte Contemporanea until June 16.
Share this story with your friends!
---
Help us make Spot.ph better!
Take the short survey
Load More Stories