Art Adventure: Things We Learned at Sipat Lawin's Karnabal
A quick guide and small observations for a rather odd festival
(SPOT.ph) Karnabal Festival is Sipat Lawin Ensemble's annual event that features works in progress from experimental theater and performance companies based here and elsewhere. This means that when you go to Karnabal, you're witnessing new work at an early stage. It is not "perfect," but it shows us in what directions a production could go. For instance, we got to see a good part of a musical by a student theater company on bank robbers, aswang, and the way we justify our actions. It was not yet as polished as one would expect, but there was a thrill seeing young artists take a risk in telling a potentially interesting story.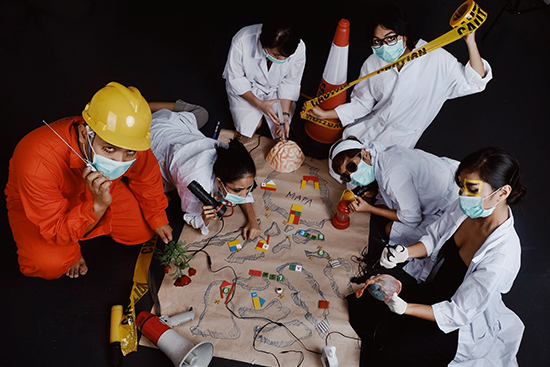 ADVERTISEMENT - CONTINUE READING BELOW
Gobyerno Mapping

Even what is in progress can be thought-provoking.
This is proven by our initial visits: JK Anicoche, the festival's artistic director (and Sipat Lawin's, too), told us about the company's contribution to the festival, Gobyerno, a performative exercise in policy-making they intend to stage in a Korean performing arts festival next year, and showed us how participants, for instance, reimagined the city in using a mapping exercise. (There was, we note, no shortage of ideas.) The other example is Ea Torrado's new work Unearthing, an experimental movement performance that deliberately eschews choreography to highlight how movement and ethics intersect. It still raises interesting questions, not only about the work's direction, but also about how such movement is made possible.

Process is as important as outcome, and worth discussing.
One of the aims of the festival is to document and share how different performing arts practitioners come up with their work. It was interesting to hear about how a social realist performance art group used drama and performance to protest involuntary disappearances. What intrigued us, though, was a discussion of the puppet work of Mulat Puppet Theater (founded by UP Professor Amelia Lapena-Bonifacio. For more than three decades, the group have been re-engaging children with distinctly Filipino and Asian mythology and re-appropriating the Christian tradition of the passion play. (Many of the performances are being staged at the Teatro Papet Museo, the company's home in the UP Village area.)
ADVERTISEMENT - CONTINUE READING BELOW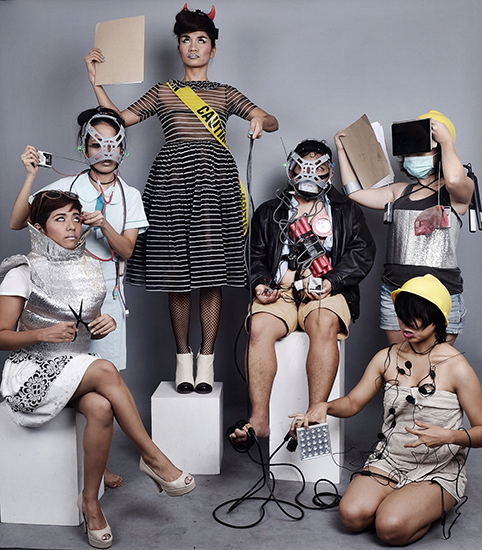 Cosmo Cyborg

Blank tickets will still encourage you to "pay the dealer."
Sipat Lawin Ensemble was one of the first theater companies we encountered that had a "blank ticket" policy. Simply put, you will be given a blank ticket when you enter, and when you leave, you will write the amount you wish to pay, depending on how you found the work and your ability to pay. You might find that you never feel like writing "zero" after being given such a treat. Blank ticketing forces us to think about the ways we show our support for art, directly or otherwise, and how we put our money where our mouths are.
ADVERTISEMENT - CONTINUE READING BELOW

It's a "walking festival."
Not that it's a festival that walks, more of: there are a lot of places you can check out and the venues are mercifully close to each other. It takes about 15 to 20 minutes to walk to and from the Vargas Museum and the Teatro Papet Museo building on Mapagkawanggawa Street. One of their partner venues, Mow's on Matalino Street, is just a 20-minute walk from Teatro Papet Museo. The UP Village venue is less than five minutes away from the core of the Maginhawa food strip, too. If you have the time, the exercise will all be worth it.

Having a secret discreetly told to you in a performance is a surreal experience.
You'll see what we mean when you get to catch Russ Ligtas' mouth.mumu at the Vargas Museum
[infographic:/images/articles/infographics/2015/05/12/6945328_1431413928.jpg]
Schedule for Week 2! Click image to enlarge.
There's more to see this week.
ADVERTISEMENT - CONTINUE READING BELOW
While the opening days of Karnabal were a flurry of activity, the days to come prove to be more exciting. There will be a workshop on making a music video at the Vargas Museum, the other main venue in this festival. Mow's and Tomato Kick (Tomas Morato) will be hosting evening events on Thursday and Saturday, respectively. It all ends on Sunday, May 17, with something we found intriguing—a protest by mascoteers.
For more information, visit the Karnabal Festival website or check out their Facebook page.
Load More Stories