Art Adventure: Last, Lost, Lust, for Four Forgotten Episodes by Toym Imao at Ayala Museum's Open Space
Free. Public. Art.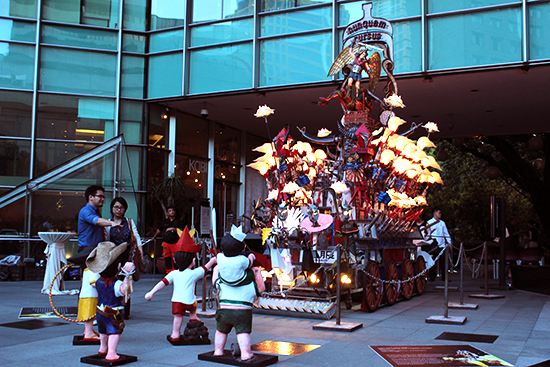 (SPOT.ph) The umistakeable mug of a former dictator sits at the heart of the tall, busy installation piece at the Ayala Museum Plaza. He has horns over his head, and an angel with super robot armor is just about to vanquish a devil under the Latin inscription: nunquam rursus. Never again. The structure first appeared at the steps of Palma Hall in September 2014, set up by Toym Imao to commemorate the declaration of Martial Law. It's noticeably bigger, with a few more details added. According to Imao, the piece will continue to grow in the weeks that it's on display at the open space in front of the Ayala Museum.
ADVERTISEMENT - CONTINUE READING BELOW
Lust, Lost, Lust for Four Forgotten Episodes is both an excellent test for your pronunciation skills and a knowledge of history, in the face of revisionism. When asked why he chose to build this monument, Imao frankly stated that it's his way of countering the misinformation spreading about that dark period. He was born in 1968, which meant he grew up under the regime...and also Voltes V and Mazinger Z. The two shows, if you're not familiar, were pulled from programming due to excessive violence. There's a bit of irony there, but in the grand scheme of things, those animated shows got off easy. There's an entire generation of people who finds the glorification of Martial Law absurd, mostly because they were there. The horrors are inescapable and on that vein, so is this 12-foot structure. It has it's own light, so there's no way you can avoid it. And did you see those horns on Marcos' head? Hard to misinterpret.
ADVERTISEMENT - CONTINUE READING BELOW
Nobody has to pay to see it—it's public art, open for selfies until June 15. There are chains around it, but Imao admits that probably won't stop people from touching it or even vandalizing it. It's part of the deal and that's a relatively small price to pay to expose the art—to the elements and people within its immediate vicinity. During the opening on May 14, shoppers passing by couldn't help but stop and stare at the sculpture.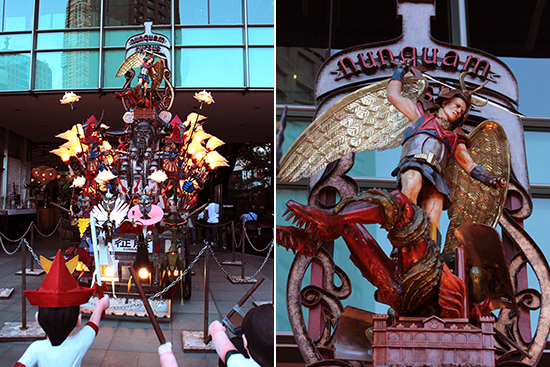 ADVERTISEMENT - CONTINUE READING BELOW
Archangel Michael has some stylish new threads
Wearing the palace as a hat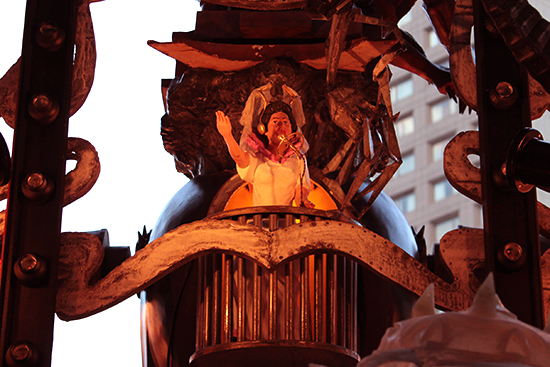 ADVERTISEMENT - CONTINUE READING BELOW
"You must love me!"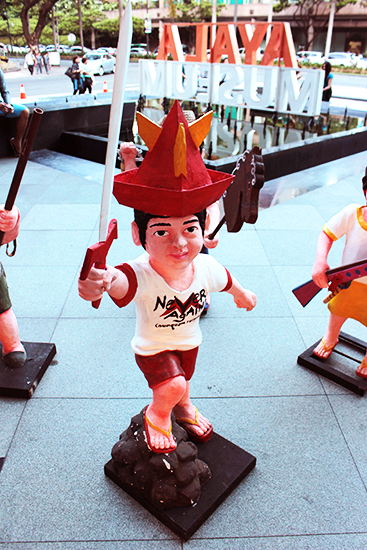 Nunquam rursus!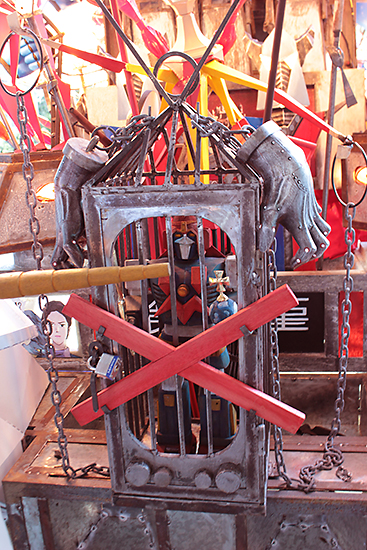 ADVERTISEMENT - CONTINUE READING BELOW
Oh no, poor Voltes V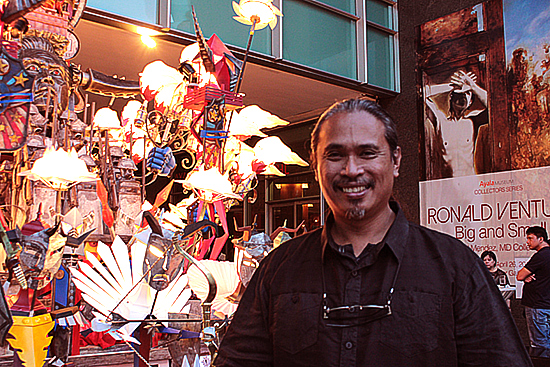 Toym Imao
There are little details that deserve attention, like the shields in the color of the American flag and the bulldozer blade on the front—ready to do...hm, things to the protestors before it. The artist can only hope that he has done enough to push people to explore and think about what it all means.
ADVERTISEMENT - CONTINUE READING BELOW
Last, Lost, Lust for Four Forgotten Episodes will be on display at the Ayala Museum Plaza until June 15. This is the first of a series.
Recommended Videos
Load More Stories