10 Plays and Musicals We Want to See in Manila
A little wishlist for our friends in the performing arts scene!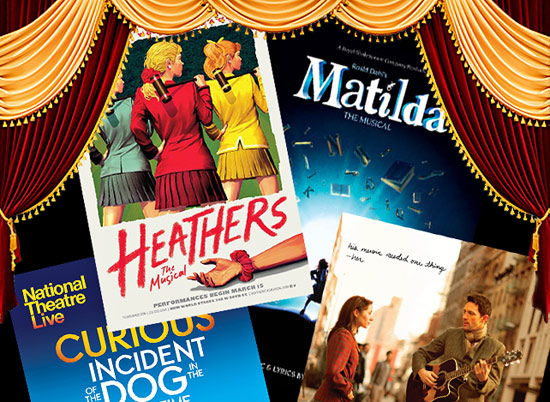 (SPOT.ph) There's no shortage of talent in the local theater scene and while we're thrilled whenever we watch a masterfully written original production that really explores our culture (especially in a contemporary setting), we're not going to deny the fact that we were enthused when the witches of Wicked flew over to enchant us, or that we were moved by Red Turnip's production of Closer. We can't wait to see what PETA does after Rak of Aegis...yet we can't quite ignore the fact that we're interested in seeing the Lion King in CCP or The 39 Steps at the Carlos P. Romulo Auditorium.
ADVERTISEMENT - CONTINUE READING BELOW
CONTINUE READING BELOW
Recommended Videos
New theaters are opening, new companies are being formed, and we're ready to see more shows...these shows, to be exact!
Matilda
It's a book that inspired many to keep reading—if only to gain telekinetic powers—and the musical adaptation has been spreading more magic in West End and Broadway. It's time we start singing the songs inspired by the Roald Dahl classic. (We won't complain if they consider Charlie and the Chocolate Factory instead!)
The Book of Mormon
Our mood instantly clears whenever we sing along to "Hasa Diga Eebowai" and we believe that a Manila run of the outrageous musical by Trey Parker, Robert Lopez, and Matt Stone will prove to be quite sensational. The strength of Elder Price and Elder Cunningham's faith would definitely be more welcome here in the Philippines, wouldn't you agree? We're praying that we can watch An Act of God (complete with Jim Parsons) as well, because miracles can happen!
ADVERTISEMENT - CONTINUE READING BELOW
Once
Bittersweet and poetic, it's hard not to be moved by the power in the music of Once. The film's beauty is perfectly preserved, even magnified by the live performance. If they can do The Last Five Years, surely they can gift all the lonely hearts in Manila a night of "Falling Slowly."
The Curious Incident of the Dog in the Night-Time
Read at the right time in your life, Mark Haddon's careful handling of the life of young Christopher Boone can be cathartic. This list is prone to the abuse of the word magic (we're consciously avoiding it), but we're going to use it again here now: This play is magic. The stage design and the lighting alone makes us feel giddy.
Bullets Over Broadway
Rarely do we get to watch a Woody Allen film onscreen here, so we're going to go for broke and wish for something even better: a Woody Allen musical. The original production features a singing Zach Braff, but we're confident that the script will fly no matter who stages it.
ADVERTISEMENT - CONTINUE READING BELOW
Hedwig and the Angry Inch
We've seen Priscilla and we've seen La Cage. Is it stretching our good fortune if we wish for Hedwig? There's an actual petition for a local run of this rock and roll musical, evidence that we are not alone. We are ready for more wigs, more songs, and more love.
Heathers
The Mean Girls musical is not quite here yet and we're not going to complain, because we can pine over Heathers first. We can already imagine Caisa Borromeo, Cris Villonco, and Giannina Ocampo as Heathers C, D, and M. Teenage nightmares are so very delicious.
Jersey Boys
A night spent watching a jukebox musical is always fun and if it involves the boys of The Four Seasons, we're pretty sure that the evening would be spectacular. This seems perfect for Resorts World or The Theatre at Solaire. Just sayin'.
Drunk Shakespeare
ADVERTISEMENT - CONTINUE READING BELOW
The concept is simple: Actors down a few beers (or the poison of their choosing) and as they get increasingly inebriated, they narrate a Shakespearean play. Putting The Bard and booze together is the best idea ever, because Twelfth Night is even funnier when the performers are less sober.
School of Rock
We want to see kids doing theater, because we want them to discover the joy of the stage...and really, School of Rock was a movie begging for a stage adaptation. It ain't rock and roll if the audience is not going wild right in front of you!
Load More Stories