Indonesian contemporary artist Anton Subiyanto makes his Philippine debut
His show sends truthful messages in a frisky way.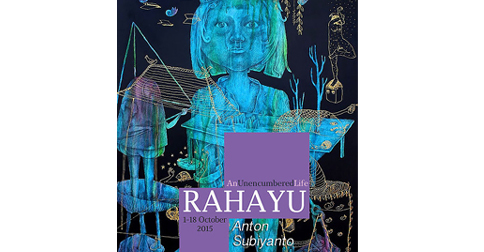 (SPOT.ph) 2014 United Overseas Bank Southeast Asian Painting of the Year winner Anton Subiyanto, in his fourth solo show and first major debut in the Philippine art scene, presents Rahayu: An Unencumbered Life. The show opens on October 1, 6 p.m., and runs until October 18 at Gallery Stephanie.
ADVERTISEMENT - CONTINUE READING BELOW
Subiyanto takes present-day dissatisfaction and misery, depicts it "with a spoonful of sugar, to help the medicine go down," and presents a solution from his Javanese ancestors—tepo seliro. It is the state of empathy and mutual respect, which is the focal point of the show. The artist encourages us to look beyond our empty desires to see what really matters to the human soul: social harmony and happiness.

ADVERTISEMENT - CONTINUE READING BELOW
"Magdalena" (triptych) by Anton Subiyanto
At 4 p.m. on opening day, Subiyanto will give a talk about his work, the graphic traditions of Java, and his experiences in Singapore, Malaysia, Australia, and Japan.
Gallery Stephanie is at Unit 1B, Parc Plaza Building, 183 E. Rodriguez Jr. Avenue, Quezon City (inquiry.galeriestephanie@gmail.com or 709-1488). For more information, visit Gallery Stephanie's website.
Load More Stories