10 Filipino Painters Who Rock the Auction Block
Our alternative title: "10 Paintings We Wish We Could Afford"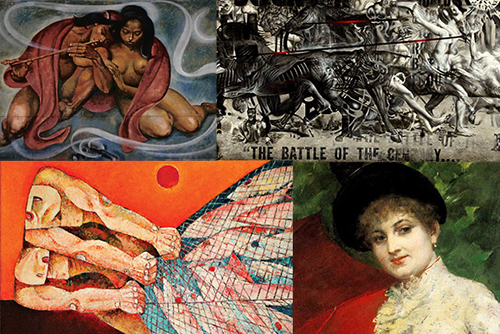 (SPOT.ph) Pieces of art are like real estate—they do not depreciate in value. From Ventura to Luna, the Philippines has always produced great artists, whose works span from hyperrealism to expressionism. Filipino artists and their artworks may be a far feat from Chinese and Indian artworks in terms of prices fetched at auction, but it is now being recognized globally for its saleability, generating bigger sales than expected, both locally and internationally.
Here are 10 famous paintings in the Philippines that have been auctioned at jaw-dropping prices.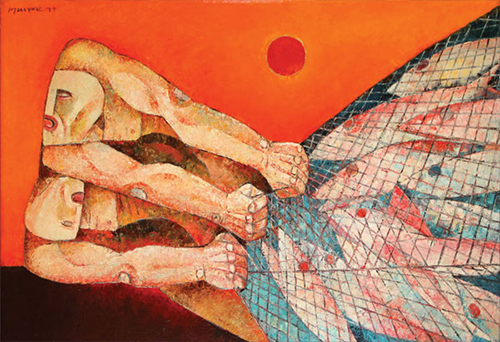 "Fishermen" by Ang Kiukok
National Artist and leader of Philippine figurative expressionism Ang Kiukok's oil painting "Fishermen" got the highest bid at an auction hosted by Salcedo Auctions on March 8, 2014 in Makati. Ang Kiukok's work combined the hope and struggle of fishermen working together for their haul, the crimson sun hovering above them, representing perpetual energy.
Selling price: P7.6 million
ADVERTISEMENT - CONTINUE READING BELOW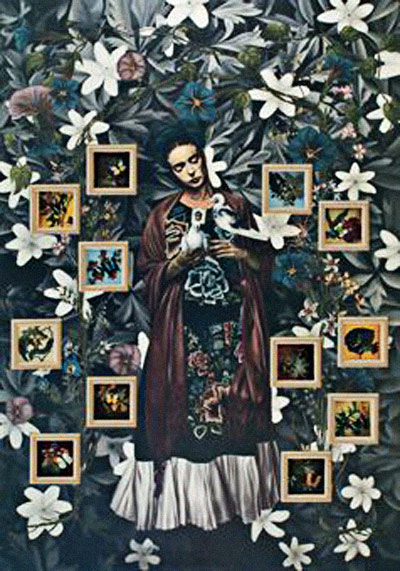 CONTINUE READING BELOW
Recommended Videos
"Ella amo' apasionadamente y fue correspondida" (For she loved fiercely, and she is well-loved) by Geraldine Javier
Frida Kahlo inspired Geraldine Javier to contemplate the nature of pain and suffering. This oil painting was framed and embroidered with preserved butterflies. On May 30, 2010, it was auctioned at Christie's in Hong Kong with an estimated value of HKD 150,000 to HKD 200,000.
Selling price: HKD 1,460,000 or approximately P8.8 million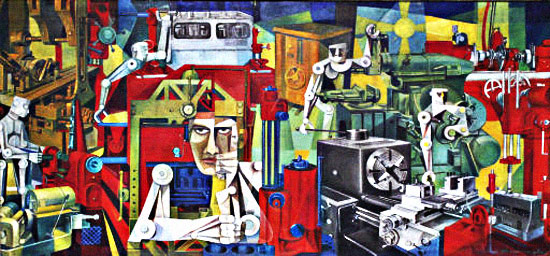 ADVERTISEMENT - CONTINUE READING BELOW
"Machinery" by Vicente Manansala
The late National Artist and cubist painter Vicente Manansala's 1962 oil painting "Machinery" was sold at over twice its estimated price in the 2007 Christie's Southeast Asian Modern and Contemporary Art in Hong Kong. The painting was created at the peak of Manansala's cubist maturity. He became more careful with manipulating this work, featuring a solid composition with patented lines, and forming melodious colors and forms.
Selling price: HKD 2,287,500 or approximately P13.7 million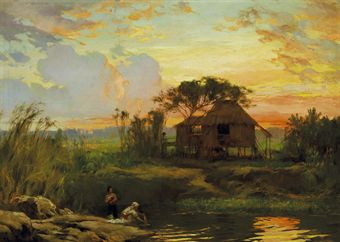 "Lavanderas" by Fernando Amorsolo
Spanish-trained realist Fernando Amorsolo's most expensive auctioned work was his 1923 oil painting, "Lavanderas." It was sold on May 30, 2010 in a Christie's auction of Southeast Asian Modern and Contemporary Art. Amorsolo is known for his romantic Filipino landscapes and is widely considered a successor to Juan Luna and Felix Hidalgo.
Selling price: HKD 3,380,000 or approximately P20.3 million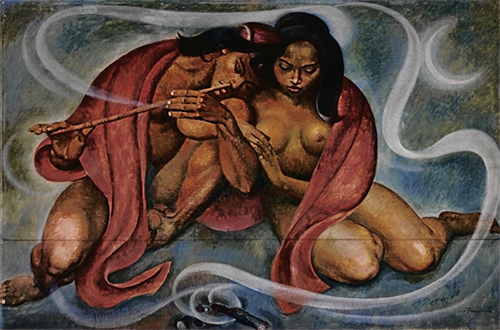 ADVERTISEMENT - CONTINUE READING BELOW
"Nose Flute" by Carlos "Botong" Francisco
The priciest Botong Franciso painting went under the hammer on May 19, 2012 at One East-Larasati Hong Kong. The subject was a Northern Philippine mountain tribe couple with a nose flute. Measuring 4 x 6 feet, the painting is on two canvases, joined horizontally in the bottom half.
Selling price: $649,000 or approximately P29.8 million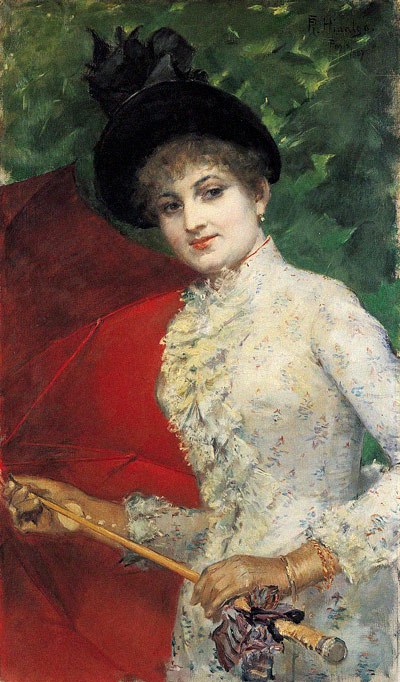 "La Parisienne" by Felix Resurreccion Hidalgo
Hidalgo's "La Parisienne" was the first Philippine work of art that made the cover of Sotheby's sale catalogue. The artist painted a woman holding a parasol using an Impressionistic light palette. In a 2003 Sotheby's auction, the painting was pegged at an estimated value of SGD 380,000 to SGD 550,000.
Selling price: SGD 696,000 or approximately P22.8 million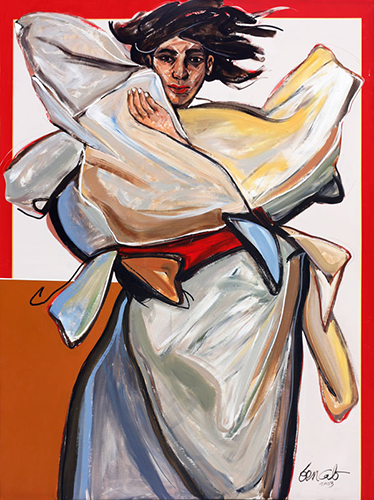 ADVERTISEMENT - CONTINUE READING BELOW
 "Sabel" by Benedicto Reyes Cabrera (Bencab)
One of the largest single-figure pieces in the "Sabel" series by Benedicto "BenCab" Cabrera was sold at León Gallery's Magnificent September Auction 2015. His 2003 oil painting measuring 96 x 72 inches projects intense emotional moods, a recurrent subject in the his works through the years.
Selling price: P46.7 million

"Grayground" by Ronald Ventura
At a 2011 Sotheby's auction of Modern and Contemporary Southeast Asian Paintings, Ronald Ventura's 13-foot hyper-realistic graphite, oil, and acrylic piece went under the hammer as one of the most expensive paintings in the Philippines and Asia at the time.
Selling price: HKD 8,420,000 or approximately P47 million
Also read: Pinoy artist Ronald Ventura's painting sells for nearly P47 million at Sotheby's auction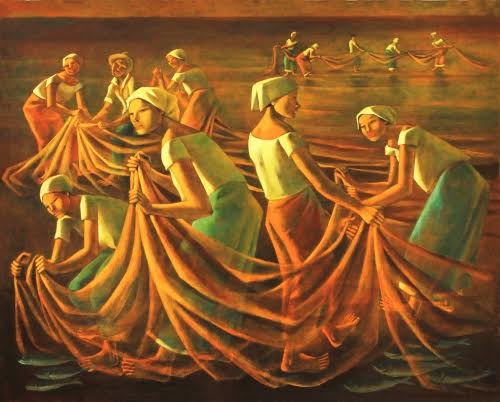 ADVERTISEMENT - CONTINUE READING BELOW
"Fish Harvest at Dawn," by Anita Magsaysay-Ho
Anita Magsaysay-Ho is known for her depictions of Filipina women at work. This 1979 oil painting, "Fish Harvest at Dawn," was sold at a record price in an auction on June 13 at León Gallery in Legazpi Village, Makati.
Selling price: P52.5 million

"España y Filipinas" (Spain and Philippines) by Juan Luna
An earlier version of Juan Luna's oil painting "España y Filipinas" was auctioned in Sotheby's 40th Anniversary Evening Sale on October 3, 2013 in Hong Kong. It is believed that the artist made three versions; the second one is in the Lopez Museum and the third is still unaccounted for. Signed in 1884, the painting is an allegorical comparison of two women, one representing Spain, and the other, the Philippines. It broke the record of "Parisian Life" for being the highest paid work of art by Juan Luna.
ADVERTISEMENT - CONTINUE READING BELOW
Selling price: HKD 25,880,000 or approximately P130 million
Share this story with your friends!
---
Help us make Spot.ph better!
Take the short survey
Load More Stories