10 Art Exhibits You Should See This December
End the year with a dose of creativity!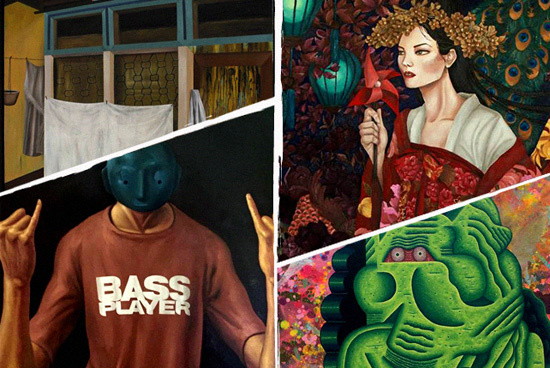 (SPOT.ph) When you need a break from the holiday season hustle and bustle, treat yourself with a visit to the art galleries around the Metro. We've narrowed down 10 that will fuel your creativity for the remaining days of the year.
TEASER VIDEO by Geloy Concepcion for Second Degree of Portrayal happening THIS THURSDAY at Silverlens.SAVE THE DATE! See you!26 November - 19 December 2015Opening Reception26 November, Thursday, 6-9 pm#geloyconcepcion #silverlensgalleries #seconddegreeofportrayal #art #artph

Posted by Silverlens Galleries on Tuesday, November 24, 2015
Second Degree of Portrayal
Fresh from his show in Australia, Geloy Concepcion is back in Manila for his first solo exhibition, Second Degree of Portrayal. The 23-year-old photographer and street artist delves deeper into masked personalities, a personal fascination he acquired since he first saw a clown when he was a kid. The photo exhibit features portraits of people the artist has encountered in the city. Clowns, cosplayers, street mimes, and former drag queens—these people were stripped down by Concepcion's lens in a makeshift studio in his home. The 24-week project resulted in portraits that cultivate Concepcion's pull towards the roles people play, how they present themselves to the world, and what they look like behind layers of cosmetics, clothing, and make-believe.
The exhibit runs until December 19 at Silverlens.
Silverlens is at 2/F YMC Building 2, 2320 Don Chino Roces Avenue Extension, Makati City (info@silverlensgalleries.com or 816-0044). For more information, visit Silverlens' website.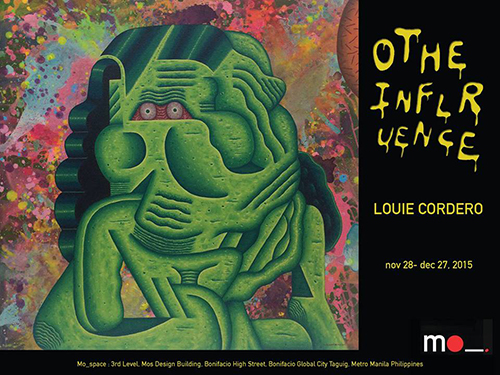 ADVERTISEMENT - CONTINUE READING BELOW
Other Influence
In Other Influence, Louie Cordero pays special attention to the most commonly ignored part of a painting—its frame. With each work encased in a customized, ornate frame, the artist extends the lives he has created for his paintings into unexplored territories. The featured works juxtapose mundane objects with abstract symbolisms through neon colors and Art Deco patterns.
The exhibit runs until December 27 at MO_Space.
MO_Space is at 3/F MOs Design, Bonifacio High Street, Bonifacio Glocal City (mospaceph@gmail.com or 856-7915). For more information, visit MO_Space's website.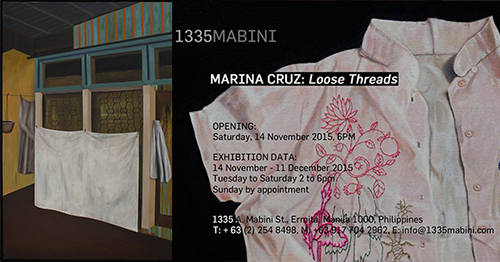 CONTINUE READING BELOW
Recommended Videos
Loose Threads
Marina Cruz explores oil paintings embedded with embroidery in Loose Threads. In her latest solo exhibition, Cruz focuses on a collection of old clothing from her ancestors and translates them into paintings embellished with stitches. The artist portrays lives lived through paintings of childhood dresses and old uniforms, and at the same time drafts fresh memories through embroidery. It's the artist's take on stories woven together, the intersection of past and present, as well as the partition of art and craft.
ADVERTISEMENT - CONTINUE READING BELOW
The exhibit runs until December 11 at 1335MABINI.
1335MABINI is at 1335 A. Mabini Street, Ermita, Manila (info@1335mabini.com or 254-8498). For more information, visit 1335MABINI's website.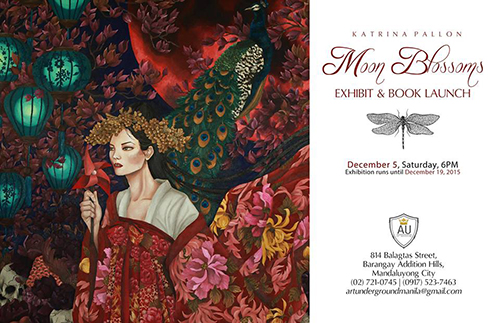 Moon Blossoms
Katrina Pallon presents the beauty of the East in her latest exhibit, Moon Blossoms. The show features a collection of Pallon's pen and ink drawings, as well as oil paintings, inspired by her own adult coloring book Moon Blossoms: Art Book You Can Colour. Viewers will enjoy the artist's signature drawings of women in fine detail, inspired by Pallon's travels across Asia.
The exhibit runs from December 5 to 19 at Art Underground.
Art Underground is at 814 Balagtas Street corner Shaw Boulevard, Barangay Addition Hills, Mandaluyong City (721-0745 or 0917-817-2902). For more information, visit Art Underground's Facebook page.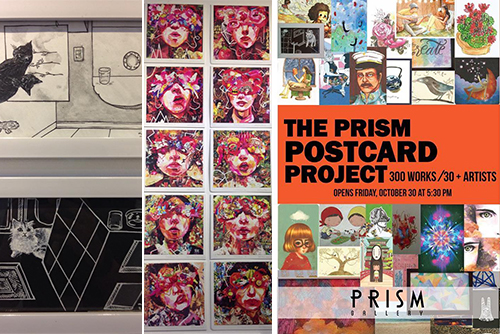 ADVERTISEMENT - CONTINUE READING BELOW
The Prism Postcard Project
The Prism Postcard Project is a collection of 300 postcards from 32 artists. According to Prism Gallery's curator and owner Gold Tantoco, the project allows art enthusiasts "to get a small slice of an artist's body of work." It's also a great way to encourage budding collectors to get to know new artists through smaller-scale works. The artists who've contributed originals and prints include Robert Alejandro, Badz Magsumbol, Geovanni Abing, Kora Dandan-Albano, and Sabrina Palmares.
The exhibit runs until December 23 at the Prism Gallery.
Prism Gallery is at G/F Island Tower Condominium, 239 Salcedo Street, Legazpi Village, Makati City (prismgalleryph@gmail.com or 886-3497). For more information, visit Prism Gallery's Facebook page.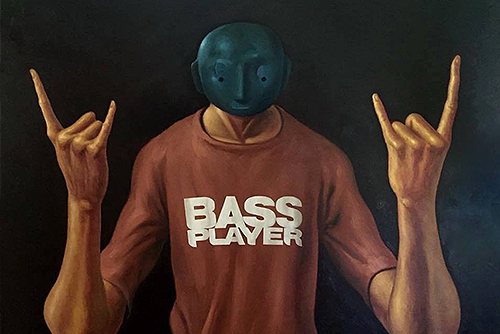 Pinoy Odyssey
Elmer Borlongan celebrates his third decade as an artist through his solo show Pinoy Odyssey. Several months back, Borlongan and his wife took a long-overdue break to travel to New York, Chicago, and Mexico. The collection of new pieces and photographs displayed in the exhibit are inspired by their encounters on their trip.
ADVERTISEMENT - CONTINUE READING BELOW
The exhibit runs until January 4, 2016 at CANVAS Gallery and Garden.
CANVAS Gallery and Garden is at 1 Upsilon Drive Extension, corner Zuzuarregui Street, Alpha Village, Diliman, Quezon City (436-4509). For more information, visit CANVAS' website.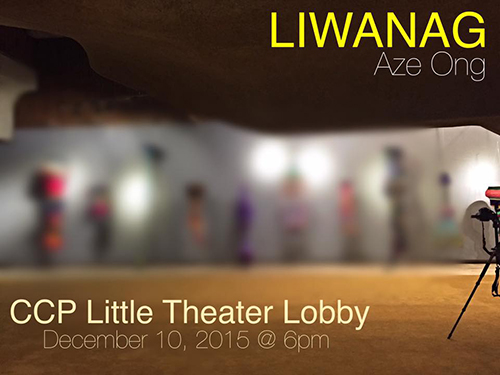 Liwanag
Aze Ong takes viewers to an eventful journey in her solo exhibition, Liwanag. The artist reprocesses her crochet oeuvres to mimic a butterfly's process of metamorphosis. She encourages people to interact with the hanging sculptures by touching, feeling, and playing with them. The exhibit is inspired by Ong's past experiences and intuitive process and is a result of her endeavors with her own contemplation.
The exhibit opens on December 10 at the Cultural Center of the Philippines' Bulwagang Carlos V. Francisco.
The Cultural Center of the Philippines is at CCP Complex, Roxas Boulevard, Pasay City (ccp.exhibits@gmail.com or 832-1125). For more information, visit CCP's website.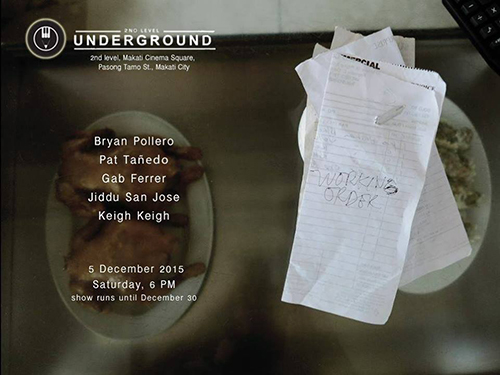 ADVERTISEMENT - CONTINUE READING BELOW
Working Order
Five artists created Working Order with the common theme of self-identification, growth, and adaptation. Gab Ferrer, Keigh Keigh, Jiddu San Jose, Pat Tañedo, and Bree Pollero confront the concept of development in their own ways. Pollero, through his self-portraits, invites viewers to reflect on their own search for identity. Keigh portrays a being's response to its environment, while San Jose focuses on a human's strength and vulnerability. Meanwhile, Ferrer's work is her response to civil norms in the society, while Tañedo encourages others to see beyond oneself and focus on what draws people together.
The exhibit runs until December 30 at Underground.
Underground is at L/G and 2/F, Makati Square, 2130 Don Chino Roces Avenue, Pio Del Pilar, Makati City (833-7817 or 0920-564-6075). For more information, visit Underground's Facebook page.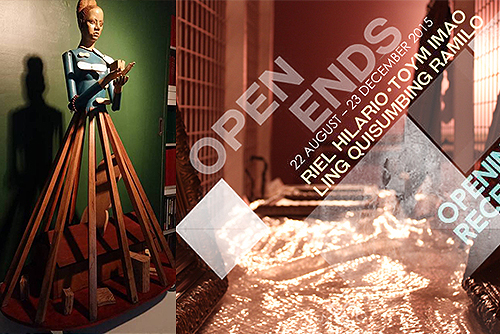 Open Ends
You have until this month to check out Open Ends, the second exhibition of Felix Resurreccion Hidalgo's rarely seen works at the Lopez Museum and Library. Hidalgo's studies, sketches, and unfinished paintings are complemented by those of Juan Luna, as well as fragmentary correspondences that feature Jose Rizal's handwriting. The show also displays sculptural and mixed media installations by artists Ling Quisumbing Ramilo, Toym Imao, and Riel Hilario. Viewers are faced with the unorthodox practice of displaying unfinished works in a museum, which invites them to form their own conclusions.
ADVERTISEMENT - CONTINUE READING BELOW
The exhibit runs until December 23 at the Lopez Musuem and Library.
The Lopez Museum and Library is at G/F Exchange Road corner Meralco Avenue, Ortigas Center, Pasig City (lmmpasig@gmail.com or 631-2417). To register, visit the Lopez Museum and Library's website.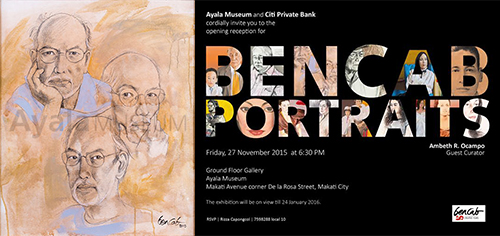 BenCab Portraits
A new show at the Ayala Museum celebrates the five decades of artistry and contributions to Philippine art by National Artist for Visual Arts Benedicto "BenCab" Cabrera. BenCab Portraits is part of the year-long celebration called "BenCab 50 Creative Years." The show displays over a hundred portraits by BenCab, many of which are being exhibited for the first time. Historian Ambeth Ocampo curated the exhibit. He wrote, "These portraits do not just copy a face, they make each face tell a story that is at once that of the sitter and a story that through art and memory has formed part of BenCab's personal and public history." The artworks include self-portraits from the artist's private collections, as well as selections from the Larawan and Larawan II exhibitions, Rock Sessions series, etchings from Gilda Cordero-Fernando's coffee table book Being Filipino, and portraits of artists, writers, and friends.
ADVERTISEMENT - CONTINUE READING BELOW
The exhibit is on view until January 24, 2016 at the Ayala Museum.
The Ayala Museum is at Makati Avenue corner Dela Rosa Street, Greenbelt Park, Makati City (759-8288). For more information, visit the Ayala Museum's website.
Also read: Witness the spectacular union of art and literature at Chromatext Rebooted
Photos from the establishments' websites and Facebook pages
Share this story with your friends!
---
Help us make Spot.ph better!
Take the short survey
Load More Stories