Choose Your Illusion: Mark Justiniani at the UP Vargas Museum
The celebrated artist's Reverb exhibit opens on April 13.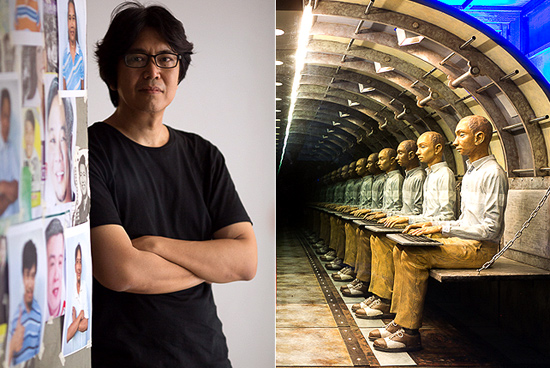 (SPOT.ph) If you caught Art Fair Philippines 2016 in February, you might remember entering a darkened room where one of its walls seemingly had an endless tunnel. The mesmerizing sight looked so real, but it was an illusion created by sandwiching arched rebar (reinforcing or steel bar), lights, and concrete between two giant mirrors, with light that bounces off those reflective surfaces spawning a never-ending passageway. "If you put two mirrors in front of each other, you create infinity," said its creator, Filipino artist Mark Justiniani.
The artwork is entitled "Allegoria," and you can see it at Justiniani's upcoming exhibit Reverb at the UP Vargas Museum. The exhibit opens on April 13 at 6 p.m. and will continue to run until May 6. Reverb was made possible by the support of The Drawing Room Contemporary Art.
Apart from the endless tunnel, the other pieces on exhibit will be "Pillars," which was featured at Art Fair Philippines 2013 at Tin-Aw Gallery's booth and shown again the same year at Justiniani's Mimefield exhibit at Tin-Aw.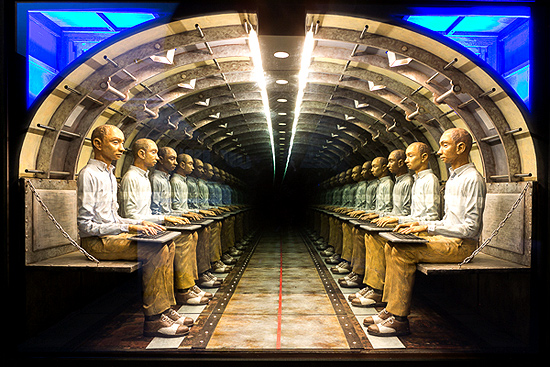 ADVERTISEMENT - CONTINUE READING BELOW
Constructing an illusion
The Vargas exhibit was only done in a matter of days, but it initially took Justiniani two months to figure out how to build "Allegoria." "More than 90% of the image is illusion, so you have to come up with the right 10% so that when it becomes whole, the image is correct," he says. "It's a lot of trial and error. One mistake multiplies, but one nice addition enhances the work a dozen times."
"Allegoria" references Plato's Allegory of the Cave, which describes a society where people live all their lives inside a cave and are chained facing a wall. All these people see are shadows which they at first believe are real, but then one of the chained individuals frees himself and sees that reality is so much more than shadows. Justiniani says that "Allegoria" can be seen as the entrance to the cave or the exit. "The audience is free to interpret it," he said. "If it's an exit, then we are living inside the cave." You can choose your illusion; you can choose your reality.
CONTINUE READING BELOW
Recommended Videos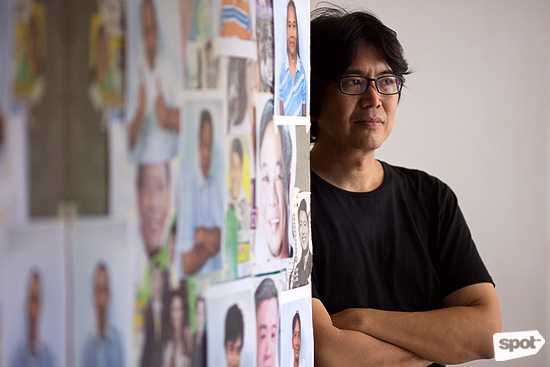 ADVERTISEMENT - CONTINUE READING BELOW
Justiniani concentrated on painting for over 25 years. Active in social-realist artist circles, he'd make figurative paintings (pieces that depict real objects as opposed to abstract forms) that expressed commentary on social issues. He was an active member of the artist group Salingpusa, whose expansive mural occupies almost an entire wall in one of the galleries at the Pinto Art Museum in Antipolo. Salingpusa's members have become the leading artists in today's art scene: Elmer Borlongan, Jose Santos III, Emmanuel Garibay, just to name a few.
Meanwhile, Justiniani earned awards at national art competitions and the prestigious Thirteen Artists Award by the Cultural Center of the Philippines in 1994. He has exhibited in Japan, Denmark, Australia and the U.S., and here in Manila at Finale Art File, Silverlens Galleries, Boston Gallery, Galleria Duemila, Tin-Aw, and more.
Justiniani still paints from time to time, but he only makes five paintings per year as he is now concentrating on creating installations, which are three-dimensional artworks that seek to transform a space.
Reverb opens on April 13 and runs until May 6 at the Vargas Museum. The Vargas Museum is at Roxas Avenue, UP Diliman, Quezon City. For more information, contact 928-1927, 981-8500 local 4024, or e-mail vargasmuseum@gmail.com, or visit the Vargas Museum website and Facebook page.
For more on Mark Justiniani, check out his website.
Photos by Ian Santos
Share this story with your friends!
---
Help us make Spot.ph better!
Take the short survey
Load More Stories