A Beginner's Guide to Art Exhibits in Manila
Are you a budding art lover? Your art adventure starts here!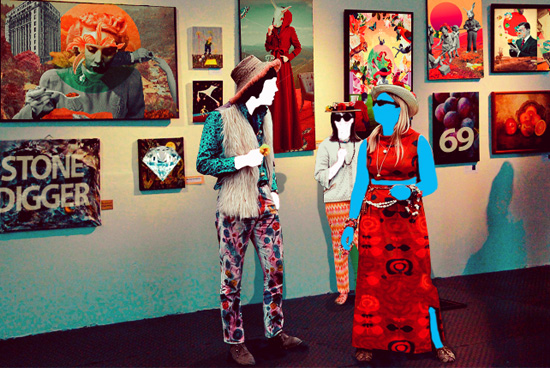 (SPOT.ph) While your usual weekend hangout probably involves going to a mall or eating out with family and friends, there are days when you just want to do something different. For those who want to get a bit of culture but aren't really sure how to go about it, then going to an art exhibit might be a good start.
Here are a few questions and answers to help you get into the mood for art hopping in Manila. It's actually not intimidating, if you come with an open mind and a thirst for new experiences.
Also read:
10 Great Small Museums to Visit in Metro Manila
Top 10 Art Galleries in Metro Manila (2014 Edition)
Top 10 Museums to Visit in Manila (2014 Edition)
Why should I go to an art exhibit?
You should think of art exhibits as travel destinations. You can bring your friends, family, yourbalikbayan relative, or your date to an exhibit and just stroll around, looking at the art. You don't have to be intimidated about not being able to understand a work of art. Just look, and if it's beautiful, if it's cool, if it amuses you, then that should be enough. Later on, you might even realize that it's just the beginning of your art obsession. You might find yourself returning to the shows, reading interesting articles about exhibits, and learning a thing or two about art.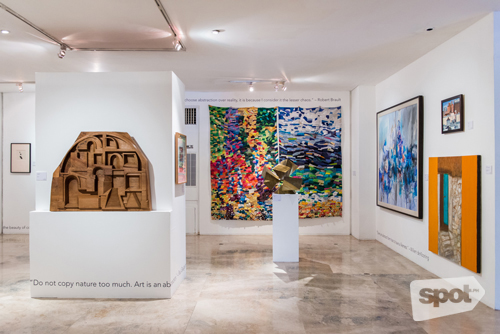 ADVERTISEMENT - CONTINUE READING BELOW
The Metropolitan Museum of Manila
When do new art exhibits open?
There's always something new to see in the Manila art scene, because every month new art exhibits are being launched in art galleries, artist-run spaces, and museums. (Check out our list for the month of May.) You can devote an entire day to go art-hopping by visiting several art exhibits. We actually know someone who went to 14 art exhibits in one day! What an art adventure!
Where are the art galleries, artist-run spaces, and museums in Metro Manila?
Makati City: Finale Art File, Silverlens Galleries, Ayala Museum, The Drawing Room Contemporary Art, Nova Gallery, Tin-Aw Art Gallery, Underground, Vinyl on Vinyl, and Yuchengco Museum

CONTINUE READING BELOW

Recommended Videos

Taguig City: Mind Museum, MO_Space, and Pablo Gallery

Manila: 1335Mabini, 98B, Museum of Contemporary Art and Design, The National Museum (which includes the National Museum of Anthropology, National Art Gallery, and the National Planetarium), the Metropolitan Museum of Manila, and the National Commission for Culture and the Arts Gallery

Pasay City: Galleria Duemila, Avellana Art Gallery, and the Cultural Center of the Philippines.

Quezon City: Artery Art Space, Ateneo Art Gallery, Blanc, Post Gallery, Vargas Museum, and West Gallery

Mandaluyong City: Art Informal

Pasig City: The Lopez Museum

San Juan City: Secret Fresh
All of these art galleries have websites and social media sites which have information on their locations and hours.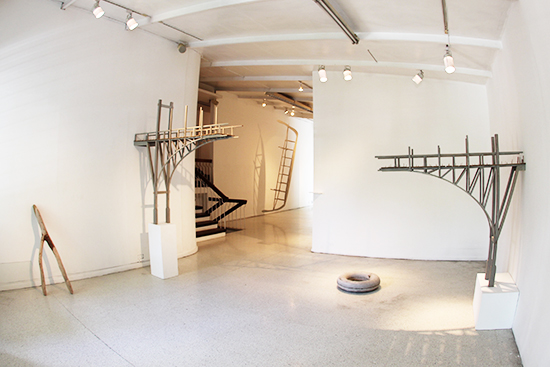 ADVERTISEMENT - CONTINUE READING BELOW
Art Informal, Mandaluyong City
How much are the entrance fees?
Usually, it's an astounding zero! There are no entrance fees for art galleries and artist-run spaces all year round. (Yup, it's not seasonal.) It's because the said spaces are like stores that sell art, and you wouldn't expect an entrance fee to a shoe store, right? Average entrance fees for museums are P100 because they don't typically sell art. Museums have permanent exhibits where you can keep revisiting your favorite artwork, but they can also have temporary exhibits so there's always something new to check out. Spending a day at a museum or gallery can actually be equal to or even cheaper than a movie ticket!
What are the large art events that I should watch for?
Apart from Art in the Park, there's Art Fair Philippines, which happens every February at Makati's The Link. The annual event gathers several local art galleries and some international ones. For the first time ever, there will be a London Biennale Manila Pollination, an offshoot of the London Biennale, which is set to happen in September. Founded by internationally recognized Filipino artist David Medalla, it is a gathering of non-mainstream artists, which makes it different from commercially driven art fairs.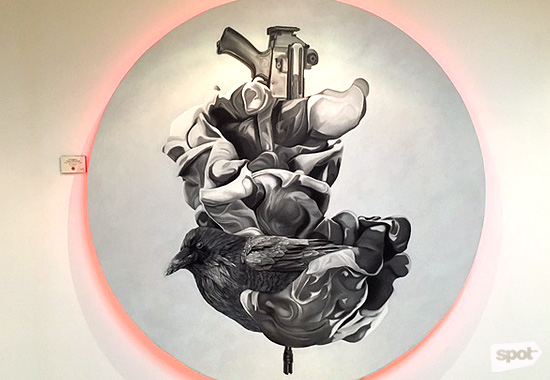 ADVERTISEMENT - CONTINUE READING BELOW
"Opium of the People" by Ivy Floresca at Art Fair Philippines 2016
How do I know if the artist is good?
It's a matter of taste. Art is subjective, so it's difficult to say if one artist is better than the other. There are systems though that validate the artist and those are: exhibiting in top galleries (like Galleria Duemila, Finale Art File, Silverlens, and The Drawing Room Contemporary Art), exhibiting in museums, winning awards (the most prestigious ones are Ateneo Art Awards, Thirteen Artists Awards, and the National Artist Award), and representing the country in prestigious international exhibitions. (Most recently, the Philippines returned to the Venice Biennale, also known as the Olympics of the art world.)
How do I find out when my favorite artist will exhibit again?
Some artists have websites or social media accounts, but if not, the next best thing is to follow the galleries that have exhibited him or her because most likely he or she will have another show there. You can follow the galleries' websites, social media sites, and newsletters to always be in the know of their upcoming art exhibits.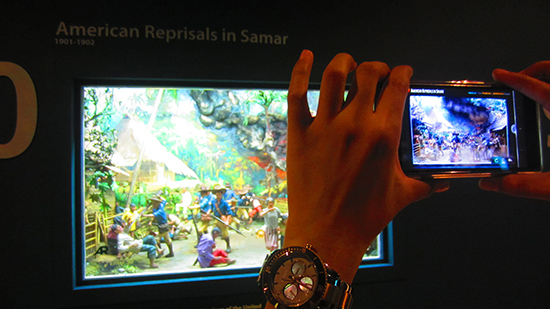 ADVERTISEMENT - CONTINUE READING BELOW
What do I need to know about art etiquette?
When you go to an exhibit, you're there to appreciate the beauty of the art, so you should also make sure that you don't damage them. Touching the pieces and using flash photography can have adverse effects, so they are strictly prohibited. If you're not using a flash, then photography is allowed, and this is true for most art galleries, artist-run spaces, and museums (the Ayala Museum doesn't allow any photography at all). Although selfies are generally allowed, there are some people from the art world who look down upon this practice. Also, when you post photos of artworks on Instagram, make sure you put where credit is due.
What happens at an art exhibit opening?
Every art exhibit has an opening. More often than not, it's scheduled at night, it's open to the public, and there's free food and alcohol! But please, don't hoard the freebies. The artist who created the exhibit is usually there, and you can talk to him or her. Don't be shy! If you miss the opening, the exhibit will still run for around a month, so you can visit the show on another day. If you want more information about the exhibit, you can read the exhibit notes or ask the gallery staff. Some people prefer visiting the exhibit after the opening as the space will be quieter and there will be less people.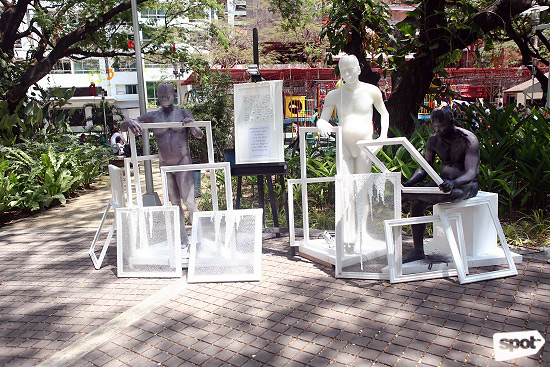 ADVERTISEMENT - CONTINUE READING BELOW
Art in the Park 2016
What do I need to know about buying art?
When you go to an art gallery or artist-run space, most of the artworks on exhibit are being sold. Not all artworks are priced by the millions. Art by young artists can be bought for P3,000. You can also go to the affordable art fair called Art in the Park, which happens every March or April at the Jaime Velasquez Park at Salcedo Village in Makati, as it only includes artworks that are P50,000 and below. Don't buy art by late artists unless you're already an experienced art collector as you might end up buying fakes. There have been forgery scandals involving artworks being sold at the malls, at auction houses, and at private sales.
Also read:
10 Great Small Museums to Visit in Metro Manila
Top 10 Art Galleries in Metro Manila (2014 Edition)
Top 10 Museums to Visit in Manila (2014 Edition)
Share this story with your friends!
---
Help us make Spot.ph better!
Take the short survey
Load More Stories