These fascinating works of art depict everyday life in Manila
LJ Ablola paints Manila streets in Right of Way at the Vargas Museum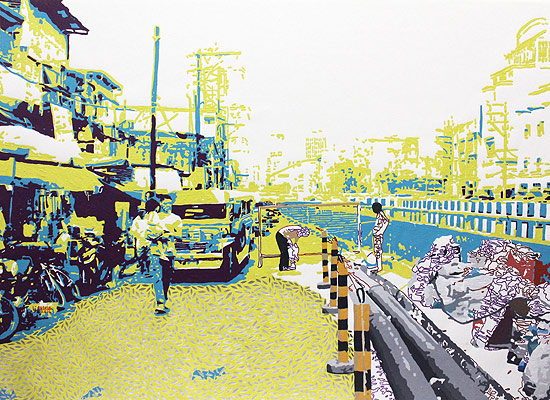 "Again," acrylic, ink on cutout paper by LJ Ablola
(SPOT.ph) Only in the Philippines will you find a wake in the middle of the street, and yet this sight is not uncommon in the chaos of Manila. Whether it's a main thoroughfare or an alley, there are always people or things that aren't supposed to be there, but there they are. Artist LJ Ablola captures these scenes in Right of Way, which runs at the UP Vargas Museum until June 3.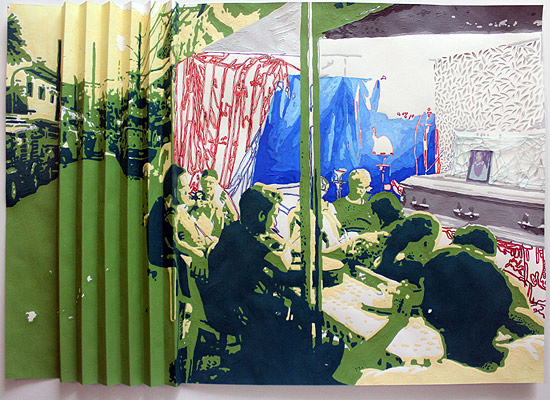 "Temporary," acrylic, thread, ink on cutout paper
The elements in "Temporary," which depicts a wake using acrylic paint, thread, metallic pen ink, cut outs, and folds, are seen throughout Ablola's exhibit. Before the paintings came about, she and her husband, artist Dexter Sy, photographed Manila's streets. After that, she manipulated the images using what she knew about graphic design, which was her job before she turned to painting. Using Photoshop, the finished product shows individuals and buildings as overlapping map-like masses of colors. The original photographs were her references as she painted each color mass onto paper.
ADVERTISEMENT - CONTINUE READING BELOW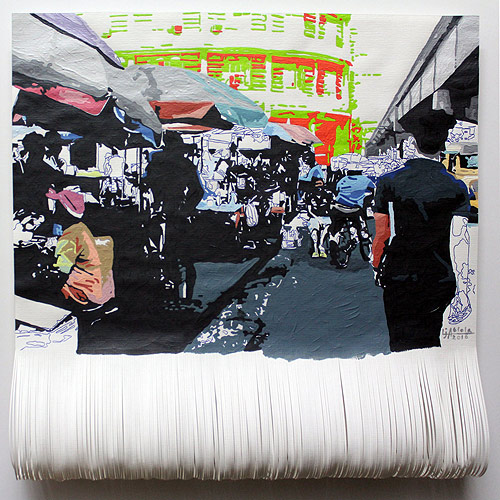 CONTINUE READING BELOW
Recommended Videos
"Everyday," acrylic on cutout paper
As to what made her want to photograph a strangely located wake, she said that this was a special request from the exhibit curator Ryan Francis Reyes. He was also the one who thought that the "right of way" perfectly fit her concept, as she had always been interested in crowds and streets. When she heard this from Reyes, she didn't know where she would find that peculiar sight, but coincidentally, her neighbor's laundrywoman died and then had a wake on the street. Though oddly placed, these wakes show how there are people who are so impoverished that they do not have money to rent a space for a wake and so their only recourse is the streets.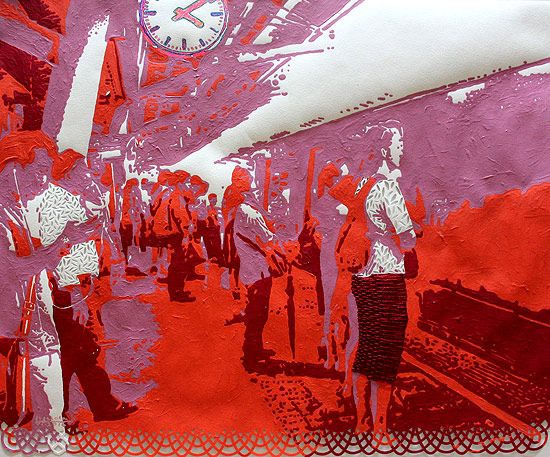 ADVERTISEMENT - CONTINUE READING BELOW
"Transformed by Truth," acrylic, metallic thread on cutout paper
"Transformed by Truth" was actually taken in Thailand, but she wanted to depict an experience she had at the MRT. She said that there was a man who made a comment about a well-dressed woman. She overheard him saying something like "Ano ba itong babae na ito, alam na ngang sasakay ng MRT, bakit maayos ang suot?" She realized: even though they were all in the same situation, there were still people who would have something negative to say about another person.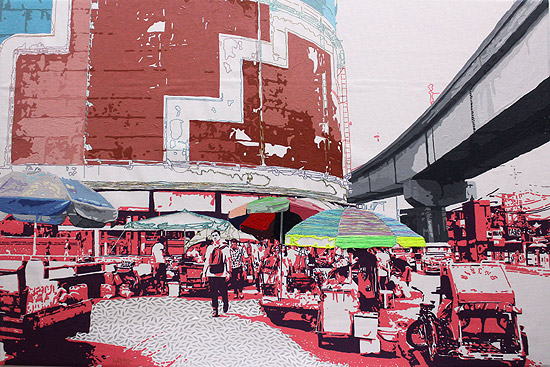 "Replay," acrylic, ink, thread on cutout canvas
In "Replay," the street is rendered with round-like cut outs. For her, these are seeds. They signify possibility, but also whatever people sow, that is what they will reap. The scrapbooking elements she integrated into the piece can be traced to her childhood. When she was just five years old, she would regularly go to the Sunday art programs at their church. There she was taught to stick things together and make cut outs, and whenever she'd show her parents her creations, they'd be happy.
ADVERTISEMENT - CONTINUE READING BELOW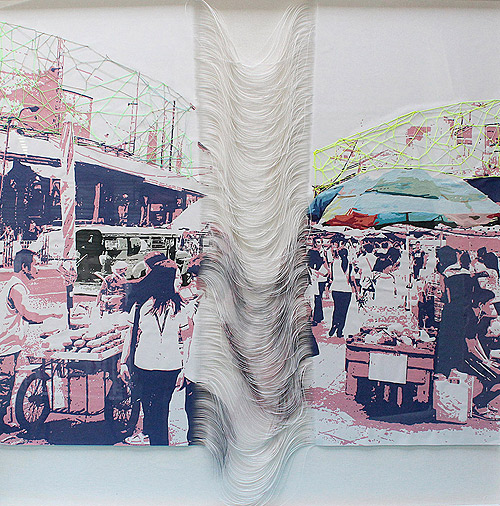 "A Happy Place," acrylic, thread on cutout paper
Another interesting piece is "A Happy Place," which began as a photo of Recto. For other people a happy place is somewhere beautiful, but for her, a happy place is wherever a person defines it to be. At the middle of the piece, the paper is cut into strips and they form waves. She hopes that these strips will as though breathe air into the otherwise crowded street.
But why is she so fascinated by crowds anyway? She says it's because every crowd consists of individuals, and every individual is unique. It's because every person in a crowd, no matter how different they are, they are all going somewhere; every person in a crowd has the potential to do something, and frozen in that frame is that promise of a future, whatever it might be.
Right of Way runs until June 3 at the 3/F Landing and Hallway of the Vargas Museum. The Vargas Museum is at Roxas Avenue, UP Diliman, Quezon City. For more information, visit Vargas Museum's website or check out their Facebook page. You can also follow LJ Ablola on Instagram (@lj_ablola_sy).
ADVERTISEMENT - CONTINUE READING BELOW
Share this story with your friends!
---
Help us make Spot.ph better!
Take the short survey
Load More Stories