This month, art gets showcased in shop windows at Escolta
Artist Ben Vitualla tackles crime and power in Manufacture Consent.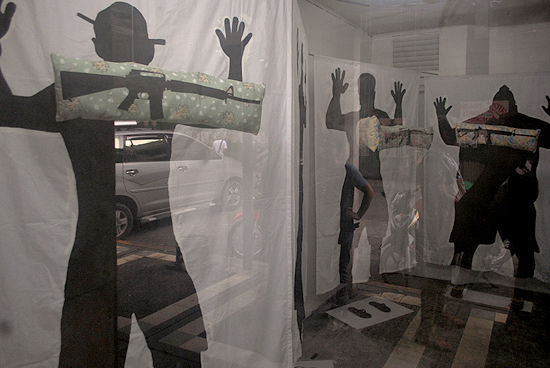 (SPOT.ph) You'd expect works of art to be displayed in posh galleries with white walls, but artist group 98B COLLABoratory is taking art to unexpected places. One example: The Panpisco Building at Escolta, one side of which serves as their exhibit space called PAN///. Established in 2014, this venue is in line with their commitment to revive Escolta through art.
ADVERTISEMENT - CONTINUE READING BELOW
CONTINUE READING BELOW
Recommended Videos
You don't even need to enter the building to see the art—in fact, that part of the building is closed. The art is on display at the building's abandoned store fronts, which would be quite a surprise for visitors expecting to see products in this once-thriving commercial district.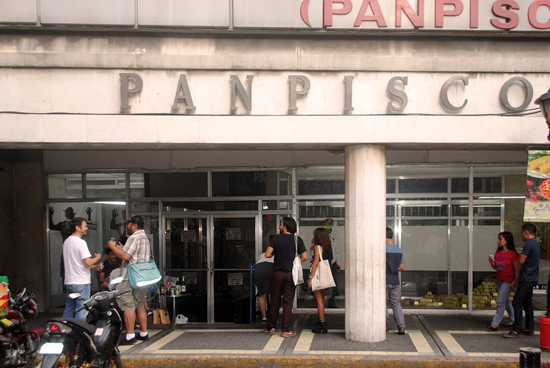 One of the exhibits is Manufacture Consent by U.S.-based but Cebu-born artist Ben Vitualla. He suspends cloth and paints them with silhouettes of men with their arms up, then places slippers below them. Hovering in front are pillows with floral patterns and shapes of assault rifles.
ADVERTISEMENT - CONTINUE READING BELOW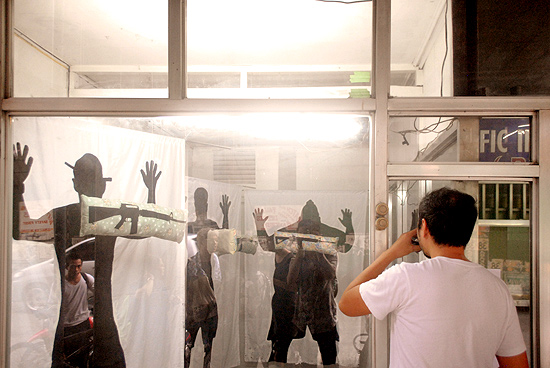 Long before this exhibit, Vitualla has been creating art that tackles crime, and when he's not doing that, he volunteers to help homeless children and runaways. For his current exhibit, he said he started with the pillows, but when he visited Cebu in May, he was concerned that his pieces had nothing to do with the Philippines. He then decided to ask his cousins in Cebu to pose behind the cloth as he traced their outlines and painted the figures in with latex paint. The end result features personalized details like that of a baseball cap, the shadow of their clothes, and the shape of their bodies. Yet, they remain faceless.
ADVERTISEMENT - CONTINUE READING BELOW
Though he integrates the Philippines into the artwork, the pieces also reference Black Lives Matter, a movement that calls for the end of violence against people of color. This was done by painting the figures with their arms raised as this relates to "Hands up, don't shoot," a slogan of the movement that decries the killing of unarmed individuals.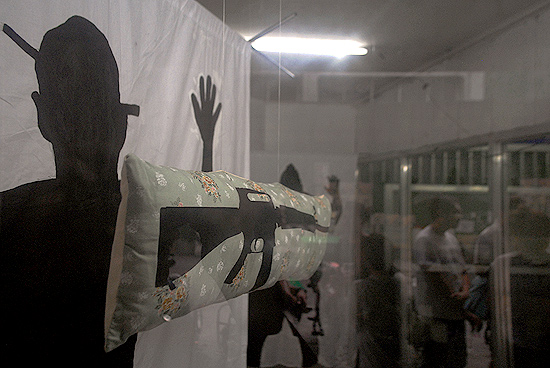 ADVERTISEMENT - CONTINUE READING BELOW
The pillow cases are made with fabric that his mother owned, and he had them heat pressed with gun-shaped vinyl, a material used for T-shirt printing. Combining the pillows and the guns was a deliberate move by the artist. He said that pillows refer to one's home, which is a safe place, while the guns suggest violence. This dual nature is carried by guns themselves as they can either protect someone or be used for a crime. "The work encourages dialogue around gun safety, crime in the community, power and safety, and the cultural climate of the country," he said in his artist statement.
Sometimes, crime is a way for individuals to create a family, according to Vitualla. They feel alienated from their own flesh and blood or community, so they find solace and camaraderie in gangs. These things make the artist wonder. "I'm just trying to understand it," he said. "I'm trying to see what I can do to make it better."
ADVERTISEMENT - CONTINUE READING BELOW
The exhibit runs until the end of July. PAN/// is at the G/F Panpisco Building, 246 Escolta, Manila. For more information, check out 98B's Facebook page and Instagram.
Also on exhibit at PAN/// is Lindslee's Paranoia of the Plutocrats which runs alongside Manufacture Consent. PAN/// hosts new exhibits every two months.
Load More Stories